Detroit Hit By Extensive Power Outage; Municipal Buildings Evacuated
Parts of Detroit, Michigan are experiencing what is being described as a "massive power outage" this morning.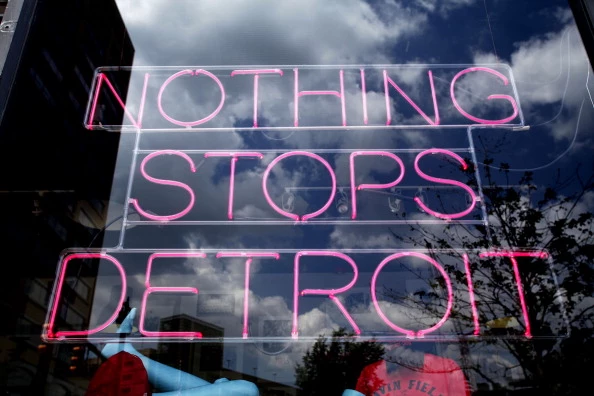 UPDATE: 12/02/2014 12:14pm  All personnel trapped inside the elevators at Detroit City Hall have been rescued.
UPDATE: 12/02/2014 11:55am A press briefing will be held by the Detroit Public Lighting Department at 2:00pm today. In a statement from the DPLD the problem is being blamed on a "major cable failure."  Privately-held DTE Energy says that it is working with the city to resolve the problem but the issue did not originate with them.
UPDATE: 12/02/2014 11:50am    Although lights in some facilities appear to be back on, the outage is still widespread.  Lights in schools that had turned on are now off again.  Many of the traffic lights are still out.
Those still leaving office buildings are now saying that the buildings are starting to get cold as any residual heat in the buildings is dissipating.  The current temperature in Detroit, Michigan, according to The Weather Channel, is 35-degrees Fahrenheit.
UPDATE: 12/02/2014  11:46am  Traffic lights appear to back on in some areas.  Emergency personnel are concentrating efforts on Detroit City Hall, where a number of people are trapped in elevators that stopped when the power went out.
UPDATE: 12/02/2014 11:40am   Lights in some of the schools have come back on.  It is not known if they are on auxiliary power or if electricity is being restored.
Traffic lights are still out throughout the city.
UPDATE: 12/02/2014 11:32am  Steve Wasko, Assistant Superintendent of Detroit Public Schools, tells WXYZ-TV that at approximately 87 schools in the district are affected by the outage.
Original Story:
The power went out at approximately 10:30am local time.
According to ABC Channel 7 Detroit WXYZ-TV several downtown buildings have been evacuated.
All personnel have been told to leave the Coleman A. Young Municipal Center, Cobo Center, and the Frank Murphy Hall of Justice have been evacuated.  There are reports that many people are stuck in elevators in City Hall in Detroit.
WYXZ-TV confirms that city officials say that the problem has been identified.  A power grid failed and that is what caused the outage.
Schools are being dismissed early, following a half-day schedule.
Law enforcement personnel, firefighters, and local hospitals are operating on emergency generators.
The NHL Detroit Red Wings, practicing at the time of the outage, have been sent home.
The People Mover has been stopped.  Power to several police and fire stations in the city is out as well.
WXYZ is providing live coverage here of the story.
On Sunday, November 30, 2014 there was a small power outage in the city during a Red Wings game.  The Detroit News reports that just 29-seconds into the game the lights went out, causing a thirty minute delay in the Red Wings' game against the Vancouver Canucks at Joe Louis Arena.  There is no word yet as to whether the outages are related.
#detroit Tweets