Johnson Honors Sandy Hook Victims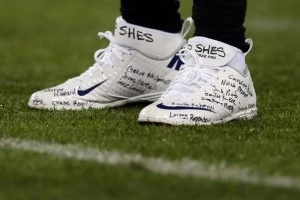 Nashville, TN (WIBX) – Tennessee Titans running back Chris Johnson honored the victims of the Sandy Hook School shooting during last night's Monday Night Football Game against the New York Jets.
Johnson wrote the names of each of the 26 victims on his white cleats.
On his seventh carry of the game, Johnson broke the longest run in Titans history, a 94-yard TD run.