Little Falls Police Make Arrest in Larceny Case
Authorities have made an arrest in a grand larceny investigation in Little Falls.
Little Falls Police are charging Lee R. Vadney with one count of third degree grand larceny, one count of scheme to defraud, and four counts of petit larceny after Vadney is said to have received goods from local businesses allegedly using checks intentionally on an account that had been previosuly closed.
Vadney was arraigned in Little Falls City Court and sent to the Herkimer County Correctional Facility on bail.
More police news: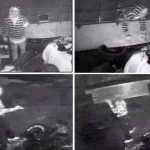 State Police Looking for Suspects in Alleged Theft from Frankfort Business