Potocki Unveils Plan To Reduce Tax Burden On County Residents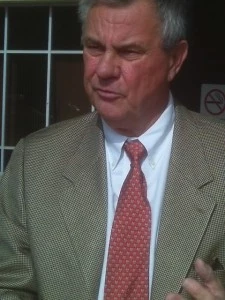 Utica, NY (WIBX) – Standing in front of the County Office Building, Conservative candidate for Oneida County Executive, Rodger Potocki, unveiled his plan to lower sales taxes, cut the county budget, eliminate Medicaid problems, and reform local government. Potocki who says he supports the 2 percent property tax cap put in place by Governor Andrew Cuomo, also laid out his plan to tackle the mandate problem that comes along with it. He said he plans to address the unfairness of the unfunded mandates. "For instance, the percentage of Oneida County's budget directed to Medicaid is much higher than percentages paid by our neighbors to the East and West. The fact that we have two cities in which greater numbers of unemployed live is the reason that Herkimer and Madison counties send a much lower percentage of their budgets to Albany."
He says if elected, he will also introduce a program to cut the county sales tax. "I will introduce a two year program to cut the county sales tax from the existing 8.75 percent to 8 percent to 7.25 percent. Fifty seven counties in the state have lower sales taxes. It is no accident that most of these counties are also more economically active than we are. Lower sales tax will result in greater purchasing power for consumers, creating greater business activity, more jobs and more revenue."
Potocki also promised to reduce the county budget by a minimum of 5 percent and cut the County Executive's Operating Budget by 50 percent. He also pledged to eliminate what he sees as "political patronage jobs," and conduct "rigorous" audits of departments, agencies and county expenditures. "I will also propose a 10 percent salary reduction for all non-union positions that pay $50,000 or more," he said.
Another area he plans to address if elected in November is the Medicaid problem the county is facing. He said, "Oneida County currently spends $1 million each week on Medicaid. Part of this expenditure is necessary as a safety net for the poor and disadvantaged. Many people depend on Medicaid because they are unable to find appropriate work in the poor economic conditions that exist here." He says his tax reduction plan will help put people back to work, and in turn reduce their dependence on the state's taxpayer funded healthcare system.
Potocki criticized County Executive Anthony Picente for his position on the state's programs designed to catch Medicaid and Medicare fraud. "He has been encouraged to implement New York State's programs designed to catch cheaters, but complains that any money saved would go to the state's coffers. Mr. Picente fails to grasp an important fact about federalism–that we are all in this together. If Oneida County can eliminate fraud, it will also have the end result of driving out those who are in, or using the system illegitimately," he said.
On November 8, voters in Oneida County will have the opportunity to select Potocki as their new County Executive, or choose Republican incumbent candidate, Anthony Picente, Jr.