Proposed Ilion Mohawk School Merger Hot Topic On WIBX First News [VIDEOS]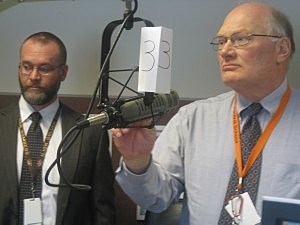 The proposed Ilion-Mohawk school merger is generating much discussion.  A vote is scheduled next week, February 12, 2013 on the issue.  Many of those most closely involved in the debate joined WIBX First News with Keeler in the Morning to participate in a forum.
The conversation, and the debate leading up to the forum, has been passionate over the past several months.  Both sides feel strongly about their assertions.  Voters in the districts feel so strongly that many have been to public discussions and to the polls almost a dozen times in the past year.
Keeler spoke with:
Eugene "Gene" Beirne, Interim Superintendent of Schools for Mohawk
Dan Monahan, a resident who is against the merger
Matt Obreza, a resident who supports the merger
Cosimo Tangorra, Superintendent of the Ilion Schools
Rick Timbs, Executive Director, State School Finance Consortium
Audio clip: Adobe Flash Player (version 9 or above) is required to play this audio clip. Download the latest version here. You also need to have JavaScript enabled in your browser.
---
Here is a sampling of what was said:
Dan Monahan:
Matt Obreza:
Rick Timbs:
Cosimo Tangorra and Eugene Beirne:
Eugene Beirne:
Cosimo Tangorra: