The Nonhuman Rights Project Filing Lawsuits for Legal Personhood Claims for Chimpanzees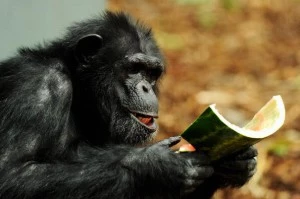 A lawsuit is filed in Fulton County Court seeking legal personhood for a chimpanzee being held in Gloversville, New York.
The group, the Nonhuman Rights Project, claims on its website that it is filing a total of three separate claims this week.  The first was filed on behalf of Tommy.  The second, on behalf of chimpanzee Kiko of Niagara Falls, will be filed today.  The third will be filed on Thursday, December 5, 2013 for Hercules and Leo, who are owned by a research center associated with SUNY's Stony Brook University.
The group's website explains the premise behind their suit, "…[O]ur suits are based on a case that was fought in England in 1772, when an American slave, James Somerset, who had been taken to London by his owner, escaped, was recaptured and was being held in chains on a ship that was about to set sail for the slave markets of Jamaica. With help from a group of abolitionist attorneys, Somerset's godparents filed a writ of habeas corpus on Somerset's behalf in order to challenge Somerset's classification as a legal thing, and the case went before the Chief Justice of the Court of King's Bench, Lord Mansfield. In what became one of the most important trials in Anglo-American history, Lord Mansfield ruled that Somerset was not a piece of property, but instead a legal person, and he set him free."
They add that their goal is "…to breach the legal wall that separates all humans from all nonhuman animals. Once this wall is breached, the first nonhuman animals on earth will gain legal "personhood" and finally get their day in court — a day they so clearly deserve."
We spoke with a representative from the Nonhuman Rights Project as well as the caretaker of Tommy, one of the chimps at the center of the action:
Audio clip: Adobe Flash Player (version 9 or above) is required to play this audio clip. Download the latest version here. You also need to have JavaScript enabled in your browser.
Audio clip: Adobe Flash Player (version 9 or above) is required to play this audio clip. Download the latest version here. You also need to have JavaScript enabled in your browser.