Utica Comets Donate $17,000 To MVHS Breast Cancer Center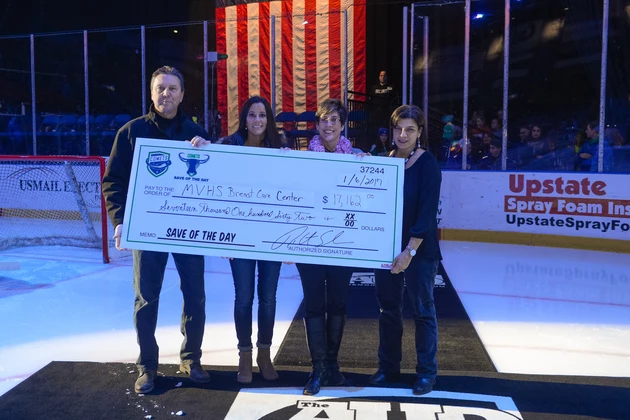 The Utica Comets recently presented a check for more than $17,000 to Mohawk Valley Health System's Breast Care Center.
The funds were raised during the Comets' "Pink the Rink" night held in December.
The Comets collected money through a 50/50 and jersey raffles, where fans could purchase tickets for the chance to win the special pink uniforms.
"It is with deep gratitude that we thank the Utica Comets for 'Pink the Rink' night," said Nancy Butcher, Executive Director of the Cancer Center. "Fighting cancer is a team effort and we appreciate their support in the fight against breast cancer. Our thanks to the community and the Comets for their generosity. You helped us make a significant difference for our patients and their families!"
"It truly was a terrific night filled with excitement and giving toward a great cause," said Utica Comets President Robert Esche. "Our area never ceases to amaze me on its ability to donate so generously to local institutions. It's very rewarding to see people come together from a player level, staff level and most importantly a community level."