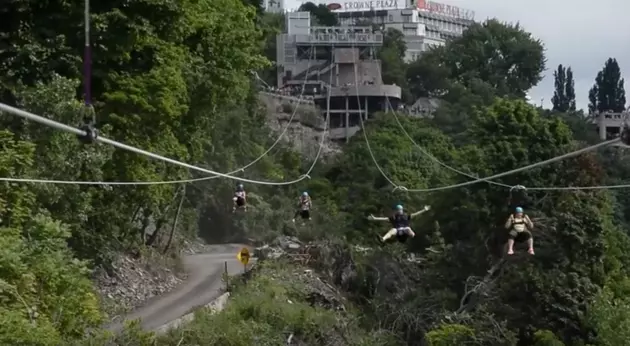 5 Adrenaline-Fueled Day Trips For Central New York Thrill Seekers
Youtube.com/NYup
With the weather trying to return to something that we actually want to go outside in, it's time to start thinking about some fun day trips. But instead of the same old drives to look at scenery, how about something to get your blood pumping that you'll remember for years?
New York State is full of adrenaline-inducing experiences, from surfing on Long Island's beaches to climbing the high peaks of the Adirondacks, but we're going to focus on some thrills that aren't for the faint of heart(and that you don't need much experience for).
1. Sky High Adventure Park
Sky High Adventure Park at Holiday Valley features 4 acres of ropes courses suspended high in the trees offer a challenge to all skill levels with the highest level taking you 60+ feet up into the tree canopy. While you're there don't miss a chance to ride their Mountain Coaster!
2. Niagara Falls Zipline
Who wouldn't want to fly high above Niagara Falls? First, check out their Whirlpool Adventure course with obstacles and ziplines over the famous whirlpool and Niagara Gorge. Then when you're ready to crank it up a notch, take a ride on the MistRider Zipline - a 220 foot high 2,200 foot long zipline over the Niagara Gorge that lands you safely on the Falls observation deck. Amazing, just watch the video below.
3. Hunter Mountain Zipline
Heading to Hunter Mountain for Taste Of Country Music Festival? Even if you're not, bring your sense of adventure and fly through the air on North America's longest and highest zipline canopy tour that reaches heights of close to 600 feet up and speeds of over 50 mph. There are also more mellow courses for families and low-level thrill-seekers.
4. Lake Placid Bobsled & Luge Experience
Find out what Erin Hamlin feels when she speeds down the ice on a Luge, or take a ride in an actual bobsled on the Olympic track. You'll get to experience a 1/2 mile of the bobsled track with an experienced driver and brake man. Hold on tight!
5. Skydive 'The Ranch'
Here's your chance to cross skydiving off your bucket list. I have personally jumped at 'The Ranch' and can tell you it was an amazing experience. The staff are super friendly and will help calm even the most nervous of first-time jumpers. Take a quick lesson and meet your tandem instructor before heading to the plane and into the sky. When I met my tandem instructor he instantly calmed any fears I had by telling me that I was his "11th or 12th" jump of the day. They know what they're doing and they will make your experience more than memorable and comfortable.
Now if you'll excuse me, I'm not going to be able to finish this blog because I'm heading out for some ziplining, skydiving and bobsledding adventures...
---
BONUS VIDEO