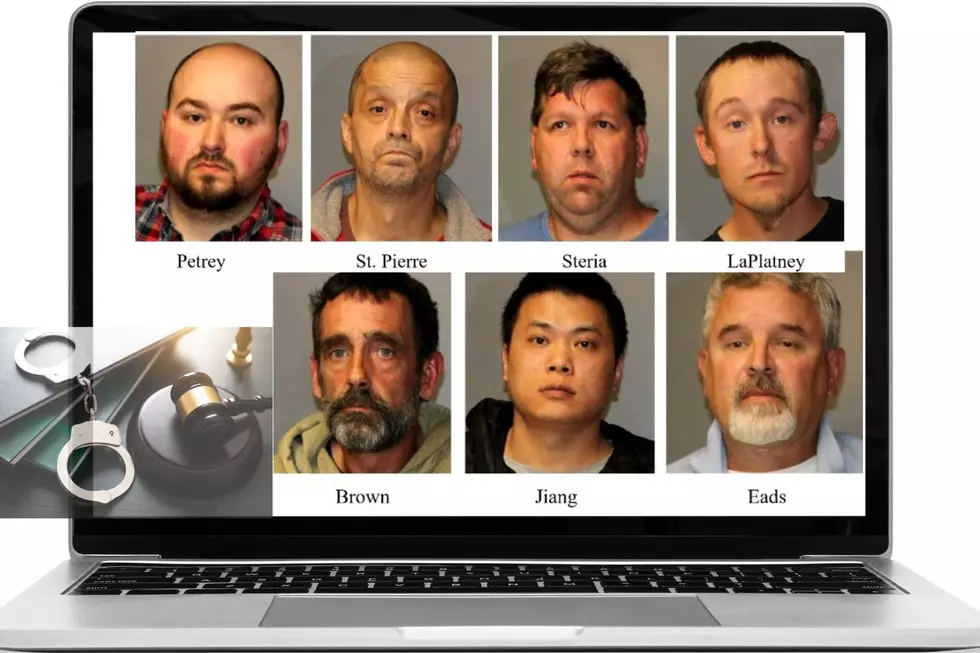 NYSP Sting: 10 Men, 3 Active Military Soldiers For Targeting Minors for Sex
Canva/ NYSP
An operation targeting adults attempting to exploit children online has resulted in the arrest of ten men, including three active military soldiers in Jefferson County. And, State Police officials believe there are more victims who were targeted online and are encouraging them to come forward.
The investigation began in September of 2022 and involved the New York State Police Internet Crimes Against Children Task Force/Computer Crime Unit and the Department of Army Criminal Investigative Division, with assistance from the FBI, authorities said.
Seven civilians from the Jefferson County area were arrested and charged with Attempted Rape in the second degree, a class-D felony. They ranged in age from 34 to 54:
Travis R. Petrey, age 35 from Barbourville, KY
Rene L. St. Pierre, age 54 from Ogdensburg, NY
Michael J. Steria, age 49 from Carthage, NY
Brian T. LaPlatney, age 29 from Harrisville, NY
John W. Brown, age 47 from Chaumont, NY
Aimin Jiang, age 34 from Watertown, NY
David L. Eads, age 51 Brownville, NY
Also, three active-duty soldiers were arrested, state police said:
Jonas Sentaella - Attempted Sexual Assault of a Child and Attempted Pandering
Devir Walker - Attempted Sexual Assault of a Child
Aaron Alonzo Vazquez - Attempted Sexual Assault of a Child and Pandering
The cases involving the active-duty soldiers will by the Army's Criminal Investigation Division and the Army Judge Advocate General's Corps (JAG), officials said.
State Police say such operations in the past have led to the finding of additional victims who may have been targeted or victimized by the above offenders, police said.  Troopers have released the photos of the seven civilians charged due to the possibility of more victims coming forward.
Those who may have been victimized should contact the New York State Police Internet Crimes Against Children Task Force, or the New York State Police Computer Crime Unit at https://troopers.ny.gov/internet-crimes-against-children.
[AUTHOR'S NOTE: This post is for informational purposes. The information provided within was provided publicly by law enforcement. Any charges or accusations of wrongdoing mentioned in the article are only allegations and the reader is reminded that all persons are innocent until proven guilty in a court of law.]
AquaVino Restaurant and Bar Opens in New Hartford. Check Out These Amazing Dishes
One of Utica's most popular restaurants has just moved into the former Outback Steakhouse in New Hartford. The new restaurant has an awesome menu featuring great food and drink. Check out these dishes we enjoyed during the soft opening.
70 Stunning Country Living Photos To Prove There's More to New York than NYC
There's so much more to New York than just the Big Apple. From mountains and rivers to waterfalls and miles of wide-open spaces. Here are 70 picture-perfect country living moments to prove it.