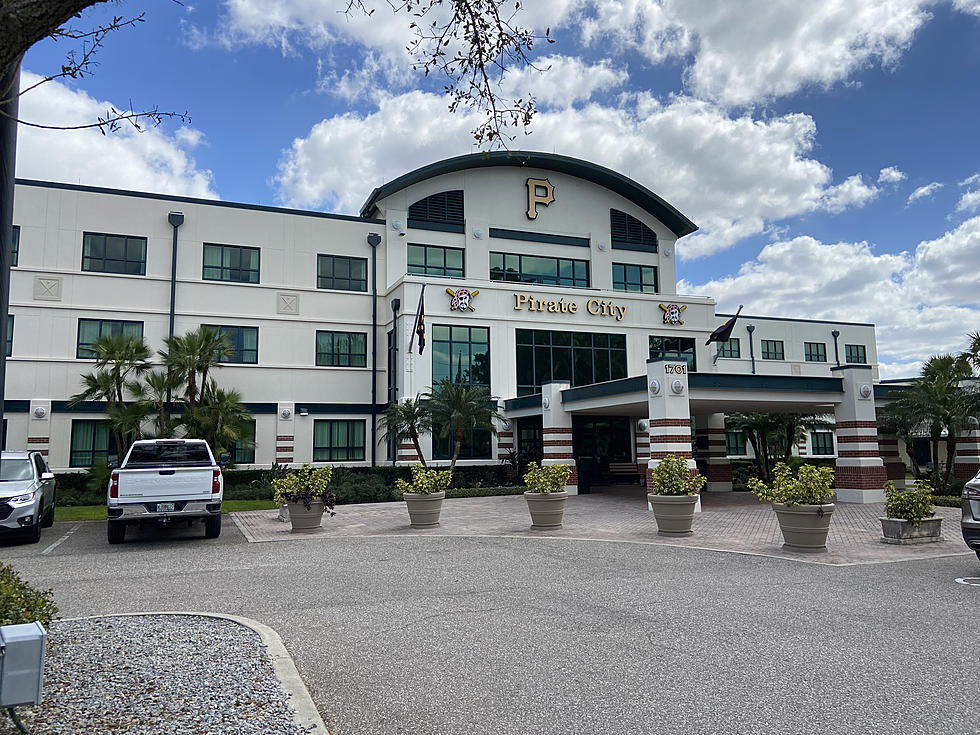 Grapefruit League Baseball – Catch The Excitement in FL, If You Can
Pirate City - spring training home of the Pittsburgh Pirates in Bradenton,FL (Photo by Don Laible / TSM)
It's that most wonderful time of the year for baseball fans - spring training in Florida.
This is my first full exhibition season in Southwest Florida.  I'm in the midst of a crash course on learning everything I can, and as quick as I can, on everything Pittsburgh Pirates. Relocating from Central New York, it has been Yankees and Mets news that have preoccupied my baseball interests up until now.
Living in Bradenton, and less than five miles from the "Southern Home of the Pittsburgh Pirates" (Pirate City - spring training complex for the National League Central club), I'm all in on telling stories for one of my newest, favorite organizations. There are 31 games planned for the spring schedule. Just two off days planned until the finale, a home contest with the Minnesota Twins at LECOM Park, when the Pirates will then fly to Cincinnati for the regular season opener against the Reds on March 30 at 4:10 p.m.
The Pirates, unlike a majority of MLB clubs, have their training complex and their ballpark in two separate locations.  There's a 100 year baseball history in Bradenton. Pirate City is located five miles east of LECOM Park.  For the past 55 years, Bradenton, 50 miles south of Tampa, has been where the Pirates have trained.  All the greats from the modern Pirates' history have worked their way into game shape in Bradenton, while anticipating another run for the league pennant.
Hall of famers Roberto Clemente, Willie Stargell, and Bill Mazeroski, to Utican Dave Cash , Al Oliver, and Manny Sanguillen, they all had their spring mail forwarded to the Pirates' Bradenton address. Now, I'm learning the faces and history on the current Pirates, most of the age that could make them my son, and some even grandchild.
Although the club played their first spring game on February 25 at home, 10 days earlier was the first official day of reporting to camp - for pitchers and catchers.  I was there at 27th street East to witness the handshakes and hugs shared by returning teammates. Several position players also decided to report five days early from their mandatory welcoming of the 2023 season.
Before jetting off to major league cities as New York, San Francisco, Los Angeles, and Chicago, planned bus rides to neighboring spring training communities of Sarasota, Clearwater, Fort Myers, and Dunedin will come.
From speaking with the players in the clubhouse, out on the fields, and their public taking in the free-of-charge workouts at Pirate City, so much about the spring training experience is informal.  Players regularly sign autographs, and pose for pictures with fans, still while holding their equiptments bags, all in 80-plus degree weather.
Next to Wrigley Field in Chicago and Fenway Park in Boston, LECOM's history makes it the third oldest stadium used by a major league team.  It's the oldest ballpark used for spring training.  It's charming. The renovations over the years make it as attractive and comfortable as any new facility in the "Sunshine State".  And you have to love the $10.00 parking charge.
The six weeks that the Pirates desend upon their "Southen Home" is a win-win for the City of Bradenton and Manatee County.  There are out-of-towners filling the seats at LECOM Park. The license plates in the parking lots surrounding the ballpark say so. The 8,500 seat capacity of LECOM Park, post-spring training, will play host to the Bradenton Marauders, a High Class-A minor league affiliate for the Pittsburgh club.

I study pages 40 and 42 of the 64-page Pirates' spring training magazine. Here, the headshots of all on the Pirates' 40-man roster, plus coaching staff members appear.  Then, there are the non-roster-invitees to camp that I need to become familiar with.  Some faces are instanbtly recognizable.
Andrew McCutchen, the 2013 MVP of the National League who prior to this coming season spent nine of his 14 seasons with Pittsburgh, has returned to the Pirates on a one-year deal.  Who doesn't know the club's shortstop of the present and future Oneil Cruz?  The 24-year-old Dominican is 6' 7". There's no mistaking him.  Ji-Man Choi is new to the club this season, while coming over from the Tampa Bay Rays. Bryan Reynolds, Carlos Santana, and Jack Suwinski are others who I have been following.
There are a half dozen print/online reporters from the Pittsburgh area daily filing into the Pirates' clubhouse gathering stories.  By the second week of camp, I notice TV reporters from the "Steel City" shooting footage of practice, and attending the post-workout conference with Pittsburgh's skipper Derek Shelton.  There is one local TV cameraman/reporter I have spoken with on my visits to Pirates City.  John Reynolds, a one-man sports department at SNN (Suncoast News Network based in Sarasota) who relocated to the area from Western Kentucky is friendly and , like me, learning his way around the complex.
So much to learn in so little time.  But, practice makes perfect. Reporting on the Pirates during the regular season will prime me for an even more confident 2024 training camp.
Don Laible is a freelance sportswriter from the Mohawk Valley, now living in Florida. He has reported on professional baseball and hockey for print, radio, and on the web since the 1980's. His columns are featured weekly at WIBX950.com. Don can be contacted via email at Don@icechipsdiamonddust.com. 
Top 10 Local News Stories of 2021
As 2021 comes to an end, here are the Top 10 local news stories of the year.
Top 5 Local Sports Stories Of 2021
There were many local sports stories that highlighted 2021, including a couple of firsts. Here are a look at the Top Five, along with a bonus story.
Fox Host Failla Reaches USA from WIBX Studio in Utica
The host of Fox Across America with Jimmy Failla which airs coast to coast and on WIBX 950 and 106.9 FM weekdays from noon 'til 3, was in Utica this past weekend. Jimmy Failla sat in on the Keeler in the Morning Show on Friday morning December 3, 2021, and then did his national show on FOX News Radio from WIBX's studio.
Failla is a former New York City cab driver turned stand up comic and over the weekend, he performed 4 sell-out shows at Utica's Fat Katz Comedy Club in Washington Mills.
Check out some snap shots from the weekend.
10 Photos That Remind You Just How Much Litter America Produces
10 Photos That Remind You Just How Much Litter and Pollution America Produces