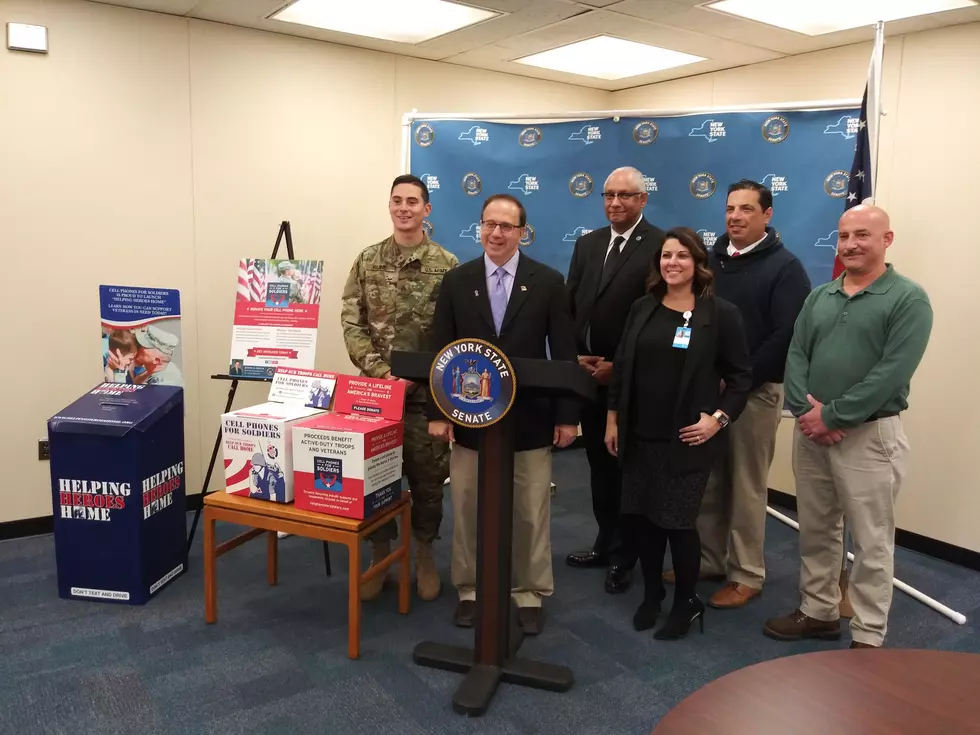 Griffo Kicks Off Annual Cell Phones For Soldiers Drive
Dave Smith, WIBX
Senator Joseph Griffo kicked off his 5th annual Cell Phones For Soldiers collection drive on Friday.
Griffo, along with AT&T and the Central New York Veterans Outreach Center, will be collecting unwanted cell phones and other devices through December 8th.
All proceeds from the recycled mobile devices will be used to buy long distance calling cards for troops abroad and veterans at home.
For every donated phone valued at $5, Cell Phones For Soldiers is able to provide 2 ½ hours of free talk time to deployed troops via calling cards
Griffo says troops have been provided with over 171,000 minutes in calling cards over the last four years.
Devices can be dropped off at the following locations:
Adirondack Bank Center at Utica Memorial Auditorium: 400 Oriskany St. West, Utica
Jervis Public Library: 613 N. Washington St., Rome
Utica Public Library: 303 Genesee St., Utica
Chanatry's Hometown Market: 485 French Road, Utica
Utica State Office Building: 207 Genesee St., Utica
Turning Stone Resort Casino: 5218 Patrick Road, Verona
New Hartford Public Library: 2 Library Lane, New Hartford
Lloyds of Lowville: 7405 S. State St., Lowville
Lowville Free Library: 5387 Dayan St, Lowville
Beaver River Memorial Post 1663: 9833 Main St., Croghan
Sergi's Italian Restaurant: 10 Market St., Potsdam
Town of Potsdam Offices: 18 Market St., Potsdam
 Massena Public Library: 41 Glenn St, Massena
First Source Federal Credit Union
4451 Commercial Drive, New Hartford
1634 Genesee St., Utica
1822 Black River Boulevard, Rome
AT&T Stores
4777 Commercial Drive, New Hartford
1319 Erie Boulevard W., Rome
224 N. Genesee St., Utica
Over 700 devices were collected during last year's drive.