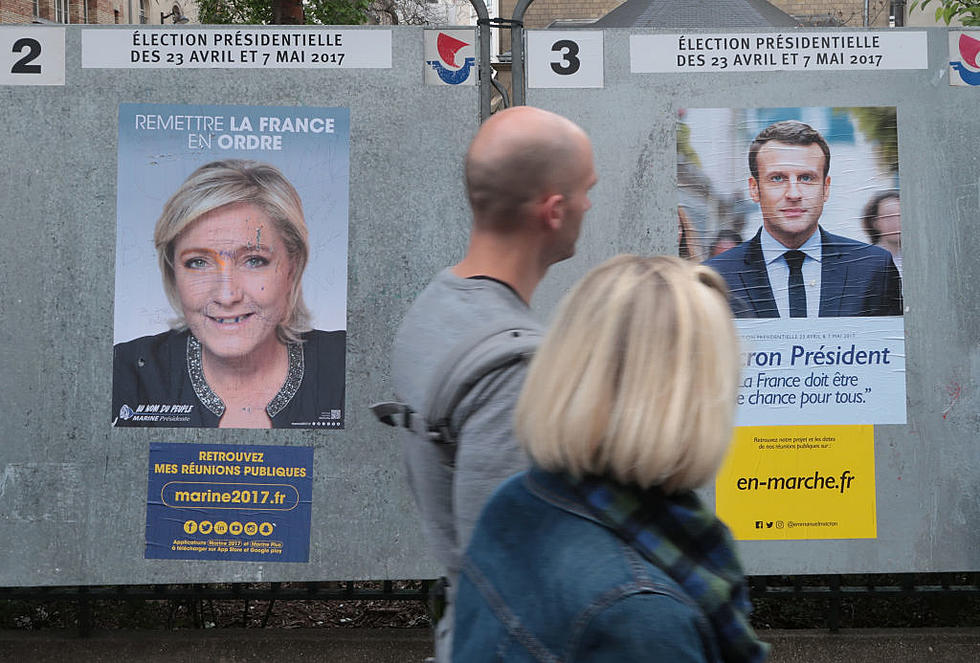 In France, It's Macron vs. Le Pen, Again, for Presidency
FILE PHOTO: PARIS, FRANCE - APRIL 10: People walk past election campaign posters that show presidential candidates Marine Le Pen (L) and Emmanuel Macron on April 10, 2017 in Paris, France. Voters will go the polls in France for the fist round of a two-round election system on April 23. (Photo by Sean Gallup/Getty Images)
By JOHN LEICESTER and THOMAS ADAMSON, Associated Press
PARIS (AP) — French polling agency projections show President Emmanuel Macron and far-right rival Marine Le Pen leading in the first round of France's presidential election.
If borne out by official results, the two will advance to a presidential runoff April 24 — a remake of their 2017 election battle.
The projections give Macron a comfortable first-round lead of 28% support ahead of Le Pen's 23%-to-24% of the vote.
Le Pen thanked voters for sending her into the runoff. Several other defeated French candidates urged supporters not to vote for Le Pen, saying it would throw France into "chaos."  Macron, meanwhile, sought wide support from both the right and the left to defeat Le Pen.
Official results are expected later Sunday.
10 Romantic Movie Scenes That Are Actually Messed Up
These supposedly swoon-worthy scenes don't really hold up over time.
Top 11 Monarchies In The World
A monarchy is a political system based upon the undivided sovereignty or rule of a single person. There are 43 sovereign states in the world with a monarch as head of state. Here are the leaders of the Top 11.
11 Big Celebs You Can See in CNY This Spring/Summer
Whether they are coming to perform and be honored for their work, here are 11 big name celebrities you can find in CNY this spring or summer.