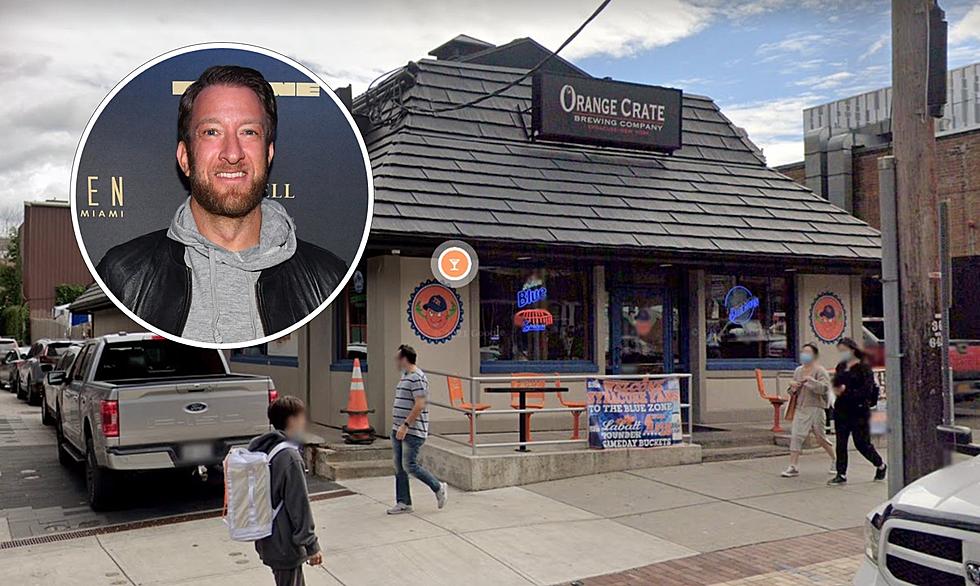 Barstool Sports Founder Grades 'Drunk Pizza' at Upstate New York Hotspot
Getty Images / Google Maps
Back in March, Syracuse, New York was named the "Best Bar Town in America" by Barstool Sports.
The legendary college town was pitted against some of the best of its kind across the nation, but prevailed as champion in a March Madness-style bracket. As part of their victory, Barstool Sports' founder Dave Portnoy organized a "pub crawl" through seven of the most well-known bars and restaurants near the Syracuse University campus.
He led hundreds of 'Cuse students through the town to celebrate their Best Bar Town victory, a tour-de-force that happened on Friday, April 21st. As part of the fun, he even stopped at one of the more well-known spots on the crawl to film one of his famous pizza review videos.
Did this Syracuse hotspot's "drunk pizza" get the thumbs up from the Internet's Pizza King?

---
Barstool Sports' Dave Portnoy Reviews Syracuse Pizza During Bar Crawl
One of the stops along the Barstool Sports-led Syracuse pub crawl was the Orange Crate Brewing Company, located at 731 S Crouse Ave in Syracuse. Orange Crate is a prominent spot for fans of the Syracuse Orange athletic programs to watch games and cheer on their team, but on this day, it was instead the setting of a Dave Portnoy pizza review video.
Check out the video below to see how the pizza at Orange Crate was ranked:
Was Portnoy too harsh with his review? Did he give a higher score for the pizza to please the owner of Orange Crate, who was standing near him during the entire video? You be the judge.
Here were some of our favorite replies to Portnoy's review video:
Though it wasn't a traditional pizza review, like Portnoy has become known for, he also stopped at Tully's to review their beloved chicken tenders. That review went a bit more according to plan, based on the reaction from El Presidente.
Check that out below:
In addition to Orange Crate and Tully's, the pub crawl also visited Coleman's Authentic Irish Pub, Faegan's Cafe & Pub, Lucy Blu Island Bar & Club, Hungry Chuck's and Castle Court.
Over 50 New York Pizzerias Ranked by Barstool's Dave Portnoy
When it comes to amazing pizza you don't have to leave New York State. But where can you find the best slice?
The Capital Region's Best Pizza Joints [RANKED]
Whether it is an 8 cut or a slice on the go, New York and the Capital Region are known for having a multitude of great pizza joints. Here are the 5 best in greater Albany according to GNA Listeners.
Barstool's Dave Portnoy Finally Reviews Pizza From Mid-Hudson
Barstool's Dave Portnoy finally came to the Mid-Hudson Region to give a "One Bite Review" on what he was told is "great pizza" from the Mid-Hudson Valley.