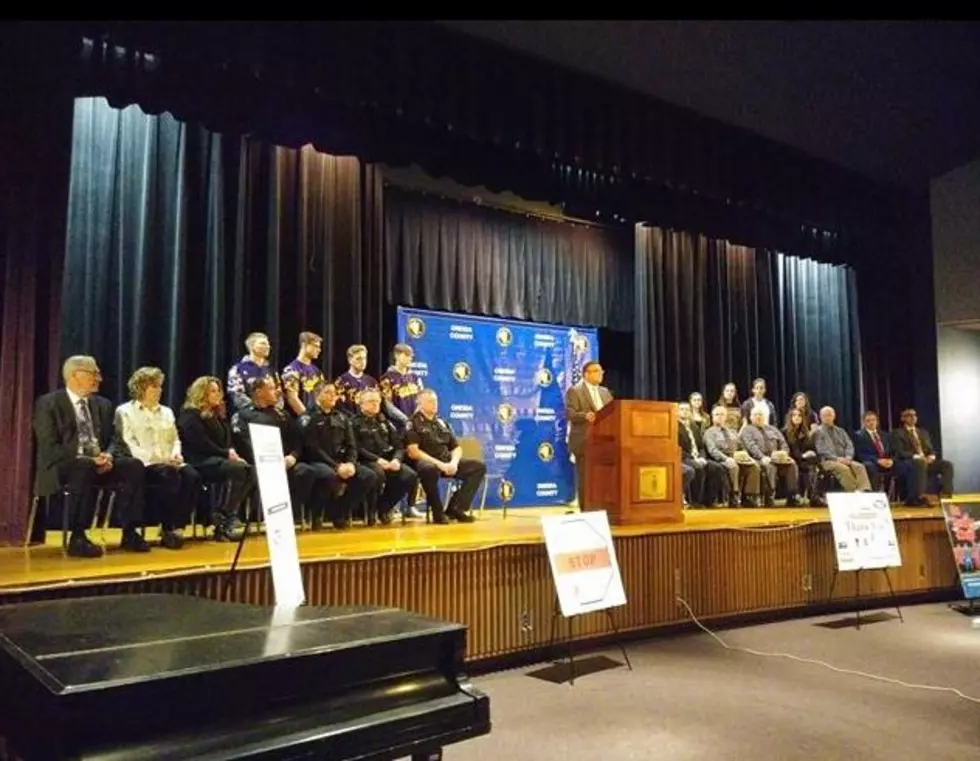 Oneida County Kicks Off Teen Traffic Safety Week
Dave Smith, WIBX
Oneida County Sheriff Rob Maciol and County Executive Anthony Picente were at Holland Patent High School on Monday to kick-off Teen Traffic Safety Week and the No Empty Chair Campaign.
The Teen Traffic Safety Week program is presented to county students each year prior to prom season.
"The importance of Teen Traffic Safety Week cannot be understated as it strives to protect one of our community's most precious resources — our youth," Picente said. "This educational program is an extremely effective way to reach our teenagers through personal stories of tragedy and life-like demonstrations that make them aware of the consequences of destructive decisions. Being armed with this information, especially during this critical time of year, could mean the difference between life and death."
Maciol says the statewide No Empty Chair campaign educates students on the dangers of impaired and distracted driving.  He says the goal of the program is to make sure there no empty chairs at high school graduation ceremonies.
As part of Teen Traffic Safety Week, the 7th annual STOP DWI High School Baseball Classic will take place on Friday and Saturday at Donovan Stadium.
•             Oriskany vs. Clinton at 4:30 p.m.
•             Proctor vs. Whitesboro at 7 p.m.
•             Sauquoit vs. Holland Patent at 11 a.m.
•             New Hartford vs. Notre Dame at 2 p.m.
•             Westmoreland vs. West Canada at 5 p.m.