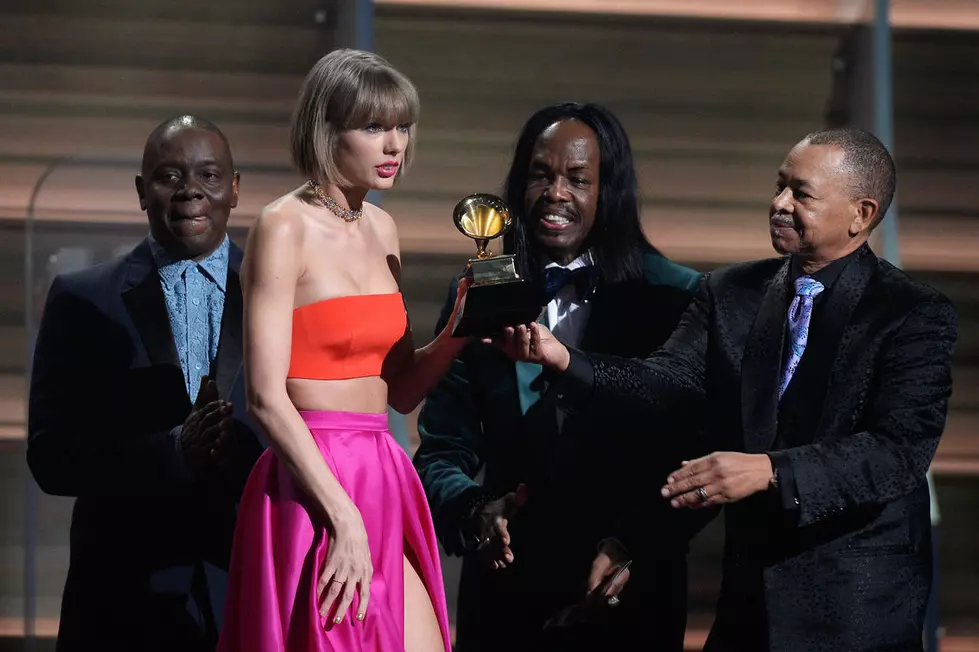 Taylor Swift Responds to Kanye West With Grammy Acceptance Speech
Kevork Djansezian / Getty Images
Six-and-a-half years ago, Kanye West famously  bum-rushed the stage during the 2009 MTV Video Music Awards during Taylor Swift's acceptance speech for Video of the Year in defense of his "big brother" Jay Z's woman — Beyonce — for not taking home that particular win. Three days ago, Kanye dropped his seventh studio album, T.L.O.P. (The Life of Pablo) which features the track "Famous," a song that includes another jab at Swift. On "Famous," the fifth track of the album, Kanye opens by telling the world Taylor wouldn't be who she is today if it weren't for him.
"For all my Southside n---as that know me best/I feel like me and Taylor might still have sex/Why? I made that bitch famous (G-- D-mn)/I made that bitch famous."
Ye later claimed that Swift was okay with the line; but her people said she didn't know about it beforehand and didn't approve. Now, we all know Yeezy has no intentions of going into hiding this time around, but Taylor apparently has no intention of backing down.
At the 2016 Grammys, Swift became the first woman to take home the Album of the Year award twice — this time for 1989 — and she used her acceptance speech to clap back at her rap nemesis.
"I wanna say to all the young women out there, there are going to be people along the way who will try to undercut your success or take credit for your accomplishments or your fame. But, if you just focus on the work and you don't let those people sidetrack you, someday when you get where you're going, you'll look around and know that it was you and the people who love you who put you there and that will be the greatest feeling in the world. Thank you for this moment."
Taylor's affectionately-dubbed "Squad" sat in awe of their friend for standing up for herself, and letting Ye know that "Famous" line was simply not cool. Taylor Gang sure does have a new meaning these days, doesn't it?