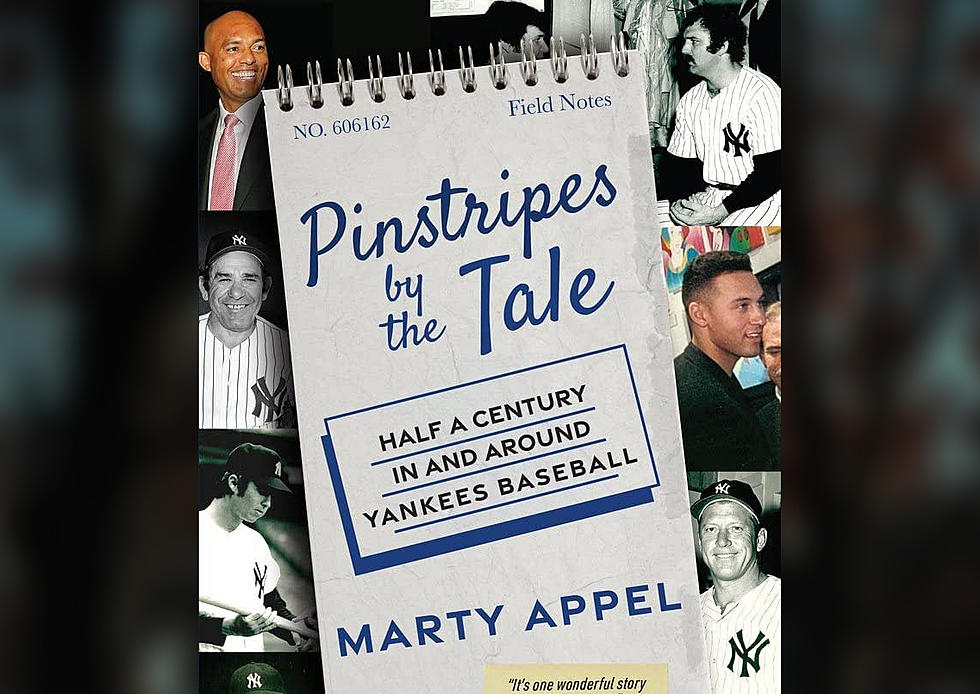 Yankees History Expanded In New Book, "Pinstripes By The Tale"
Book cover courtesy of Marty Appel
Marty Appel is a man to be jealous of.
Pinstripes by the Tale: Half A Century In And Around Yankees Baseball is the 25th book Appel has written.  For me, this is the very best of his work.
In most cases when compiling notes for a review, my goal is to highlight two or three topics discussed in a book.  When collecting my thoughts on Pinstripes by the Tale, my notes fill up a sheet of legal-size paper rapidly.  Every line, every inch has names, places, and great moments in Yankees history squished in. Reading Pinstripes by the Tale takes me from my first moment as a nine-year-old attending my first Yankees game in person at the Stadium (1968 season; Yankees VS Detroit Tigers, Sunday doubleheader, bleacher seats (.75 cents, one of the games featuring a Yankees infield of Bobby Cox, Gene Michael, and Dick Howser), to watching the club's happenings on YES Network.
For me, Appel has taken tid bits from all previous Yankees' yearbooks, and added his first-person take on the events and names featured. There isn't a single lull in all 276 pages of Pinstriples by the Tale. Not one.
I learned so much.
How many of you remember the Yankees seasons of 1974 and 1975 when the club played its home games at Shea Stadioum in Flushing, Queens?  I attended games those seasons at the 'enemy's home field', but thanks to Appel's story telling, I learned much about the organization's experiences during those seasons.
The signing of Jim "Catfish" Hunter on December 31, 1974 took place at the Yankees makeshift offices in Flushing Meadows.  How the press conference was assembled, and how quickly baseball's first major free-agent signing came and left New York City on that memorable day blew me away.  Plus, how great of a human being was "Catfish"?  Well, when Appel was hospitalized, the newest Yankee showed his compassion to the then Yankees public relations director like no one could have expected.
All of Appel's plethora of in the moment with Yankee history are addicting. My favorites shared in Pinstripes by the Tale revolve around the planning and execution of Old Timer's Day.  The invite to famous Negro League pitcher and Hall of Famer Satchel Paige in 1973 stands out.  A fan's donation of an original Kansas City Monarchs uniform (the team which Paige is most famous with), and the outcome of the legendaty hurler's visit to the Stadium left me shaking my head in disbelief.
Also, we learn just how important it was for another Yankee great to be announced (always) last. Details are offered of the 1975 Old Timer's event in which Billy Martin is announced as the newest Yankees manager.  Joe DiMaggio was insulted that the club's skipper, and not the "Clipper" was announced last at Shea Stadium.  Then, there was the time that Mickey Mantle was announced last, just after his retirement.  This didn't get over well with Joe D.  Why?  Appel explains clearly and concisely.
Appel, a graduate of State University of New York at Oneonta, first came to the Yankees (officially) in 1968. He was hired to answer Mantle's fan mail.  What a gig!
So many great moments in Yankee history were witnessed by Appel.  When the decision was made to select Thurman Munson as the club's captain, the first since Lou Gehrig in 1941, Appel was there in New York's Carlyle Hotel for the process.  His first-hand tale between owner George Steinbrenner and manager Martin is a wonderful piece of Yankees history to learn about.

Oh, and have you heard about how Appel tracks down a former Yankees manager who played when the legendary Cy Young was still in the game?  Pure love of the game, and the Yankees, motivated Appel,while in Florida, to locate Roger Peckinpaugh in 1975 during spring training.  Funny thing, Peckinpaugh, who was 23-years-old when he managed the Yankees in 1914, thought he was a member of the National Baseball Hall of Fame in Cooperstown, New York. Appel breaks the news to his interview subject that he isn't in that hall of fame.
Other great names in Yankees history - Tony Kubek, Bobby Murcer, Jim Bouton, Whitey Ford, plus Larry King, Presidents Gerald Ford and Ronald Reagan, and Bobby Bonds find their way into Pinstripes by the Tale.
Readers also get a first-hand understanding of what it was like for Appel to serve as executive producer for Yankees televised games on WPIX.  Hiring Tom Seaver to join the Yankees TV broadcast team, his unique relationship with Phil Rizzuto (I attended the same elementary school as "The Scooter" - P.S. 68 in Ridgewood, Queens) on Yankeees TV, as well as with Bill White and Frank Messer.
Appel's tales of holding radios to phones in visiting teams' press boxes so Steinbrenner could follow his Yankees in real-time, this demonstrates just how long ago Appel is associated with the Yankees.  Speaking of phones and the Yankees' owner, Pinstripes by the Tale informs that there were red phones installed throughout the offices in Yankee Stadium.
Red phones were for incoming calls from "The Boss", and calls were expected to be answered on the first ring.
Want to learn more why legendary Yankees broadcaster Mel Allen was fired?  Did you know there was a Yankees pitcher in the 1980's who drank 84 cans of beer weekly?  What was Yankee Stadium public address announcer Bob Sheppard really like? These and so many more questions and answers surrounding the most famous sports team in the world are addressed in Pinstries by the Tale.
Heck, even Red Sox great Ted Williams finds his way into this Yankees book. Did you know that the Boston hall of famer quit baseball after the 1954 season?  Better yet, do you know who Eddie Mifflin from Pennsylvania is and is said to be responsible for talking "The Splendid Splinter" back into the game?  Appel doesn't disappoint in explaining this important moment in baseball history.
So much baseball history between two covers.  Seriously, you won't want to put Pinstripes by the Tale down, once you reach for page one.
Don Laible is a freelance sportswriter living in the Mohawk Valley.  He has reported on professional baseball and hockey for print, radio, and on the web since the 1980's. His columns are featured weekly at WIBX950.com. Don can be contacted via email at Don@icechipsdiamonddust.com. 
2021 World Series Artifacts Will Live in Cooperstown at Baseball Hall of Fame
Artifacts from the 2021 World Series that featured the Atlanta Braves' first championship since 1995, made their way to the National Baseball Hall of Fame in Cooperstown on Wednesday, Nov. 3, 2021. The Braves beat the Houston Astros 7-0 on Tuesday night in Houston, clinching the World Series in game 6, 4 games to 2.
The baseball artifacts were on display in Albany at the Albany Airport baggage claim area on Wednesday, before making the trip to Cooperstown.
Here are 9 now historic artifacts from the series that will forever live at the Hall of Fame.
9 New Favorites from the New Menu at Utica's 72 Tavern and Grill
The 72 Tavern and Grill, a Utica, NY sports bar and restaurant connected to the Adirondack Bank Center, has now re-opened after an 18-month COVID-19 shutdown. The grand reopening has featured previous favorites from the previous menu, and some new updated menu items. Here are photos taken by photographer Nancy L. Ford of some of our favorites tasted during the restaurant's soft opening.
61 Amazing Snapshots of Utica's Most Unique Boilermaker Ever
The 2021 Utica Boilermaker Road Race will go down in the history books as one of the most unique, with an all-vaccinated field running the 5K and 15K on October 10th, without elite runners, and with thousands of regular participants sitting this one out because of COVID. The excitement this year was special and exclusive and there was no shortage of it, as seen through the lens of award winning photo-journalist Nancy L. Ford of Utica. Here are 61 awesome photos featuring some of the best moments from this year's race.