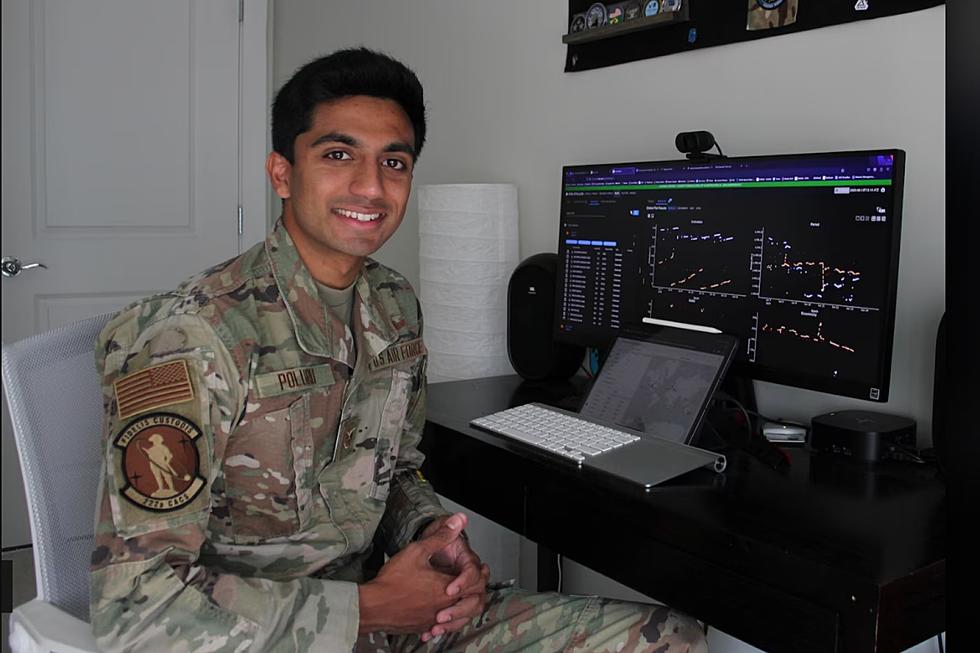 Air Guardsman based in Central NY named Airman of the Year
Courtesy of the National Guard
The Air National Guard named Senior Airman Dhruva Poluru, who is stationed in Rome, the 2023 Airman of the Year.
Poluru is currently based at Griffiss Business and Technology Park.
Poluru, who joined the New York Air National Guard in 2019, works in securing our U.S. space systems. He tracks both American and non-American satellites as part of the 222nd Command and Control Squadron.
The 222nd is a division of the 107th Attack Wing that is based at Niagara Falls Air Reserve Station.
Poluru also serves as a mission crew chief for the National Reconnaissance Office, which runs the nation's space surveillance systems.
Poluru also is part of a team that assists the United States Space Command with space domain awareness support.
To simplify what he does, the Air National Guard explains,
"He is responsible for orbital threat analysis and for the command and control of over 85 commercial data providers and orbital analysts who contribute to the U.S. Space Force's space protection and space defense missions."
If that wasn't impressive enough, the list of responsibilities goes on...
"Poluru is credited as being instrumental in several projects, including delivering high profile operations briefs with Brazilian Air Force command staff during state partnership events, managing roughly $150 million worth of U.S. Space Force assets, and preparing his team for the Air National Guard's first participation in a key war game."
This award is the latest from a string of high honors
In addition to being named Airman of the Year, Poluru's other honors include the...
Air and Space Commendation Medal
Joint Meritorious Unit Award
Remote Combat Effects Campaign Medal
Outstanding Airman of the Year Ribbon
National Defense Service Ribbon
Air and Space Achievement Medal
Poluru is honored to have been named Airman of the Year for 2023.
"To see that the work that I do being recognized, even working remotely, and leadership from all around the world seeing the results of my work means more than I can express... I truly enjoy what I do for all the different organizations I support, and I'm glad I can bring my technical background and expertise into it."

 
A little more about Poluru
Poluru hails from Virginia. He is a 2022 graduate of the State University of New York at Buffalo and earned a bachelor degree in mechanical and aerospace engineering.
After graduating, he moved back to his home state before he was assigned to the 222d Command and Control Squadron.
During his work at the 222d, Poluru also organized a 72-member charity golf event that benefitted athletics program in Hyderabad, India.

NY Sash Shower For A Soldier Makeover Goes To Air Force Veteran From Rome
An Air Force Veteran from Rome is the recipient of this year's New York Sash Shower for A Soldier Bath Makeover Giveaway.