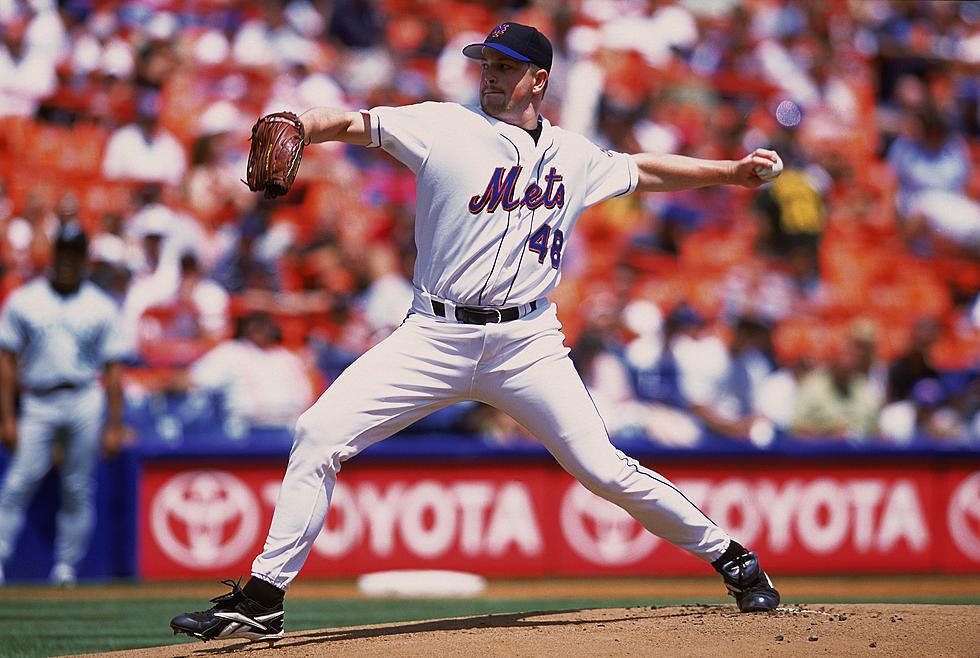 Former Mets Hurler Fulfilling Promise To Visit Cooperstown
19 Jul 2001: Pitcher Glendon Rush #48 of the New York Mets throwing the ball during the game against the Florida Marlins at Shea Stadium in Flushing, New York. The Marlins defeated the Mets 8-3.Mandatory Credit: Ezra Shaw /Allsport
Glendon Rusch has been looking forward to visiting Cooperstown for some time.
How cool is it when you're a self-described "huge baseball fan", and you then get to play in the Major Leagues?  This is Rusch's world. Coming to Cooperstown, home of the National Baseball Hall of Fame and Museum, only brightens his day more.  But, the former big leaguer, who played in 12 MLB seasons, is anxiously looking forward to next month's Hall of Fame Classic.
Representing the New York Mets, a club that he spent parts of three of his dozen MLB years with including the 2000 National League Championship season, Rusch will be visiting the Hall of Fame for only the second time.
"I was there once before, in 2014, when Greg Maddux was inducted," said Rusch earlier this week during a telephone call from his home in the Louisville, Kentucky area.  "We played together for three years with the Cubs, and part of another season (2008) with San Diego."
Rusch remembers his first visit to Cooperstown nearly a decade ago as short.  With all the hustle and bustle of what goes on during Hall of Fame Induction Weekend, Rusch didn't have the time he would have liked to take in all that the game's premiere museum has to offer. However, during next month's Memorial Day Weekend visit to Cooperstown, Rusch, who will be traveling solo, plans to take his time in soaking up baseball's history on display.
Growing up nine miles north of downtown Seattle, Rusch grew up a Mariners fan, and has many memories of some of the franchise's players and games.  The former lefty pitcher who collected more than 1,000 strikeouts and 67 victories during his career, followed the Atlanta Braves growing up as well.  At the time the Braves had nearly all their regular season games broadcast on SuperStation WTBS, as the cable outlet was carried coast-coast in the United States.
Throughout Rusch's playing days he seemed to always be in contact with teammates and opponents who would one day be in the Hall of Fame.
"I played with Piazza (Mike Piazza) in New York, Trevor (Trevor Hoffman) in San Diego, and Rickey (Rickey Henderson) with the Mets.  My opponents, I played against Craig Biggio, Jeff Bagwell, and Eddie Murray. Paul Molitor was still playing ,too," Rausch, who last played in the MLB in 2009, explains.
Drafted by the Kansas City Royals out of Shorecrest High School in Shoreline, Washington in 1993 in the 17th-round, future Hall of Famer George Brett would be the first of many greats of the game Rusch mingled with.
Coming to Cooperstown and participating in the Classic, as Rusch sums up his plans, was a long time coming. As an active member of the Mets' alumni , it was at the urging of Rusch's former teammate and current SNY analyst Todd Ziele to put the uniform on again, and represent the club. Ziele has participated in the previous two Classics as the Mets representative.
What kept Rusch away from Cooperstown last May was his involvement with his two sons' baseball interests.  With one boy a senior and another a freshman in high school, sports and academic requirements are keeping them from making the trip north with their dad next month.
Todd Helton, a teammate of Rusch's when playing for the Colorado Rockies for two seasons (2008 & 2009), finished with 72.2% of votes during this past January's Hall of Fame announcement.  It takes 75% or greater of votes by members of the Baseball Writers' Association of America for election to the Hall of Fame.  Rusch believes Helton eventually should get into the Hall.
Another attraction Rausch is looking forward to seeing during his Memorial Day Weekend visit to Cooperstown is at the Fenimore Art Museum.  Hall of Famer Randy Johnson's first-ever solo photography exhibition , which runs through September 17, has special meaning for Rusch.  Aside from both being lefty pitchers and looking across at each other from opposing dugouts, a friendship has grown between the two.  Their mutual musical interests brought them together.
"It was really cool watching Randy pitch, as a fan, and then competing against him. He's fun to talk with, and just a tremendous guy", states Raush, who made his MLB debut in 1997 with Kansas City.
For more information on the upcoming Classic contact baseballhall.org
Don Laible is a freelance sportswriter from the Mohawk Valley, now living in Florida. He has reported on professional baseball and hockey for print, radio, and on the web since the 1980's. His columns are featured weekly at WIBX950.com. Don can be contacted via email at Don@icechipsdiamonddust.com. 
Top 10 Local News Stories of 2021
As 2021 comes to an end, here are the Top 10 local news stories of the year.
Top 5 Local Sports Stories Of 2021
There were many local sports stories that highlighted 2021, including a couple of firsts. Here are a look at the Top Five, along with a bonus story.
Fox Host Failla Reaches USA from WIBX Studio in Utica
The host of Fox Across America with Jimmy Failla which airs coast to coast and on WIBX 950 and 106.9 FM weekdays from noon 'til 3, was in Utica this past weekend. Jimmy Failla sat in on the Keeler in the Morning Show on Friday morning December 3, 2021, and then did his national show on FOX News Radio from WIBX's studio.
Failla is a former New York City cab driver turned stand up comic and over the weekend, he performed 4 sell-out shows at Utica's Fat Katz Comedy Club in Washington Mills.
Check out some snap shots from the weekend.
10 Photos That Remind You Just How Much Litter America Produces
10 Photos That Remind You Just How Much Litter and Pollution America Produces