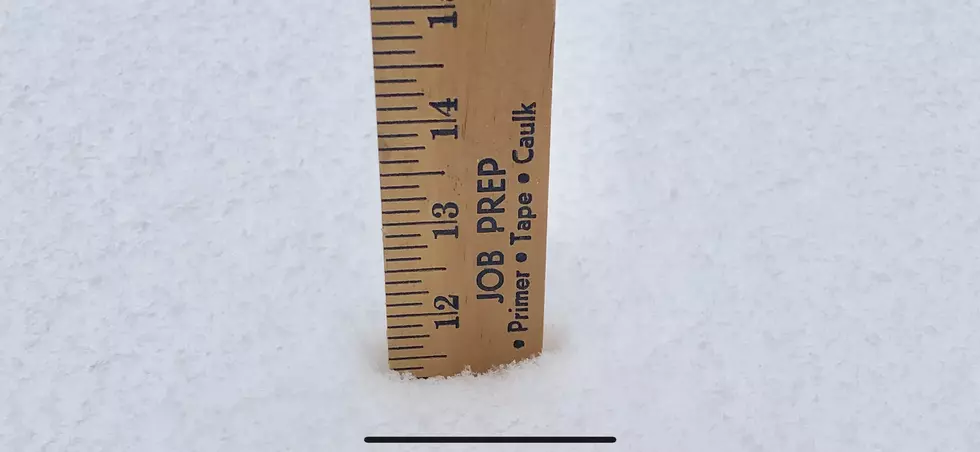 How Much Snow Will We Get Out of This Storm?
Photo by Bill Keeler/TSM
It's round three of this week's winter weather that's finally pushing through the Mohawk Valley after a very mild start to the winter season. Now, another storm is passing through the Northeast and here's what it means for our area.
This storm system is named Kassadra and is coming up from the Ohio Valley and moving into our area around mid-day on Wednesday.

Don't expect a lot of snow accumulation out of this one, in fact, we'll be facing a Winter Weather Advisory from the National Weather Service, and not a Winter Storm alert.
Forecasters say snow will start off moderate to heavy on Wednesday afternoon and will only drop a couple of inches of snow. After midnight, warmer air from the south will move in and the snow will turn to sleet and freezing rain, and then to all rain for much of the night. The rain will switch back over to rain and snow on Thursday morning and taper off through the day. Total accumulations are expected to be 2 - 5 inches, according to the National Weather Service, with a layer of freezing rain.
The next good chance for precipitation is expected on Sunday in the form of a rain and snow mix.
...WINTER WEATHER ADVISORY REMAINS IN EFFECT UNTIL 10 PM EST THIS EVENING... WHAT...Mixed precipitation. Total snow accumulations of 2 to 5 inches and ice accumulations of a light glaze. Winds gusting as high as 35 mph. WHERE...Madison, Southern Oneida, Chenango and Otsego counties. WHEN...Until 10 PM EST this evening. IMPACTS...Plan on slippery road conditions. The hazardous conditions could impact the evening commute. ADDITIONAL DETAILS...Snow will mix with and change to freezing rain and sleet late this afternoon or early this evening, before changing to all rain overnight. Downslope winds off the Catskills may diminish snowfall amounts in lower elevation areas of Otsego and Delaware Counties. -National Weather Service
AquaVino Restaurant and Bar Opens in New Hartford. Check Out These Amazing Dishes
One of Utica's most popular restaurants has just moved into the former Outback Steakhouse in New Hartford. The new restaurant has an awesome menu featuring great food and drink. Check out these dishes we enjoyed during the soft opening.
Utica's NEXUS Center Preparing for Grand Opening
With hockey tournaments on the schedule in just a matter of hours, workers scramble to prep Utica's new NEXUS Center for its opening on November 9th.
Check Out These 43 Amazing Classic Custom-Made Neon Signs
There are very few authentic neon sign companies left in America. One of the coolest is located in Upstate New York where neon artist and craftsman Howie Cohen repairs, restores and creates some of the most amazing neon signs and clocks in the country. Here are 43 beautiful neons from the Just Neon Sign Company in Utica, NY.