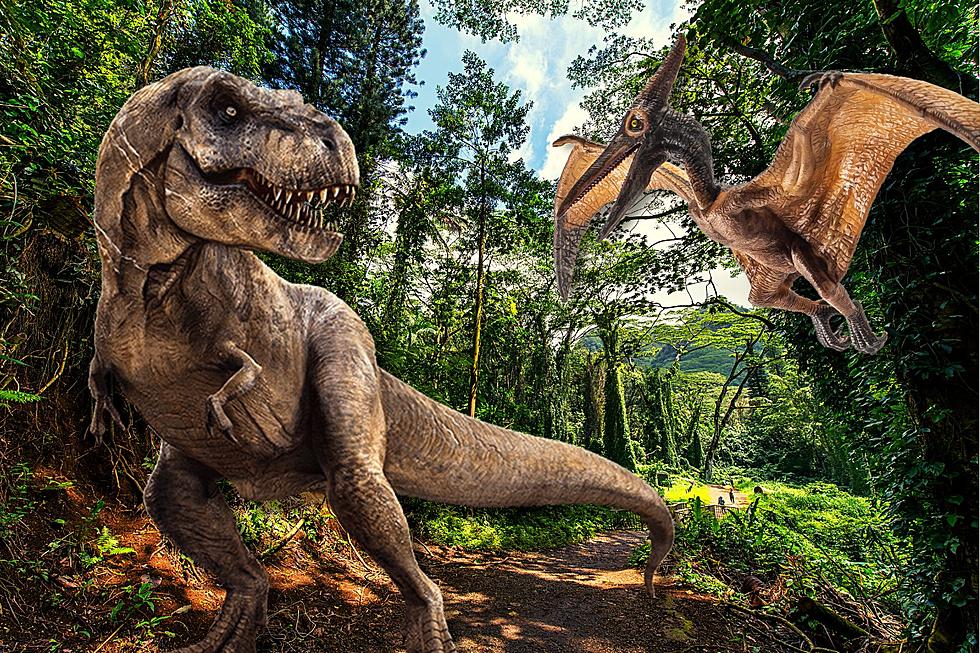 Love Dinosaurs? Jurassic World Live is Coming to Upstate New York
Canva
They knew they COULD bring it to Upstate New York, and we think you SHOULD go!
Take a break from reality and step into the world of dinosaurs. Jurassic World is launching their very own Live Tour, including shows in both the United States and Canada. It'll kickoff March 3rd in Newark, New Jersey and wrap up November 26th in Wilkes Barre, Pennsylvania.
The Park is Open!
At the show, you'll join up with a team of scientists to figure out how to save Jeanie, a Troodon dinosaur, from a terrible fate. But watch out! The plan takes a nasty turn when the mighty Tyrannosaurus rex shows up.
There's even a seating section that's exclusive, putting you right on the arena floor and in the middle of all the action.
To make it even better, there will be a pre-show experience where you can get up-close photos with the dinosaurs for yourself. This includes pictures with your favorites like the Triceratops, Stegosaurus, Baby Bumpy, the Jurassic World Jeep, Gyrosphere, and Utility Terrain Vehicle.
Each experience will take place an hour before the scheduled Show Time.
They're Coming to YOU!
Want to go? Good! Because they are making their way to Upstate New York.
The Jurassic World Live Tour will be invading MVP Arena in Albany this fall for 3 adrenalin-pumping days. They'll be setting up shop from October 6th-8th, with different times for each show. This gives you every reason to reserve a seat.
Jurassic World Live Tour
Where: MVP Arena - Albany, NY
When: October 6th (7pm) - Oct 7th (11am, 3pm, 7pm) - Oct 8th (12pm, 4pm)
Tickets are already on sale! Get them and more information by visiting their website.
If you can't make it to this show, there is another one happening earlier in the year on Long Island. Jurassic World is coming to UBS Arena in Belmont Park from March 17th-19th. Ticket information is also available here.
Dinosaur World Live Invades The City Of Utica New York January 2022
Dinosaur World Live
is an interactive show for the whole family. You can catch all of our historic friends at The Stanley Theatre on January 25th at 6:30PM. Here's photos from past shows:
New Disney Themed Mayan Ruins Exhibit & Underwater Viewing Coming to Wild Animal Park
A new Disney-themed ancient Mayan ruins are coming to the Wild Animal Park in Chittenango. It's part of a multi-million dollar project that will also include an exhibit with underwater viewing.
The Abandoned & Decaying Petrified Creatures Dinosaur Museum
This once-popular roadside attraction in Richfield Springs now sits neglected and rotting.
Laughable One-Star Reviews of Colorado's Dinosaur National Monument
Look Who Has Played the New York State Fair
Here's a look back at some of the artists that have played the Great New York State Fair.
Concert Archives