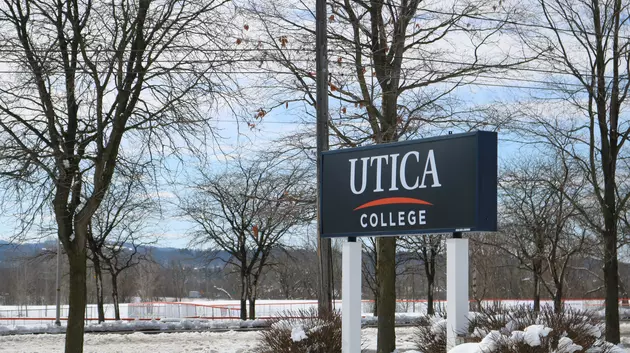 Most to Least New York State College and University Tuitions
Photo Credit - P.W. Creighton/WIBX
It's graduation time and high school seniors and juniors are looking at and finalizing their decisions for college and the costs are of major concern.  
College Board recently put out it's list of the nation's most expensive colleges and New York Schools were prominently a part of the list. Columbia University was the most expensive college to attend in 2017-18.  In fact, 17 of New York's college tuitions are among the highest in the country, with annual tuition at $50,000 or higher.  Locally, Colgate and Hamilton College are a part of the $50K club.
Last year, Utica College announced it was cutting their tuition to $20,000 and that move drew national attention from the media.
New York State schools continue to be an affordable option for New York residents.  Many SUNY and CUNY schools offer discounted tuition for in-state residents.
Here's a list from College Board that lists tuition for New York schools from most to least expensive.
Columbia University
New York, NY
$57,208
Vassar College
Poughkeepsie, NY
$55,210
Sarah Lawrence College
Bronxville, NY
$54,010
Colgate University
Hamilton, NY
$53,980
Hobart and William Smith Colleges
Geneva, NY
$53,525
Union College
Schenectady, NY
$53,490
St. Lawrence University
Canton, NY
$52,990
Bard College
Annandale on Hudson, NY
$52,906
Cornell University
Ithaca, NY
$52,853
Hamilton College
Clinton, NY
$52,770
Barnard College
New York, NY
$52,662
Skidmore College
Saratoga Springs, NY
$52,446
Rensselaer Polytechnic Institute
Troy, NY
$52,305
University of Rochester
Rochester, NY
$52,020
Fordham University
New York, NY
$50,601
New York University
New York, NY
$50,464
Pratt Institute
Brooklyn, NY
$50,038
Webb Institute
Glen Cove, NY
$48,775
Clarkson University
Potsdam, NY
$47,950
The New School
New York, NY
$47,330
Syracuse University
Syracuse, NY
$46,755
Wagner College
Staten Island, NY
$45,380
Manhattan School of Music 1
New York, NY
Unranked in Arts Schools
$44,600
Hartwick College
Oneonta, NY
$44,134
Pace University
New York, NY
$44,036
Hofstra University
Hempstead, NY
$43,960
Cooper Union
New York, NY
$43,850
Ithaca College
Ithaca, NY
$42,884
Yeshiva University
New York, NY
$42,000
Elmira College
Elmira, NY
$41,900
Juilliard School
New York, NY
$41,410
St. John's University
Queens, NY
$40,790
Manhattan College
Riverdale, NY
$40,345
Rochester Institute of Technology
Rochester, NY
$40,068
Wells College 1
Aurora, NY
$39,600
School of Visual Arts
New York, NY
$38,000
Manhattanville College
Purchase, NY
$37,910
Iona College
New Rochelle, NY
$37,682
Adelphi University
Garden City, NY
$37,170
LIU Post
Brookville, NY
$36,978
Marist College
Poughkeepsie, NY
$36,780
College of New Rochelle
New Rochelle, NY
$36,618
College of Mount St. Vincent
Bronx, NY
$36,540
Canisius College
Buffalo, NY
$36,454
New York Institute of Technology
Old Westbury, NY
$35,870
Siena College
Loudonville, NY
$35,735
The King's College
New York, NY
$35,400
Le Moyne College
Syracuse, NY
$33,905
Cazenovia College
Cazenovia, NY
$33,656
St. Bonaventure University
St. Bonaventure, NY
$33,301
St. John Fisher College
Rochester, NY
$33,120
Nazareth College
Rochester, NY
$32,424
Alfred University
Alfred, NY
$32,264
Albany College of Pharmacy and Health Sciences
Albany, NY
$31,981
Marymount Manhattan College
New York, NY
$31,950
Niagara University
Niagara University, NY
$31,950
College of Saint Rose
Albany, NY
$31,654
Culinary Institute of America
Hyde Park, NY
$31,616
Concordia College
Bronxville, NY
$31,600
Houghton College
Houghton, NY
$31,540
The Sage Colleges
Troy, NY
$31,164
Keuka College
Keuka Park, NY
$31,071
St. Thomas Aquinas College
Sparkill, NY
$30,750
Roberts Wesleyan College
Rochester, NY
$30,686
Molloy College
Rockville Centre, NY
$30,310
Mount St. Mary College
Newburgh, NY
$29,920
Dominican College
Orangeburg, NY
$28,448
Daemen College
Amherst, NY
$27,990
Paul Smith's College
Paul Smiths, NY
$27,621
Medaille College 1
Buffalo, NY
$27,276
St. Joseph's College New York
Brooklyn, NY
$26,560
LIM College
New York, NY
$26,395
Stony Brook University--SUNY
Stony Brook, NY
$26,297 (out-of-state), $9,257 (in-state)
University at Buffalo--SUNY
Buffalo, NY
$26,270 (out-of-state), $9,770 (in-state)
St. Francis College
Brooklyn Heights, NY
$26,188
D'Youville College
Buffalo, NY
$25,710
Nyack College
Nyack, NY
$25,350
Berkeley College
New York, NY
$25,300
Vaughn College of Aeronautics and Technology
Flushing, NY
$24,777
Binghamton University--SUNY
Binghamton, NY
$24,403 (out-of-state), $9,523 (in-state)
University at Albany--SUNY
Albany, NY
$24,358 (out-of-state), $9,278 (in-state)
Hilbert College 1
Hamburg, NY
$21,300
Villa Maria College 1
Buffalo, NY
$21,080
The College of Westchester 1
White Plains, NY
$21,015
Utica College
Utica, NY
$20,676
Touro College
New York, NY
$19,870
Five Towns College
Dix Hills, NY
$19,590
Metropolitan College of New York
New York, NY
$19,180
Mercy College
Dobbs Ferry, NY
$18,714
Purchase College--SUNY
Purchase, NY
$18,148 (out-of-state), $8,298 (in-state)
SUNY College of Environmental Science and Forestry
Syracuse, NY
$18,090 (out-of-state), $8,240 (in-state)
SUNY--Geneseo
Geneseo, NY
$18,058 (out-of-state), $8,408 (in-state)
CUNY--Baruch College
New York, NY
$18,021 (out-of-state), $7,551 (in-state)
SUNY College of Technology--Delhi
Delhi, NY
$17,990 (out-of-state), $8,340 (in-state)
CUNY--College of Staten Island
Staten Island, NY
$17,959 (out-of-state), $7,089 (in-state)
SUNY College--Cortland
Cortland, NY
$17,950 (out-of-state), $8,100 (in-state)
CUNY--John Jay College of Criminal Justice
New York, NY
$17,940 (out-of-state), $7,070 (in-state)
SUNY--Fredonia
Fredonia, NY
$17,939 (out-of-state), $8,089 (in-state)
SUNY College of Technology--Canton
Canton, NY
$17,850 (out-of-state), $8,200 (in-state)
SUNY--Oswego
Oswego, NY
$17,841 (out-of-state), $8,191 (in-state)
SUNY College--Potsdam
Potsdam, NY
$17,834 (out-of-state), $7,984 (in-state)
SUNY College of Agriculture and Technology--Cobleskill
Cobleskill, NY
$17,812 (out-of-state), $7,962 (in-state)
SUNY--Plattsburgh
Plattsburgh, NY
$17,800 (out-of-state), $7,950 (in-state)
SUNY College--Oneonta
Oneonta, NY
$17,786 (out-of-state), $7,936 (in-state)
College at Brockport--SUNY
Brockport, NY
$17,778 (out-of-state), $7,928 (in-state)
SUNY Polytechnic Institute
Utica, NY
$17,760 (out-of-state), $7,910 (in-state)
Farmingdale State College--SUNY
Farmingdale, NY
$17,726 (out-of-state), $8,076 (in-state)
SUNY Maritime College
Throggs Neck, NY
$17,724 (out-of-state), $7,874 (in-state)
SUNY--New Paltz
New Paltz, NY
$17,683 (out-of-state), $7,833 (in-state)
SUNY Buffalo State
Buffalo, NY
$17,551 (out-of-state), $8,001 (in-state)
SUNY College--Old Westbury
Old Westbury, NY
$17,533 (out-of-state), $7,683 (in-state)
CUNY--Queens College
Queens, NY
$17,408 (out-of-state), $6,938 (in-state)
CUNY--Brooklyn College
Brooklyn, NY
$17,310 (out-of-state), $6,840 (in-state)
CUNY--Hunter College
New York, NY
$17,250 (out-of-state), $6,780 (in-state)
CUNY--York College
Jamaica, NY
$17,218 (out-of-state), $6,748 (in-state)
SUNY Empire State College
Saratoga Springs, NY
$16,835 (out-of-state), $6,985 (in-state)
Monroe College
Bronx, NY
$14,896
Fashion Institute of Technology
New York, NY
$14,863 (out-of-state), $5,483 (in-state)
CUNY--Medgar Evers College
Brooklyn, NY
$13,866 (out-of-state), $6,756 (in-state)
CUNY--City College
New York, NY
$13,799 (out-of-state), $6,689 (in-state)
CUNY--New York City College of Technology
Brooklyn, NY
$13,779 (out-of-state), $6,669 (in-state)
Morrisville State College
Morrisville, NY
$13,340 (out-of-state), $8,270 (in-state)
CUNY--Lehman College
Bronx, NY
$13,040 (out-of-state), $6,230 (in-state)
Plaza College 1
Forest Hills, NY
$12,450
SUNY College of Technology--Alfred
Alfred, NY
$11,345 (out-of-state), $8,075 (in-state)
Boricua College
New York, NY
$10,625