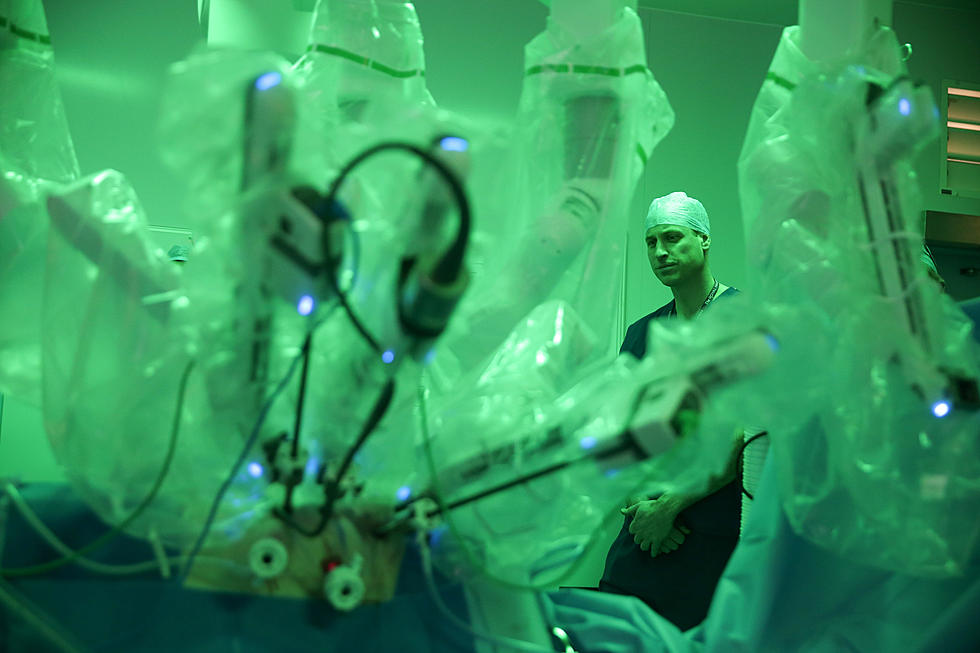 Robot Doctor That Can Perform Surgeries Added to Central New York Hospital
Daniel Leal-Olivas - WPA Pool/Getty Images
Would you want a robot with four arms operating on your brain?
A fancy, new machine has landed in Utica and you can find it at St. Elizabeth Medical Campus.
The Mohawk Valley Health System announced it installed a, which are capable of performing minimally invasive surgeries.
This is the second such device added by MVHS, with the other being located at St. Luke's Campus. Both robots will eventually be brought to Wynn Hospital when it opens its doors on October 29.
What this means for CNY patients
Basically, the da Vinci Xi is designed to reduce the recovery time for certain procedures. As explained by MVHS:
The da Vinci surgical systems are designed to help surgeons perform minimally invasive surgery through high-definition 3D vision, a magnified view and robotic and computer assistance. They use specialized instrumentation, including a miniaturized surgical camera and wristed instruments (i.e., scissors, scalpels and forceps) that are designed to help with precise dissection and reconstruction deep inside the body.
Mark Crye, MD, director of Thoracic Surgery, celebrated the practice's "new hire".
In terms of robotic surgeries, we're able to do very complex operations through very small incisions. This allows patients to recover quickly, get out of the hospital sooner, and have as good or better outcomes as they would with open operations. We're very excited to bring this opportunity to the patients in this area.
What can these robot doctors do?
These systems have been used to perform a variety of procedures, including prostatectomy, hernia repair, hysterectomy, lung transplants, GI surgery, ureteral reimplantation and more.
In addition to assisting with operations, the device has dual consoles so several doctors can use it at the same time.
When not in the OR, doctors can us it to hone their skills with SimNow, which is "a library of realistic simulations for practice of system skills, procedure training exercises and virtual reality experiences."
SimNow also measures performance and allows doctors to manage the development of their skills with customized curricula.
Other food for thought
The da Vinci Xi robot is a product of Intuitive Surgical, Inc. and is said to cost around $2 million.
In 2021, there were over 6,700 robots installed in hospitals across the globe. It's also believed that 75% of all U.S. prostate cancer surgeries are performed using a da Vinci system.
Check out this informational video below.
Will doctors be replaced by robots?
Of course, with all the talk over artificial intelligence threatening to take over several professions, it's natural to wonder if doctors are also on the list.
Harvard looked into the matter and determined doctors are safe -- at least during our lifetime. If AI were to have any influence on their career, it would be to help improve their decisions, which would translate to better health.
So it seems the da Vinci machine is another step in that direction.

10 New York State Hospitals Rank Among The World's Best
Newsweek magazine recently published its ranking of the top hospitals in the world and 10 are here in New York State. Who made this list?
Newsweek based its list of the
Top 250 hospitals on earth
based on four criteria: patient care, research, innovation, and consistency. 2023 marks the fifth year the publication put together data on hospitals from around the world. This year's data reportedly includes more than 2,300 hospitals from 28 countries, approximately 400 in the Unites states.
Here's the ones from New York State: