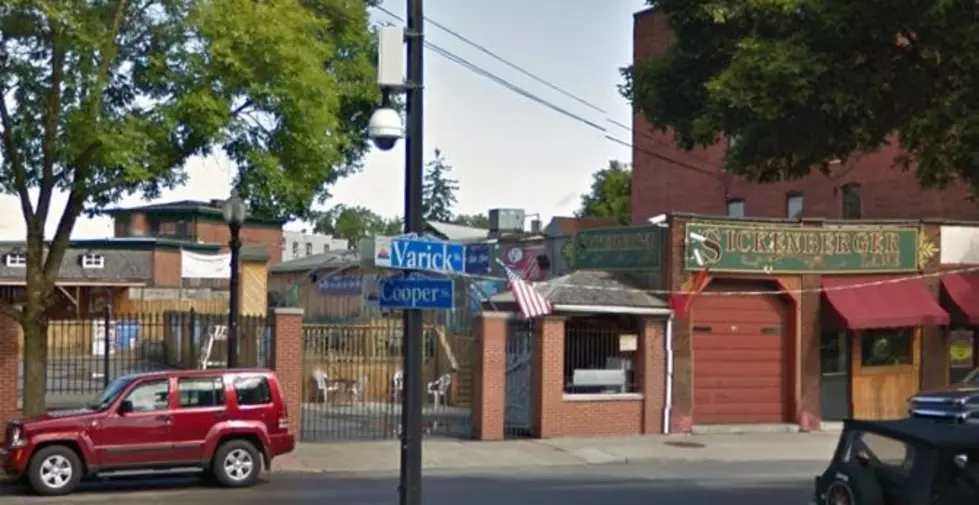 Senator Griffo Supports Law to Allow Open-Containers on Varick Street
Google Maps Street View
A new law has been proposed in the State Senate that would allow Varick Street to become an open-container district. With Varick playing host to several big community events like the Boilermaker, Saranac Thursdays and the upcoming St. Patrick's Day celebration this move seems like a natural next step.
Senator Joe Griffo believes that this law would have a number of positive effects on the local businesses located in the brewery district. In a release sent to WIBX Griffo says, "Allowing patrons to walk more freely throughout a designated district with their drinks would attract even more people to visit the area, and further boost the entertainment and leisure appeal of a region."
Anyone who has been to an establishment on Varick Street during a big celebration of some kind knows how crowded the bars can sometimes become. This new legislation would help to alleviate some of that congestion. Griffo adds, "Every St. Patrick's Day shows us how successful, and responsibly, a limited open-container event can work in Utica, but I believe a more permanent policy would create even more opportunities for areas like Varick Street to expand, draw tourists and support the local economy."
Imagine being able to bring a beverage with you from Saranac Thursday at the F.X. Matt Brewing Company to the many different outdoor areas with live music at any number of Varick's indoor/outdoor establishments. The law supported by Senator Griffo would allow local municipalities, like Utica, to designate certain areas as "recreation districts."
The law has garnered support from several other local officials including Utica Mayor Rob Palmieri and from law enforcement officials like Utica Police Chief Mark Williams. According to a release from Senator Griffo's office Chief Williams says, "From a law enforcement standpoint, this proposed legislation would help avoid over-crowding in bars and taverns by allowing people to drink outside in a controlled environment during large-scale events. By permitting municipalities and police to fully control when, where and how long outdoor drinking can occur in such a district, I believe we would see positive results for bars, patrons and law enforcement."
The law is sponsored by a Rochester-area Republican and is being supported by State Senator Joe Griffo.
---
BONUS VIDEO: Naegele's Craft Beer of the Week - Good Natured Blonde (In a Can)