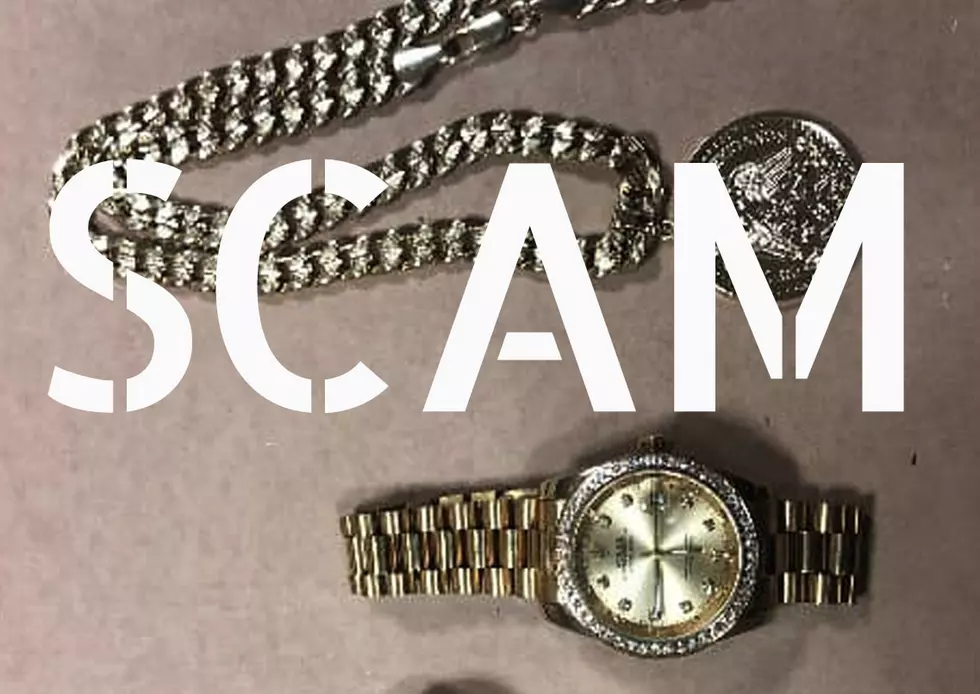 Sheriff Maciol Warns Not to Fall for This Scam, Some Already Have
Photo courtesy of Oneida County Sheriff's Department
Oneida County Sheriff Rob Maciol is warning residents to be on the lookout for a "sob story" scam that was successful on at least one person in Rome so far.
The sob story is the classic, "I lost my wallet and I need money to get back home." However, this one being conducted in the Walmart parking lot in the City of Rome, is offering up jewelry as collateral in exchange for a large sum of cash that will be returned as soon as the family is safely returned home.
Deputy Hagerty responded to a suspicious activity call at Walmart in Rome this week and found one man believing he had just been scammed out of money, according to Maciol.
"Upon arrival, Deputy Hagerty spoke with the complainant, who advised he felt he had fallen victim to a scam. The complainant advised that while at Walmart in the City of Rome, he had been approached by a male driving a white SUV, who told him he needed help getting his family back to Florida after losing his wallet," said Maciol. "The complainant reported that he was shown the family that was sitting inside the male's vehicle. He advised that there was a female and 4 children inside the car. He also stated the children ranged in age from 7 to an infant. The complainant provided a description of the male as middle aged, medium build, with black hair and facial hair. The complainant also reported that the male had a middle eastern accent."
Maciol said that following a brief exchange, the male offered several pieces of gold jewelry, as collateral, in exchange for cash, which he said he would repay upon arrival back in Florida. The jewelry was accepted and the complainant gave the man approximately $1,300 in cash.
Following an investigation, the OCSD determined the man in question had been conducting this scam at public places throughout Oneida County.
After reviewing security footage from Walmart, the couple conducting the scam was driving a white Ford Explorer.
It is unknown if the couple is still in the area.
AquaVino Restaurant and Bar Opens in New Hartford. Check Out These Amazing Dishes
One of Utica's most popular restaurants has just moved into the former Outback Steakhouse in New Hartford. The new restaurant has an awesome menu featuring great food and drink. Check out these dishes we enjoyed during the soft opening.
Utica's NEXUS Center Preparing for Grand Opening
With hockey tournaments on the schedule in just a matter of hours, workers scramble to prep Utica's new NEXUS Center for its opening on November 9th.
36 Ideas to Inexpensively Make Your Backyard Feel Like a Resort
Here are some fairly easy and inexpensive ways to make your back yard feel like you're on vacation and a beautiful summer resort. If these 5 families can do this in Upstate New York, it can be done anywhere!