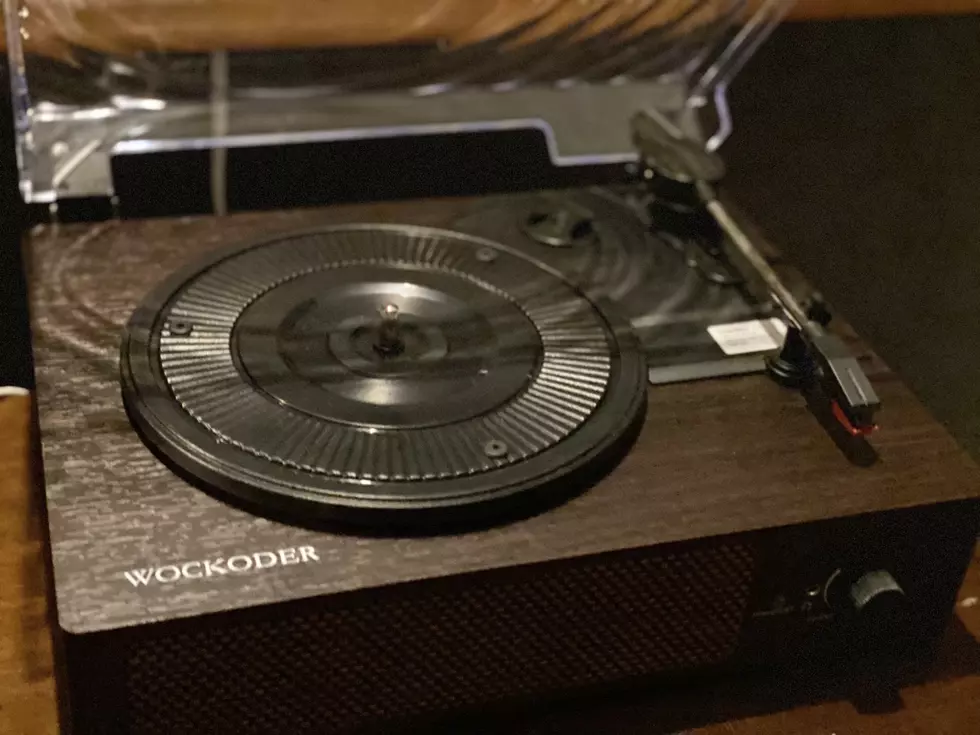 Spring Cleaning – Look for These Valuable Vinyl Records Worth up to $5K
Photo by Bill Keeler / TSM
If you have vinyl records packed away in your basement or attic and you're spring cleaning this week, be sure to look for these 10 records that could be worth a lot of money, according to Mighty John the Record Guy.
Mighty John, a regular guest on the Keeler in the Morning Show, is the expert we rely on when it comes to the value of records. This month, John came up with a spring list of "10 Records Worth $200 or More," plus he added a bonus that has something to do with Paul McCartney.
Spring Cleaning: 10 Records Worth $200.00 or more!
w/ps= with picture sleeve
(Year) (Label)… (Recording artist)… (Title) ……………………………..….(Near mint value)

---
1984 Geffen 12 inch single…Sammy Hagar… "I Can't Drive 55"……$200.00

---
1974 Casablanca 45…Kiss… "Strutter"…………….$400.00

---
1970 MGM 45 picture sleeve…Osmond Brothers… "One Bad Apple"……..$400.00

---
1964 Exeter 45…Bobby Fuller Four… "I Fought the Law(and the law won"$500.00

---
1968 Columbia LP…Big Brother & Holding Co… "Cheap Thrills" (mono)…..$600.00

---
1965 Capitol LP…Beatles… "Rubber Soul" (mono)……………$750.00
(stereo)…$100.00
add $250.00 with sticker  "Beatles Latest Album featuring Michelle"

---
1975 Columbia LP…Bruce Springsteen… "Born to Run"
Cover with script lettering…$1,000.00
Cover with block lettering……..$20.00

---
1961 Big Top LP…Del Shannon… "Runaway" (stereo)……….$1,000.00
(mono)………$500.00

---
1981 Leather 45…Motley Crue… "Stick to Your Guns"……$600.00
with picture sleeve..$1,200.00

---
1968 RCA LP…Elvis Presley… "Speedway" (mono)…….$4,000.00
(stereo)………..$100.00
---
And here's a bonus from John - What makes Paul McCartney's Ram album worth $5,000.00? Ram is the only Paul McCartney LP credited to Paul and Linda McCartney. If you have the album on Apple records as a monaural copy, it could be worth up to $5000. Monaural is only listed on the record, and not on the cover.
Visit John's website for appraisals along with everything vinyl.
READ ON: See the States Where People Live the Longest
Read on to learn the average life expectancy in each state.
The Many Intense Faces and Expressions of FDU (Iona) Head Coach Tobin Anderson
Anderson who was an assistant coach at Le Moyne, and head coach at Hamilton College in Clinton, NY shocked the basketball world with 2 wins in this year's NCAA Tournament as the FDU head coach. Anderson is emotional and a man of many expressions while barking out inspiration and instructions to his FDU Knights. Anderson accepted the head coaching job at Iona on Tuesday, March 21, 2023.
World's Largest Dish of Pasta, and a Wedding - Utica, NY, Feb 14, 2004
The Guinness Book of World Records affirmed in 2004, that the World's Largest Dish of Pasta was made in Utica, NY with the Keeler Show. Now with WIBX, Keeler worked with Tony's Pizzeria and other to create a dish of pasta weighing over 7,000 lbs. and the event included an actual wedding. The dish of pasta weighed 7,355 lbs. (3,336 kg) and lasted in the Guinness Book for several years. The dish was assembled and the wedding was held at Sangertown Square in New Hartford, when Keeler was hosting a 6 night a week television show, The Keeler Show, on FOX 33 TV in Utica and FOX 68 in Syracuse.
Utica's NEXUS Center Preparing for Grand Opening
With hockey tournaments on the schedule in just a matter of hours, workers scramble to prep Utica's new NEXUS Center for its opening on November 9th.
Amazing Photos from the 2022 Baseball Hall of Fame Inductions in Cooperstown, NY
Don Laible takes his camera around Cooperstown, NY during the National Baseball Hall of Fame Induction weekend on July 24, 2022.