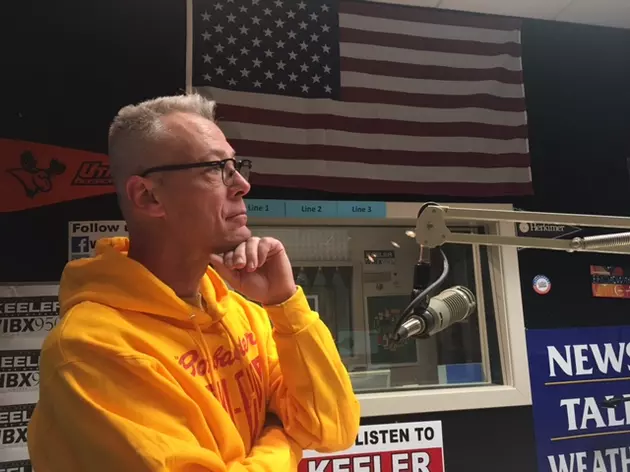 The Many Hats of Father Sean O'Brien
Andrew Derminio, WIBX
On Tuesday morning despite the frozen, snowy roads Fr. Sean O'Brien made the trek from his camp in Remsen to our studios on River Road in Marcy. Fr. Sean is always a blessing to have in studio. He's never afraid to have a good laugh or talk about the tough issues. He is always a fan favorite.
Fr. Sean first met 'First News with Keeler in the Morning' host, Bill Keeler, in his college days over 35 years ago. At that time "just Sean," as Keeler identified him as was studying to be a broadcaster. But faith and destiny had a different calling for Sean. He was called to the priesthood and after that a whole lot more.
Many know Fr. Sean as the pastor of such churches as Our Lady of Lourdes in Utica, St. Patrick's in Foresport, St. Mary's in Otter Lake and now three parishes in the Syracuse area. But with Fr. Sean there is more than meets the eye. This lad has another career that he is quite proud of, and rightfully so. Fr. Sean O' Brien is also known to many as Captain Sean O'Brien in the Chaplain Corps. for the United States Navy. He joined the Navy in 1991 and has served his country in 5 tours overseas tending to those men and women who needed him most. Fr. Sean says, "In May it will be 26 years in the Navy and I think I'd like to take one more assignment." Fr. Sean currently serves in the Reserves which calls for a two-year commitment at a time. He says the reason he joined the Navy was to see the ocean, but as he puts it "I've only ever seen sand." He's worked with all branches of the military and believes they are all great men and women.
One notable assignment given to Fr. Sean was to help in the relief efforts after the terrorist attacks on 9/11/01. "I had just gotten to St. Patrick's in Forestport and St. Mary's in Otter Lake in '98 and a few short years later I got called down to New York through the New York State Naval Militia."
In addition to the several years of service to his country and parishioners Fr. Sean also found a number of hobbies. Anyone who lives in the north country becomes quite familiar with the snow. Some choose to hide away from it, but not Fr. Sean. He has always had a love of snowmobiling, but don't give him any of those new fancy sleds. He prefers to stick to the classics.
Classic snowmobiles aren't the only motorized antiques Fr. Sean likes to collect and ride around in. He also is the proud owner of a 1926 Ford Model-T. It's in mint condition and he enjoys driving it around town. His love of the Adirondacks had to be accompanied by a place he could call his home away from home. That is why he purchased a small cabin that was originally built in 1911. Talk about antique. He bought this camp soon before his arrival as pastor in Forestport and Otter Lake in the Town of Remsen in 1997. It was 15 years later that he and a few of his fellow Navy buddies decide to retire the old cabin, tearing it down to build anew. In 2012 the new structure was complete, and when he's not serving the people of Syracuse he spends a good deal of quiet time there.
Man of God, Navy man, sled-rider and carpenter. What other talents could Fr. Sean
I joined the Navy to see the ocean, but all I've ever seen is sand.
possibly have time for? Well, in his early 40s Fr. Sean took on the task of learning to play the fiddle. He enjoys playing so much he even joined up with a group of friends to form a little musical act that performs spontaneously when the occasion is right. You can see him in the videos below.
During our interview with Fr. Sean on Tuesday morning we discussed a number of current issues, and how he has a man of God and country adapts to them. He says, "It's interesting to watch." On the topic of the newly inaugurated President Trump and former President Obama Fr. Sean simply said, "As a military person the President of the United States is my Commander-in-Chief and so I don't enjoy the luxury of the same freedom of speech that you do." As Keeler reminded, a right that Fr. Sean and others like him continually fight for.
Whether serving his community in East Syracuse, or blazing the snowy trails of the Adirondacks you can always find Fr. Sean O'Brien enjoying life to the fullest. He has touched the lives of many people and has been a part of many milestones. Two of those milestones belonging to his good buddy Bill Keeler. Fr. Sean not only presided over Bill's wedding to wife Alison, but he also baptized their only daughter Grace. If you see Father Sean O'Brien you may not know which hat he is wearing at the time, but you can bet he'll be sure to tip that cap and wish you "Top of the Morning."
You can listen to our interview with Fr. Sean in the video below.
Fr. Sean and Friends Jamming at Camp
Here He Plays His Fiddle