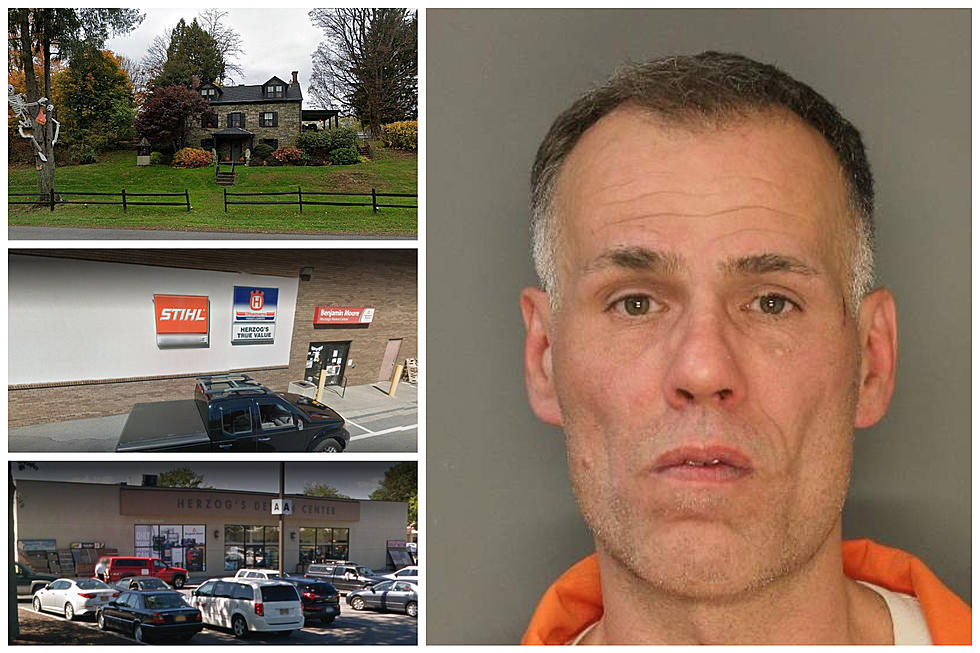 Upstate New York 'Career Criminal' Admits To Many Hudson Valley Crimes
KPD/Google
A 6'10" Hudson Valley man who calls himself a "tall crime scene" admitted to a number of crimes in the region.
On Tuesday, Ulster County officials confirmed an Upstate New York man pleaded guilty to a number of crimes across the county.
Upstate New York Man Admits To Stealing From Ulster County Businesses
On Monday, 49-year-old Seth Young from Esopus pleaded to three counts of grand larceny, all felonies.
Young pleaded guilty "without any promises" on his future prison sentence "after jurors from all parts of the County had assembled and selection of jurors was about to begin," according to the Ulster County District Attorney's Office.
For all the news that the Hudson Valley is sharing make sure to follow Hudson Valley Post on Facebook, download the Hudson Valley Post Mobile App and sign up for the Hudson Valley Post Newsletter.
Young is 6'10" and describes himself as a "tall crime scene," officials said. The Ulster County District Attorney's Office called Young a "career criminal."
"Career Criminal" Stoles From Headless Horseman And Kingston, New York Business
Ulster County DA Hopes He's Sentenced As Persistent Felony Offender
Because of his past, Assistant District Attorney Paul Derohannesian reports the Ulster County DA's Office "will file an application before Ulster County Court Judge Bryan Rounds for the defendant to be sentenced as a persistent felony offender to prevent him from doing any further harm to the people and businesses of Ulster County."
"He has had numerous opportunities in the last 25 years or more to change his ways, including having a serious violent felony reduced to a misdemeanor in 2019, yet he has not shown any sign or inclination to change," the Ulster County DA's Office stated.
Persistent felony offender treatment is permitted by law to protect the community from criminals such as this defendant.
The 7 Biggest Eyesores You'll Find on Upstate New York Lawns
Not everyone can afford a professional landscaper, but that doesn't mean you can't take pride in where you live.
25 Must Try Hudson Valley Dining Experiences
We compiled a list of 25 great dining experiences that you should try in the Hudson Valley!
Nearly 40 Children Have Recently Gone Missing From New York State
Did You Know? Over 100 Fun Facts About the Hudson Valley
Did you know that Lucille Ball made her stage debut in the Hudson Valley? How about Philadelphia Cream Cheese wasn't invented in Philadelphia, but in Orange County? Or that a mansion in Dutchess County inspired the expression "keeping up with the Joneses?" Find out about those and over 100 other fun facts about the Hudson Valley.