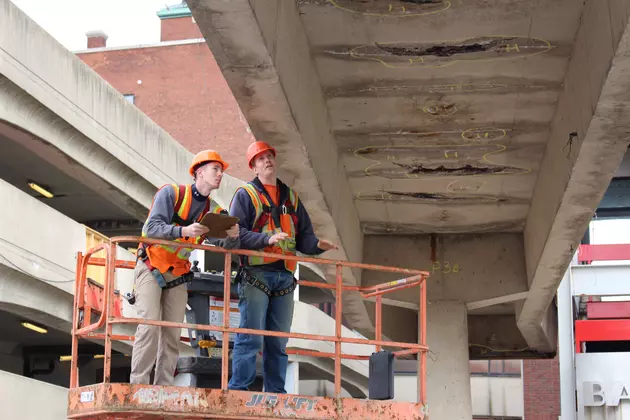 Engineers Scrutinize Binghamton Pedestrian Bridges
State Street was closed to traffic to allow engineers to take a close look at a pedestrian walkway. (Photo: Bob Joseph/WNBF News)
Structural engineers have been taking a close look at elevated pedestrian walkways in downtown Binghamton.
Employees of Ravi Engineering and Land Surveying of Rochester inspected crumbling bridges on State and Water streets in recent days.
The inspections were conducted a few weeks after the city approved an emergency contract to spend more than $10,000 to remove a badly-deteriorated walkway section at the State Street parking garage.
The engineers used tools to tap the underside of the pedestrian bridges during the inspections. The process caused loose chunks of concrete to fall to the street below.
The walkway that linked the Metrocenter with the Bar 607 building on State Street was taken out of service last year because of its poor condition.
The inspectors also checked the walkway over Water Street that connects the Metrocenter with the city-owned parking garage next to the Boscov's department store. That bridge now is utilized only by people who work in the Metrocenter.
City officials have indicated a walkway linking the governmental plaza with the Floyd L. Maines Veterans Memorial Arena might be removed. That pedestrian bridge no longer is in use.
For breaking news and updates on developing stories, follow @BinghamtonNow on Twitter.