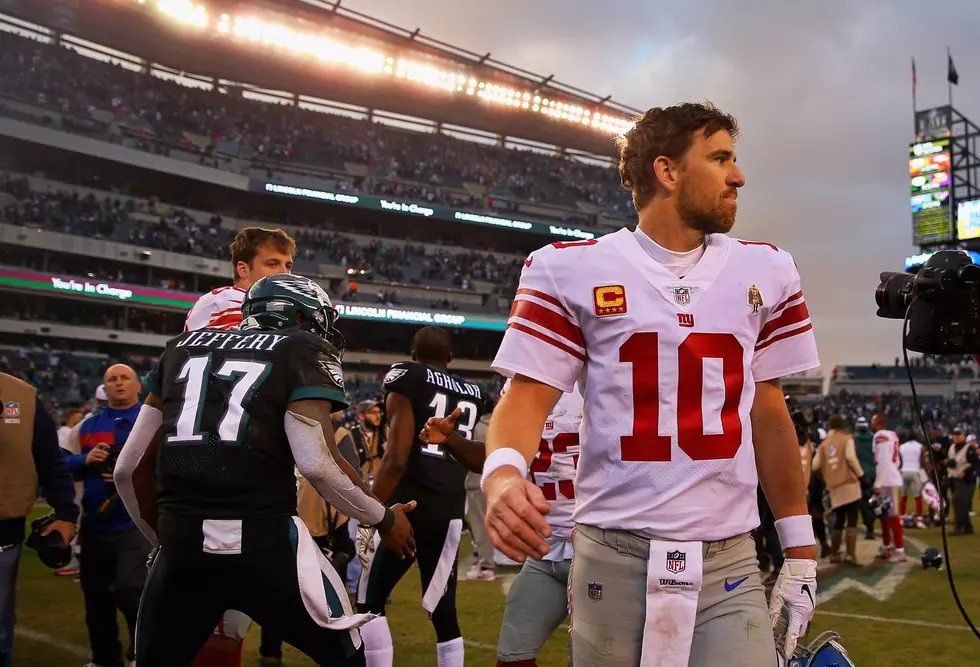 Giants Blow Lead, Playoff Hopes in Philly
PHILADELPHIA, PA - NOVEMBER 25: Quarterback Eli Manning #10 of the New York Giants walks off the field after losing 22-25 to the Philadelphia Eagles at Lincoln Financial Field on November 25, 2018 in Philadelphia, Pennsylvania. (Photo by Mitchell Leff/Getty Images)
The New York Giants saw their faint playoff hopes fade into oblivion in Philadelphia Sunday, blowing a 19-3 second quarter lead in an eventual 25-22 defeat in the closing seconds.
Eagles' kicker Jake Elliot drilled a 45-yard game winner with about 20 seconds remaining, keeping the defending Super Bowl champs' in the running for the NFC East with a 25-22 home win at Lincoln Financial Field.
And while the Giants offense ran in high gear in Sunday's first half (totally almost 350 yards), it certainly stalled and sputtered in the second. Of the team's 402 yards of offense, Eli Manning and company totaled just 51 net yards in the second half, including a net of -12 on their first three possessions in the third quarter.
Saquon Barkley cut through Philly's 'D' like a knife for 90 rushing yards and score in the first half, yet only touched the ball four times in the final two quarters - three rushes and dump down screen in the final seconds of New York's final possession. Pat Shurmur for some reason, instead favored backup Wayne Gallman for much of the second half.
Eli Manning threw for 297, one touchdown and one INT.
The Eagles got 236 and a TD pass from Carson Wentz, and a career best 84-yards rushing and TD from Josh Adams. Philly moves to 5-6, just a one game behind Dallas and Washington (6-5) in the division.
The Giants fall to 3-8 and will host Chicago next Sunday.