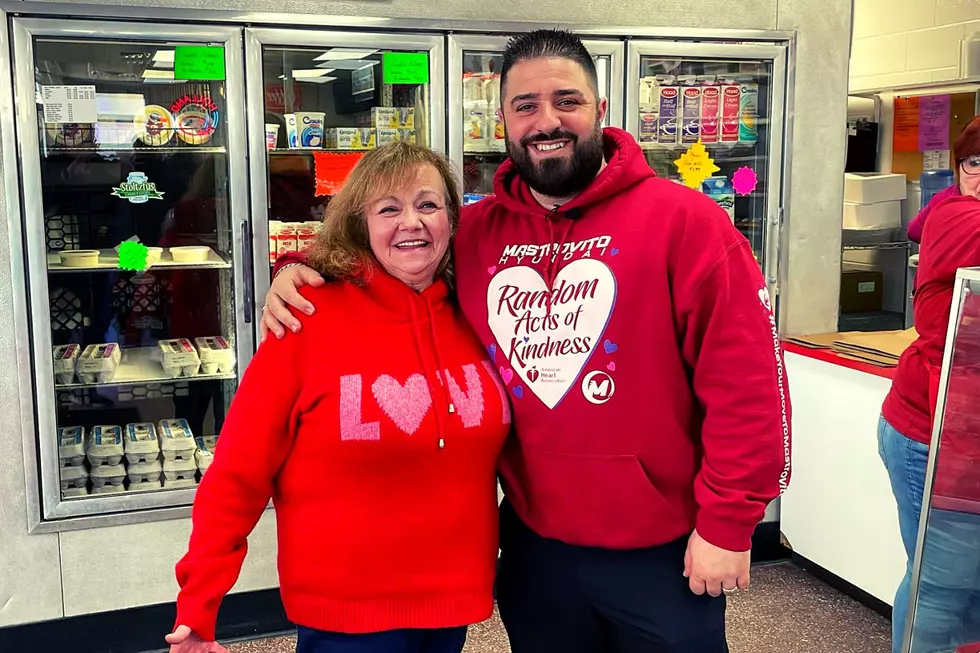 CNY Business Owner Spreads Love with a Sweet Random Act of Kindness
Credit - Barbara Parisi - Lambright via Facebook
There's no better way to put a smile on a stranger's face than with a random act of kindness. Just ask Frank!
Friday, February 17th is National Random Acts of Kindness Day... and one local business owner is already spreading the love. You would know too if you were recently at Holland Farms.
Frank Mastrovito of Mastrovito Hyundai took time out of his busy day to pay for everyone's order at Holland Farms on Valentine's Day. It caught many people by surprise, just like Barbara Parisi. But it still made her day!
Right now it's a luxury to go to the bakery for so many people. Just imagine a mom wants to buy a few jelly buns... putting aside $10 or more for the treats and she's told her bill is paid!
It's all part of Mastravito Hyundai's "Random Acts of Kindness" going on this February. They are dedicating a portion of their sales this month to go help the American Heart Association. But apparently the acts don't stop there.
It's the Little Things!
Frank's kindness at Holland Farms touched so many families, inspiring them to do the same to others.
What a wonderful gesture... most of us just don't experience this type of kindness, but today I did along with so many others.
A little goes a long way. Just the smallest gesture can make a bad day better for someone else. Take inspiration from Frank and spread love your own way this month!
30 Heartwarming Acts of Kindness to Restore Your Faith in Humanity
Here are 30 heartwarming acts of kindness from Central New York angels that'll restore your faith in humanity.
Students Spread Kindness Not Hate at Elementary School in Rome
Students at Ridge Mills Elementary School in Rome, New York are spreading kindness not hate.
World's Largest Dish of Pasta, and a Wedding - Utica, NY, Feb 14, 2004
The Guinness Book of World Records affirmed in 2004, that the World's Largest Dish of Pasta was made in Utica, NY with the Keeler Show. Now with WIBX, Keeler worked with Tony's Pizzeria and other to create a dish of pasta weighing over 7,000 lbs. and the event included an actual wedding. The dish of pasta weighed 7,355 lbs. (3,336 kg) and lasted in the Guinness Book for several years. The dish was assembled and the wedding was held at Sangertown Square in New Hartford, when Keeler was hosting a 6 night a week television show, The Keeler Show, on FOX 33 TV in Utica and FOX 68 in Syracuse.
8 Things You Think You Can Write Off On Your Taxes, But Can't In New York
These 10 Cities In New York Have The Highest Divorce Rates
Almost 50 percent of all marriages in the United States will end in divorce or separation. With odds like that, where are the highest divorce rates in New York State?