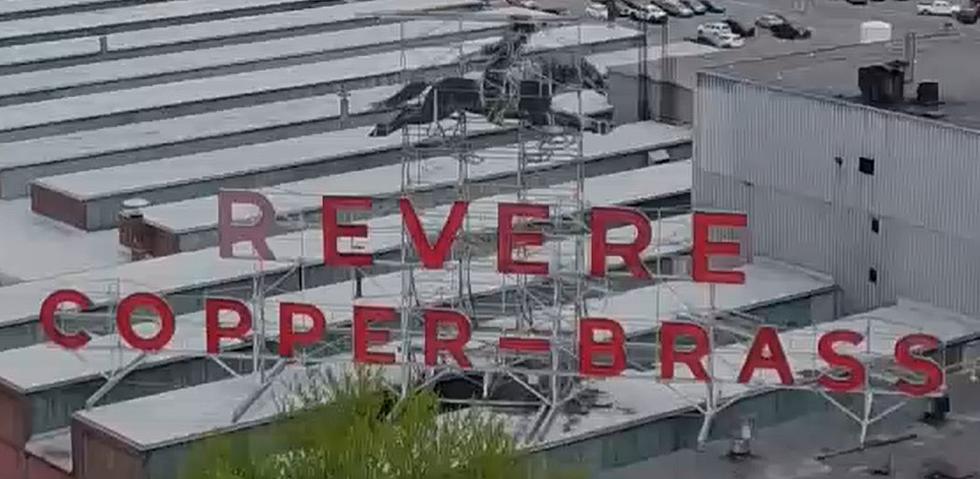 It's Finally Time to Light the Sign! Paul Revere Will Ride Again in Rome
Credit - Revere Copper
It is finally time to light the sign! Paul Revere will ride again in Rome.
The iconic Revere Copper and Brass sign will light up again after being dark for more than 20 years in Rome, New York. CEO and President Mike O'Shaughnessy, announced the news employees and the community have been waiting years to hear.
We know this project is not just near and dear to Revere employees, but the Rome community at large.
Save the Sign
The community has hoped to save the sign for years. A Facebook group was even created.
It'll take some work to get Paul Revere riding again. The sign has suffered damage over the years. It even lost the R in a wind storm back in 2017.
Light the Sign
A not-for-profit organization will be created to manage and maintain the lighting of the sign on top of the rolling mill. The plan is to modernize the technology while still maintaining the classic appearance.
If all goes according to plan, the famous sign, atop the oldest manufacturing company in the country, will light up for the first time in more than 20 years on July 4, 2024.
Paul Revere's Ride
Revere Copper was founded in 1801 by Paul Revere, the famed patriot who rode from Boston to Lexington to warn of the advance of the British Army. A ride that became a famous poem by Henry Wadsworth.
One if by land, and two if by sea;
And I on the opposite shore will be,
Ready to ride and spread the alarm
Through every Middlesex village and farm.
Renovations Begin on Famous Thousand Island Castle Abandoned For 70 Years
Renovations begin on the famous Thousand Islands mansion that has sat abandoned over 70 years.
35 Famous People Buried in New York State
Cemeteries in New York have a number of famous people buried there. Here are 35, from Presidents and sports stars to Hollywood icons.