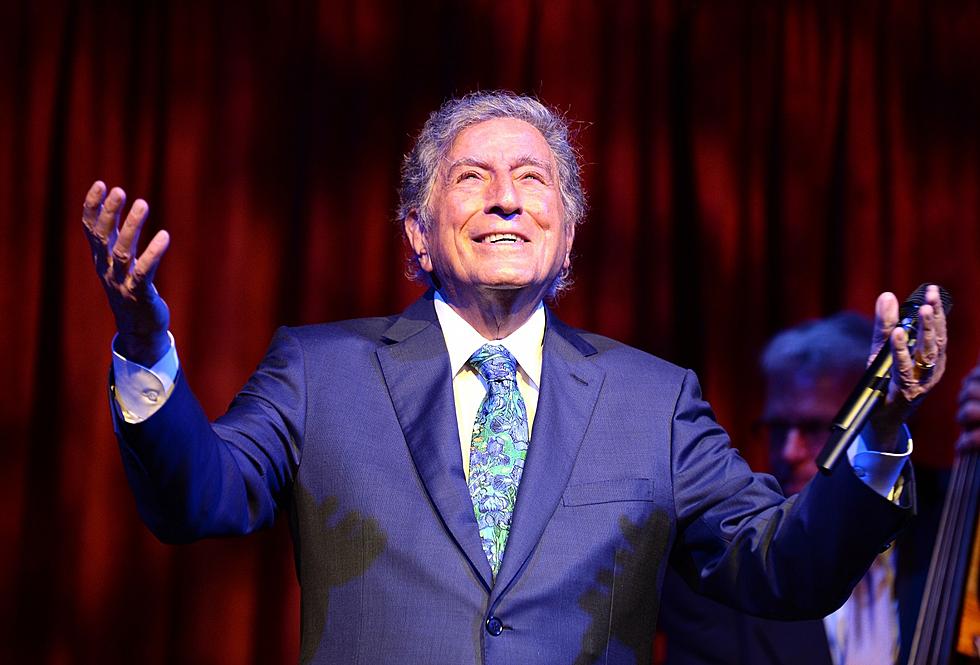 Legendary New York Singer Tony Bennett Dies at 96
Dave Kotinsky
New York is mourning the legendary jazz singer Tony Bennet, who passed away Friday morning in New York City. He was two weeks shy of his 97th birthday.
His publicist, Sylvia Weiner, confirmed his death.
Bennett revealed in 2021 he was diagnosed with Alzheimer's disease back in 2016. He told fans on Twitter: "Life is a gift — even with Alzheimer's."
He later took a permanent bow from live performances in 2021.
Bennett was born August 3, 1926, in Long Island and never failed to honor his New York roots throughout his decorated career.
Although Bennett started singing at age 10, his professional career began in 1950, when he was signed to Columbia Records. Bennett took a shining to commercial pop tunes, beginning with his cover of the ballad, "Because of You," which went to #1 on the charts.
He released a whopping 61 albums throughout his career, his last being the Grammy-winning "Love For Sale," which he recorded with Lady Gaga in 2021.
The two performed the album and other commercial pop hits on the CBS television special, "One Last Time: An Evening with Tony Bennett and Lady Gaga," which served as Bennett's final live performance. It was filmed at Radio City Music Hall.
Bennett earned 19-Grammy wins (20 if you count his Grammy Lifetime Achievement Award) and sent 30 singles onto the Billboard charts.
Bennett also broke many records throughout his career. His last being the Guinness World Record for being the oldest person to record an album of new material.
He was 95 years 58 days old when "Love for Sale" was released in 2021.
Mourning a New York legend
Born Anthony Dominick Bennedetto, Tony Bennett captivated fans around the world with his true-to-life "rags to riches" story. He was born to a poor Italian immigrant family living in Queens and lost his father at the age of 10.
Tony turned to singing to help his family get through the Great Depression and his talent didn't go unrecognized. He was invited to sing at the 1936 opening of the Triborough Bridge and stood alongside Mayor Fiorello LaGuardia. Bennett belted out "Marching Along Together" as throngs of people followed him across the bridge.
Bennett later attended the High School of Industrial Arts in Manhattan, New York, of which he said helped him realize he wanted to pursue a professional singing career.
However, his plans were put on hold when he was drafted to serve in World War II. He was discharged in 1946 and returned to pursuing his passion.
He even released a few albums under Leslie Records, using the stage name Joe Bari, but they didn't perform well in sales.
Bennett's luck changed when he performed in Greenwich Village in 1949, where he was discovered by Bob Hope. Hope not only took Bennett on the road with him, he also was the one who suggested he change his name to the iconic moniker we now all know him by.
When he wasn't singing, fans would catch him sketching in Central Park. While singing was his passion, he was also a talented artist and dedicated much of his work to New York City scenes.
One of his paintings is hanging in Louis Armstrong's house in Corona, because Bennett had painted the singer's portrait. The story goes that Armstrong loved the painting so much, he hung it across from his desk so he could see it every day.
In 2001, Bennett opened the Frank Sinatra School for the Arts in his old neighborhood of Astoria, Queens. It stands as one of the many examples of Bennett's love of his hometown and New York.
Bennett wasn't just a music industry icon, he leaves behind an indelible mark on New York and shoes no one will ever be able to fill.
Ladies and gentlemen, for one last time, here's Tony Bennett.

10 Forgotten New York Concerts from the Early 80's
Take a moment to think back on the concerts you attended in the early 80's. As the shows start to populate your mind you will smile and think, 'I can't believe they played that venue'. Here are some of those shows and moments in time.