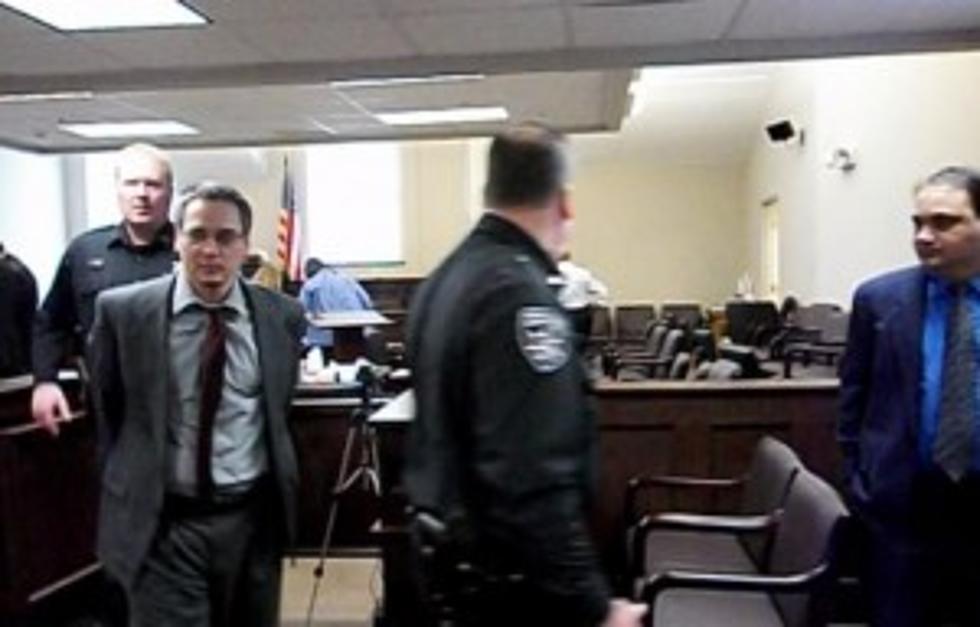 Patterson Tells Neighbor "I'm Cocked And Ready"
Utica, NY (WIBX) - The Christian Patterson murder trial entered it's fourth day in Oneida County Court today. The jury heard from five witnesses, including Patterson's neighbor, Ernest Davenport. Davenport, who described his relationship to the suspect as a "drinking and hunting buddy" said he received several text messages a few minutes after 8:00 p.m. on the night of June 6, 2011. He received the first text at 8:03 p.m.
They were from Patterson's 17-year-old son, Christian Patterson Junior, also known as "Little Chris." Davenport, who works as a trucker, says he was on a job near Syracuse at the time. After learning of the ensuing fight between Patterson and Secor, he told the jury he became concerned and decided to call Patterson at his home. He said after several attempts to try and calm him down over the phone, telling him, "Think about what you're doing." He said, "He said, 'I'm sick of that (b-expletive), I can't do this anymore.'" The he said he heard Patterson say something that scared him. "He said he was cocked and ready," he said. Davenport went on to explained to the jury during questioning that he heard Patterson say, "My guns are loaded, that he wasn't going to jail and he wasn't leaving his house." He also said he heard Patterson say that the police were on their way.
Davenport who also goes by "Mike" said that Patterson had shared some of his relationship woes with him on occasion. He said Patterson shared that he suspected that Secor was seeing someone else. He also referred to Patterson's relationship with his son as "sketchy" and that he yelled at him a lot. "They argued a lot," he added. He also told the court that Patterson would require his son to work  or help out in the house before he could play his X-Box. He said before he could continue to calm Patterson down the phone went dead. He said when he arrived home around 11:30 p.m., Knoxboro road was blocked off. After letting officials on the scene know that he lived on the street, he was instructed to go home and stay there.
During cross examination Davenport talked about Patterson's hunting skills. The defense seemed to attempt to establish that Patterson was not a very good shot. Davenport said he never saw Patterson shoot a deer during their hunting outings.
Davenport said after the incident that claimed the life of Oneida County Sheriff's Deputy Kurt B. Wyman, he went to see Patterson in jail because he still considers him a friend. He said during their visit, Patterson brought up that statement and disputed that he said it. Daveport said they went back and forth about it, but maintained that he did hear him say it.
The prosecution team called five witnesses to testify today. Most were members of the Oneida County Sheriff's Office Emergency Response Team. The first witness was ERT Captain Antanavige. He was asked by defense attorney Frank Nebush if it was customary to drag these types of high-risk situations out for a long time to ensure a better outcome. He agreed that time is on their side, however he explained that the nature of law enforcement and in particularly, the work of ERT, requires improvising and adjustment as needed. He also talked about the strategies used to try and gain entry into the home to contain Patterson in the garage where he was hold up. He was also asked if he took inventory of any hazardous material that may be in the garage, to which the Captain said, "No." He also told the jury that he filed an official report about the incident about two and a half weeks later. Other officers called to testify throughout the week also told the jury that they did not file an incident report immediately. Some took time off to be with family and mourn the loss of one of their fellow officers.
It was also learned during testimony from a ballistic expert that Investigator David Nowakowsi fired three rounds from within patrol car 462 toward the garage, however none of the rounds hit the garage. It was determined that Patterson fired three rounds at the officers, however officials were only able to locate two of the shell casings. Trigger Reset Testing was also conducted on Patterson's shot gun to determine if he would have to pull the trigger each time to fire. The expert found that the suspect would have to pull the trigger each time to fire off a round.
Patterson  is facing an Aggravated Murder charge, as well as, an Assault charge for the stand-off in the Town of Augusta on Knoxboro Road. Patterson could be sentenced to life in prison without the possibility of parole. Testimony will continue in Judge Barry Donalty's court room on Monday 6, 2012.
Video showing Patterson leaving the court room during a break:
On Tuesday another high profile case is set to start right next door to Judge Donalty's court room--the trial of David Trebilcock, the Sherill man who stands accused of stabbing his then live-in girlfriend's six-year-old daughter to death.