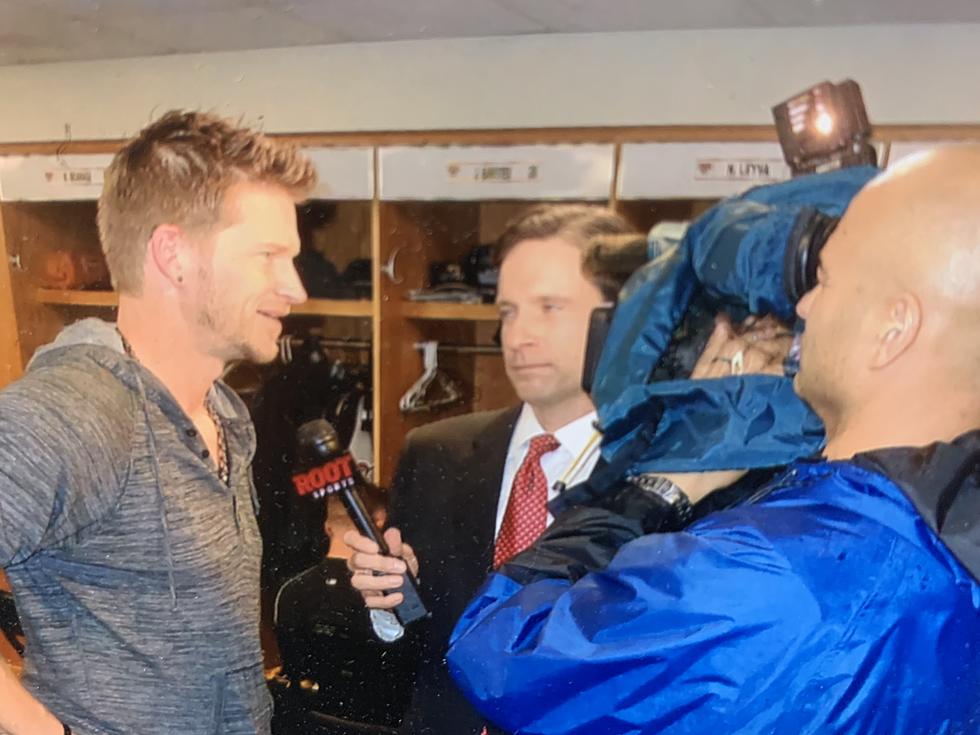 Pittsburgh Sportscaster Rob King Has Upstate Roots That Run Deep
Photo courtesy of Rob King
Cooperstown native Rob King is living the dream in Pittsburgh.
Every once in a while, if you're lucky, your life is enriched when meeting someone who is comfortable. Comfortable in who they are, and how they are going about their daily life.  Work, family, whatever and whoever comprises their daily schedules, these special people have found the nirvana so many others chase, and miss.
One conversation with King, and you just know he has rung the bell of success in whatever manner you define the word.
Before speaking with King this past week that began cordially and was initially planned for 10 minutes, tops, turned into an hour phone conversation, and at least on my end, resulted in a long-distance budding friendship.  He's that honest.  Pittsburgh fans who tune into his pregame, postgame, and intermission reports on AT&T SportsNet telecasts of MLB's Pirates and NHL's Penguins have long known what I've recently discovered.
Going back in my memory data base more than 30 years ago, I first met King at my home, when I was living in Ilion, NY.

At the time, for more than a quarter century, in one facet or another, my life was wrapped up in the world of professional wrestling. Over the years, as a result of my travels, I accumulated a sizable memorabilia collection. Masks, programs, autographs, hundreds and hundreds of framed (and signed) photographs cluttered the four walls of my home office.
I contacted WUTR-TV20 in Utica, where King was a one-man sports department, and best to his recollection was earning about $200. weekly at the time.  My goal was for King to come to my office, and package a story for viewers.  Wrestling fans and those who thought the game at the time wasn't highbrow enough for them to entertain watching, would find my private shrine, at the very least, entertaining.
King made the trip east of Utica, and taped.  This wouldn't be the last time I would cross paths with the budding man-about-sports.
Also in the early '90's, a nasty, potentially company-folding disaster was brewing within the World Wrestling Federation (now World Wrestling Entertainment), as a Utica native  was contemplating suing the company. The ring boy accused the WWF of having employees sexually harassing him.  At the time, pro wrestling, for most media, wasn't a "cool" program to warrant any coverage to.
King went out on the limb and put a grip on the story.
A special segment for his nightly sportscast was planned on this national story with a local connection. King arranged for renown wrestling journalist John Arezzi to hop on an Amtrak train from New York City, and present up-to-the minute details on the growing story of the Vince McMahon owned company.
This is the King I knew, and have thought about more than half of my life ago.  Following a story, going the extra yard to understand it, and allowing his viewers to decide what's what.
Fast-forward to this past Pittsburgh Pirates' spring training in Bradenton, FL.
As I, along with a half dozen other scribes from the Pittsburgh region in town for six weeks to cover the club, stand waiting for a post-workout media conference with Pirates' skipper Derek Shelton. Enduring the early afternoon heat, Pirates' longtime broadcaster Greg Brown joins the group. As friendly as any person you could meet, either by schedule of happenstance, Brown inquires where I'm from.
Central New York, near Cooperstown, I inform Brown.  He rapidly fires back that back in Pittsburgh, a member of the Pirates' studio team is from the village housing the National  Baseball Hall of Fame and Museum. Rob King is his name.  Immediately, a light bulb comes on in my brain.
After a quick research, to validate AT&T's King is the same person formerly working at Utica's ABC-TV affiliate, and subsequently for nearly five years after down the road in Syracuse, at WTVH (channel 5), I connected the dots.  The local kid from Lake Street in Cooperstown indeed hit the big time in the world of sports broadcasting.
Having always had an appreciation for team broadcasters, I became eager to "catch up" with King.  I am so glad that I did.
From the time he graduated from Cooperstown High School, to his settling in (hopefully for the rest of his career in Pittsburgh), King was earning his stripes in the sports broadcasting world. He briefly attended Hobart College, transferred to and graduated from Washington University in St. Louis where, oh, by the way, King quaterbacked the football team, and earned All-Conference honors.
Before being hired by Kathy Contino at WUTR, King was honing his budding sports on-air work in St. Louis at KPLR-TV. He also was dipping his toe in radio at KFNS-AM.
Arriving in Pittsburgh in 2000 became a life changer for King. As long as he has a say in the discussion, there's no Plan B. By all accounts, viewers value and trust his analysis. Listening to his voice during our telephone conversation, and watching his delivery on TV, there's no confusion on King's DNA.  He isn't caught up in celebrity. He is the same person who drove 40 miles from Cooperstown to Utica during his WUTR years.
King can easily remember with great detail of his climb up the broadcasting business, when it began up on Smith Hill. He tells with ease of paying $200. for rent, and the same amount for a car payment, all with about a $200. weekly salary.
"I'm a small town kid, raised anything but special," said King.  "Growing up I played all sports."
Confessing to having "not a ton of hobbies", King is undeniably appreciative of the position he has found since arriving in Pittsburgh. This is why his on-air appearances register as any other local sports fans; he feels what they feel.
This feeling grew at WUTR-TV. King recalls sending tapes to Contino, who at the time was the station's news director. When the hiring process was completed, and long after his stay in Utica concluded, King remembers this time in his career as a "fun, and great experience."
As much as he has an affinity for his home region (King's family moved around in Downstate  Westchester County before settling in Otsego County during his eighth grade year), Pittsburgh is nothing short of bliss for King and his family. In  August it will be 23 years that King will have signed on to Pirates, Penguins, and all sports in between, discussed in Pittsburgh by him.  Clearly, he is proud of this accomplishment.
"I love the city. I could tell, instantly, the passion the fans had for their teams here.  I was lucky to have found that when moving to Cooperstown."
The same appreciation is felt for King with Pittsburgh. He tells of not having the mind to keep climbing the ladder in broadcasting, just for the sake of getting to a larger market or salary.  He tells of being in search of the best possible place to raise his family (Rob and his wife (an Edmeston, NY native) and pursue his career, and this would be the last stop, professionally, for him.  After a couple months in "The Steel City", King knew it was time to plant roots.
Welcome, Pittsburgh.
With the Pirates season in full swing, at the halfway point of the club's season, King, like so many of their fans, remains excited and optimistic for the future.  With nearly 40 wins already, the club is surely to surpass their 2022 season total of 62.
"They've (Pirates) have made a big step forward over last year.  I'm guessing they can get 78 wins. Even though they have been losing lately, I'm more bullish on the club.  They have gotten really good, really fast".
Pirates' general manager Ben Cherington, as King and surely other supporters of the team agree, has done a tremendous job in assembling the roster.
It's easy to be jealous of King's introduction to his love for baseball. When he shares time spent as a child with his dad, listening on shortwave radio, Pirates' broadcasts told by the legendary Pittsburgh voice Bob Prince, this is Norman Rockwell untapped.
King is living his dream, please, no one wake him. The story is too rich to end.
Don Laible is a freelance sportswriter living in the Mohawk Valley.  He has reported on professional baseball and hockey for print, radio, and on the web since the 1980's. His columns are featured weekly at WIBX950.com. Don can be contacted via email at Don@icechipsdiamonddust.com. 
2021 World Series Artifacts Will Live in Cooperstown at Baseball Hall of Fame
Artifacts from the 2021 World Series that featured the Atlanta Braves' first championship since 1995, made their way to the National Baseball Hall of Fame in Cooperstown on Wednesday, Nov. 3, 2021. The Braves beat the Houston Astros 7-0 on Tuesday night in Houston, clinching the World Series in game 6, 4 games to 2.
The baseball artifacts were on display in Albany at the Albany Airport baggage claim area on Wednesday, before making the trip to Cooperstown.
Here are 9 now historic artifacts from the series that will forever live at the Hall of Fame.
9 New Favorites from the New Menu at Utica's 72 Tavern and Grill
The 72 Tavern and Grill, a Utica, NY sports bar and restaurant connected to the Adirondack Bank Center, has now re-opened after an 18-month COVID-19 shutdown. The grand reopening has featured previous favorites from the previous menu, and some new updated menu items. Here are photos taken by photographer Nancy L. Ford of some of our favorites tasted during the restaurant's soft opening.
61 Amazing Snapshots of Utica's Most Unique Boilermaker Ever
The 2021 Utica Boilermaker Road Race will go down in the history books as one of the most unique, with an all-vaccinated field running the 5K and 15K on October 10th, without elite runners, and with thousands of regular participants sitting this one out because of COVID. The excitement this year was special and exclusive and there was no shortage of it, as seen through the lens of award winning photo-journalist Nancy L. Ford of Utica. Here are 61 awesome photos featuring some of the best moments from this year's race.