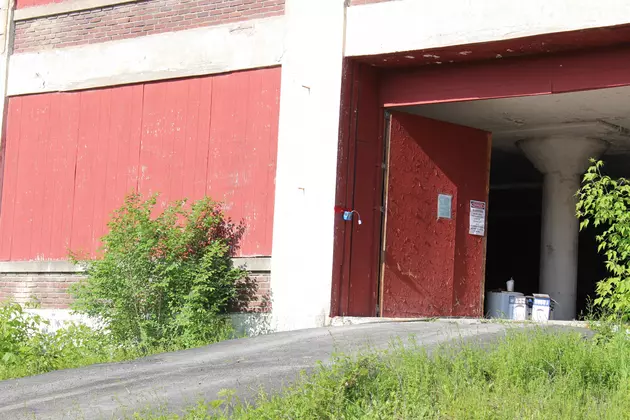 Prep Work Underway at BU Nursing School Site
Asbestos is being removed from an old EJ building on Corliss Avenue. (Photo: Bob Joseph/WNBF News)
Crews in Johnson City have started to prepare for construction at what will become the new home of Binghamton University's nursing school.
The Decker School of Nursing is to be moved from the Vestal campus to a renovated Endicott Johnson building that has been idle for decades.
Asbestos removal work is underway in the 90,000-square-foot Corliss Avenue structure that had housed a shoe and carton factory.
University president Harvey Stenger said people now are removing asbestos from around pipes and elsewhere in the structure. He said there's a "relatively small amount" of asbestos in the old building.
The project design calls for an addition to be constructed on the east side of the building for classrooms and a conference center. Stenger said the planned is expected to be completed in 2019.
Speaking on WNBF Radio's Binghamton Now program, Stenger said the design work is almost done.
Stenger said planners are considering the possibility of a walkway over Willow Street to connect the future nursing school with a planned research and development building to the west.
The university president said a total of $15.9 million now has been secured for the new research and development facility. That building is to be constructed between the pharmacy and nursing school complexes on Corliss Avenue as part of Binghamton's health sciences campus.
For breaking news and updates on developing stories, follow @BinghamtonNow on Twitter.