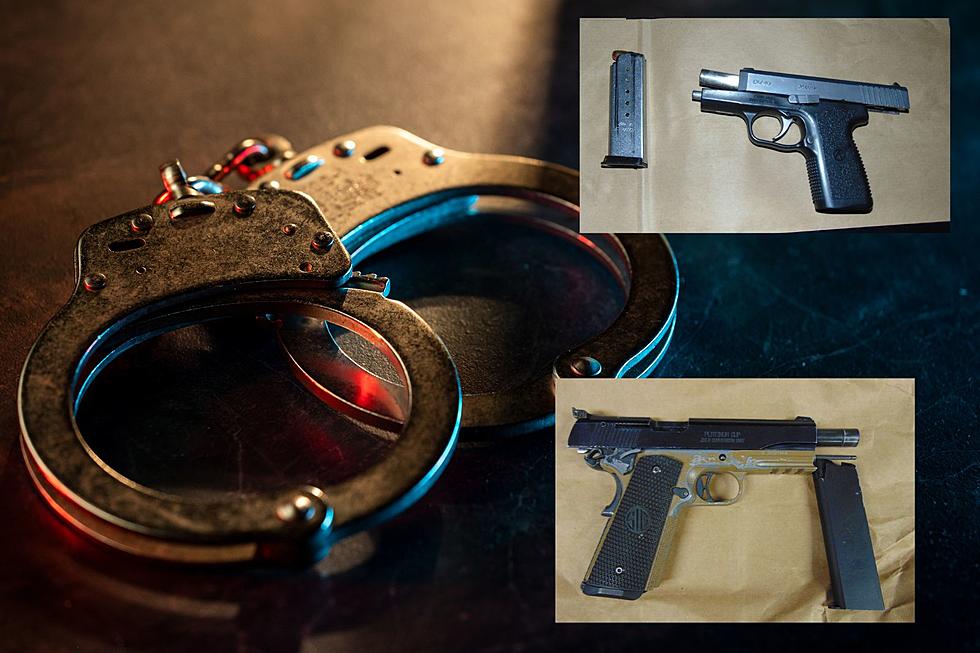 Two Teens Arrested For Gun Possession In Utica Traffic Stop
via Utica Police Department / Canva
Utica Police say two teens are facing gun possession charges after a traffic stop on James Street.
Cops say after pulling a vehicle over for violation of NYS vehicle and traffic laws, all parties were asked to exit the vehicle because of very dark window tints. Officers described the group as 'uncommonly nervous', and said one of the backseat passengers was trying to kick a bag under the seat in front of him. An eventual check of the vehicle turned up a loaded .22 caliber handgun and a large quantity of narcotics, police said.
Additionally, the driver, a 17-year-old male whose name is not being released due to his age, was found to be in possession of a loaded .40 caliber handgun. The teen driver faces charges of criminal possession of a weapon and criminal possession of a firearm.
Police say the passenger seen trying to kick the bag under the seat that contained a weapon and drugs - identified as 18-year-old Anthony Nelson of Utica - is  charged with gun possession, along with possible drug possession - pending the outcome of a tests on the unknown substance believed to be drugs.
[AUTHOR'S NOTE: This post is for informational purposes. The information provided within was provided publicly by law enforcement. Any charges or accusations of wrongdoing mentioned in the article are only allegations and the reader is reminded that all persons are innocent until proven guilty in a court of law.]
Five Hidden Features From the iOS 17 iPhone Update
Just when you thought they thought of it all.
The Top 25 Most Baffling UFO Sightings Reported in New York This Year
When residents of the Empire State spot something unexplainable in the skies, they report it to
the National UFO Reporting Center
. There's been about 80 new sightings so far in 2023 that raised a few hackles.
NUFORC does investigate what people saw to determine if they actually witnessed alien activity or something else. Oftentime, these reports turn out to be false flags. For example; someone from NYC reported seeing a strange, square-like object in the sky on July 22. They provided a photo to NUFORC, who then ruled the person saw an "advertising banner behind a private aircraft."
However, there have been several creepy reports that couldn't be brushed off with a logical explanation. And some of these reports had photo or video evidence attached.
Scroll through New York's top 25 weirdest sightings of 2023.
Former Winter Olympians From New York
New York State has been represented well in the Winter Olympic Games, from Remsen's Erln Hamlin to Val Bialas of Utica. Here are seven former Olympians with New York ties