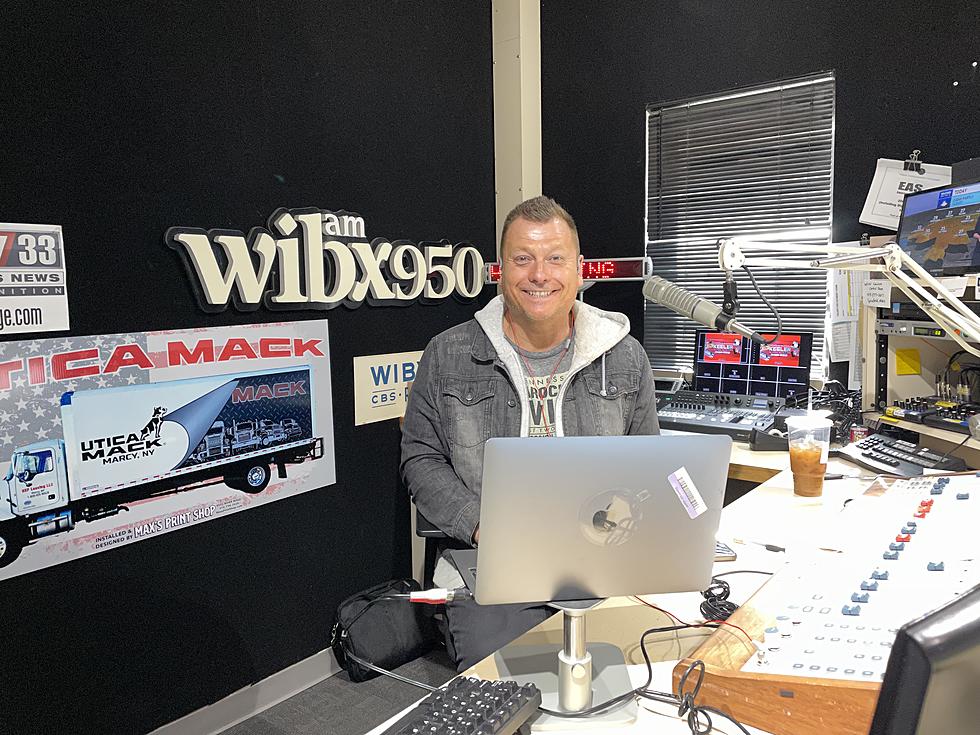 Utica Center for Development Will Distribute Jimmy Failla/Kennedy Heroes Tix
TSM
Vince Scalise and the Utica Center for Development's Veteran's Center will help WIBX distribute "Heroes Tickets" for the Laughs and Liberty Tour with comedian and WIBX host, Jimmy Failla, and former FOX Business and MTV Veejay Kennedy.
Jimmy's comedy tour comes to Utica on Veteran's Day, November 11th at 8PM at Utica's Stanley Theatre. Tickets are available by logging on to Ticketmaster or by visiting the Stanley Theatre Box Office at 259 Genesee St, Utica. Tickets can be purchased by calling the Stanley Box Office at 315-724-4000. Tickets are available online through Ticketmaster by clicking here.
Tickets range from $45 to $75 and a special VIP after party is also available. The show is sponsored by WIBX's Keeler in the Morning Show.
Heroes tickets can be purchased by calling the Stanley Box Office at 315-724-4000 and referencing Heroes Tickets. Those purchased tickets will then be set aside, and given too local veterans to attend the show on veteran's Day at no charge. Heroes tickets are sponsored by River Hills properties. Hero's tickets will be distributed through the Utica Center for Development and the Veteran's Outreach center.
Director Vince Scalise said that there are several veterans in the area who are in need and the idea of giving tickets to offer these former service members the gift of laughter "is a great gift" for a veteran's well-being.
"The Utica Center for Development was organized to render quality professional development and assistance to the community in a vast array of fields. To utilize assets given, to improve the quality of life for the residents within our service area. To fulfill any unmet needs with-in the following populations: Low-income families and individuals, the homeless, the elderly, the disabled, Veterans, people suffering from addictions, people living with HIV/AIDS, the terminal ill, and disadvantaged children. To spearhead environmental causes to help ensure a safe and healthy area for residents to live in. To lessen the burdens of government, to reduce neighborhood tensions, work towards the elimination of prejudice and discrimination, to defend human and civil rights secured by law, and to combat community deterioration and juvenile delinquency. To utilize economic and urban redevelopment to accomplish the agency's goals," according to the website.
Utica's Chicken Riggies Dish Wasn't Invented in Utica? Say It Isn't So.
The now-famous Utica Chicken Riggies recipe has taken on a life of its own. The dish is now found well outside the Utica-Rome area and it's getting more and more popular as word spreads around the northeast. While there are many variations of the dish today, there's still only one original recipe. So, who created the first "Riggies" recipe and where did it really originate.
Gallery Credit: Bill Keeler
61 Amazing Snapshots of Utica's Most Unique Boilermaker Ever
The 2021 Utica Boilermaker Road Race will go down in the history books as one of the most unique, with an all-vaccinated field running the 5K and 15K on October 10th, without elite runners, and with thousands of regular participants sitting this one out because of COVID. The excitement this year was special and exclusive and there was no shortage of it, as seen through the lens of award winning photo-journalist Nancy L. Ford of Utica. Here are 61 awesome photos featuring some of the best moments from this year's race.
Gallery Credit: Bill Keeler
9 New Favorites from the New Menu at Utica's 72 Tavern and Grill
The 72 Tavern and Grill, a Utica, NY sports bar and restaurant connected to the Adirondack Bank Center, has now re-opened after an 18-month COVID-19 shutdown. The grand reopening has featured previous favorites from the previous menu, and some new updated menu items. Here are photos taken by photographer Nancy L. Ford of some of our favorites tasted during the restaurant's soft opening.
Gallery Credit: Bill Keeler