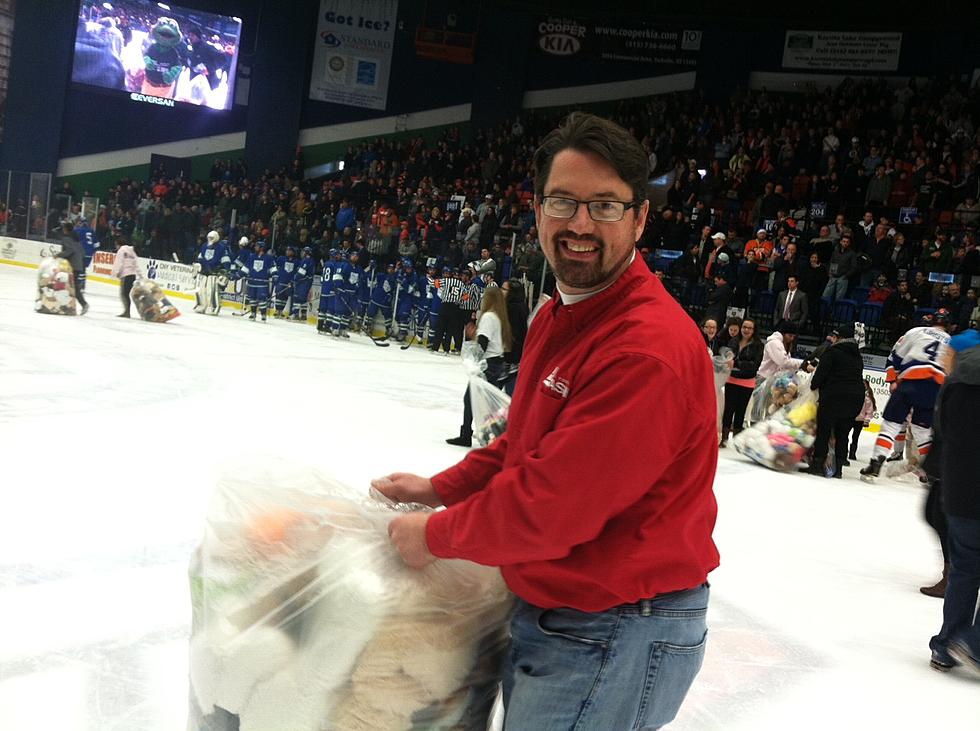 Win New York Sash Windows from the Keeler Show
Scot Hayes at the New York Sash Teddy Bear Toss at the Utica Pioneers Hockey game.  Photo: Kristine Bellino / WIBX
New York Sash is well known for windows, bathrooms and the New York Sash Teddy Bear Toss. They're also known for great contests to win their windows.
Enter the "Win Keeler's Windows" contest from New York Sash and WIBX's Keeler Show.
Here's the deal.
New York Sash:  We replaced all his windows (and bath!) in his old home… and now we are replacing the windows in his current home!
This summer, Keeler is getting four windows installed. He chose New York Sash brand replacement double hung windows with raised grids, complete with installation and warranty. Energy efficient, easy to clean and made for Upstate weather.
And we're giving away the same four windows to a lucky contestant!
You could win the exact same four windows that Bill Keeler is getting – installed in your home, FOR FREE!

Enter below to win, open now through June 29th. Winner announced June 30, 2023!
Must be 21 years old and a New York State homeowner. Only one entry per household is accepted.
---
Enter to win the contest. My family gets our four double hung windows with grids on the inside and out, and you could win the same four windows. New York Sash will work with you if needed to add to the order, or alter it.
Click here to enter and stand a chance to win.
Remember New York Sash for windows, doors, and baths. Visit the showroom on Oriskany Boulevard today.
No purchase necessary to enter the contest.
Click here for the official rules.
Jimmy Carter through the Years
James Earl Carter, Jr. was born in Plains, Georgia on October 1, 1924.
He won the Nobel Peace Prize in 2022. He served as the 39th President of the United States from 1977 to 1981. Former President Carter was also the Governor of Georgia and a state senator of his home state.
A graduate of the United States Naval Academy, Carter is also known as the first American president who was born in a hospital.
As a very young man he was enterprising, and started his own businesses early, helping to supplement his family's farm for many years.
His Vice President was Walter Mondale. One of President Carter's first duties in office was to issue Proclamation 4483 on January 21, 1977, pardoning all those who evaded the Vietnam era draft. During his Presidency, the Department of Energy and Department of Education were formed.
He has authored dozens of books. Among them are "Our Endangered Values," "Faith," "An Hour Before Daylight," and "A Full Life."
Since 1946 Jimmy Carter has been married to Eleanor Rosalynn Carter (known as Rosalynn Carter). They have four children: Amy Carter, Donnel Carter, Jack Carter, and James Carter.
World's Largest Dish of Pasta, and a Wedding - Utica, NY, Feb 14, 2004
The Guinness Book of World Records affirmed in 2004, that the World's Largest Dish of Pasta was made in Utica, NY with the Keeler Show. Now with WIBX, Keeler worked with Tony's Pizzeria and other to create a dish of pasta weighing over 7,000 lbs. and the event included an actual wedding. The dish of pasta weighed 7,355 lbs. (3,336 kg) and lasted in the Guinness Book for several years. The dish was assembled and the wedding was held at Sangertown Square in New Hartford, when Keeler was hosting a 6 night a week television show, The Keeler Show, on FOX 33 TV in Utica and FOX 68 in Syracuse.
36 Ideas to Inexpensively Make Your Backyard Feel Like a Resort
Here are some fairly easy and inexpensive ways to make your back yard feel like you're on vacation and a beautiful summer resort. If these 5 families can do this in Upstate New York, it can be done anywhere!