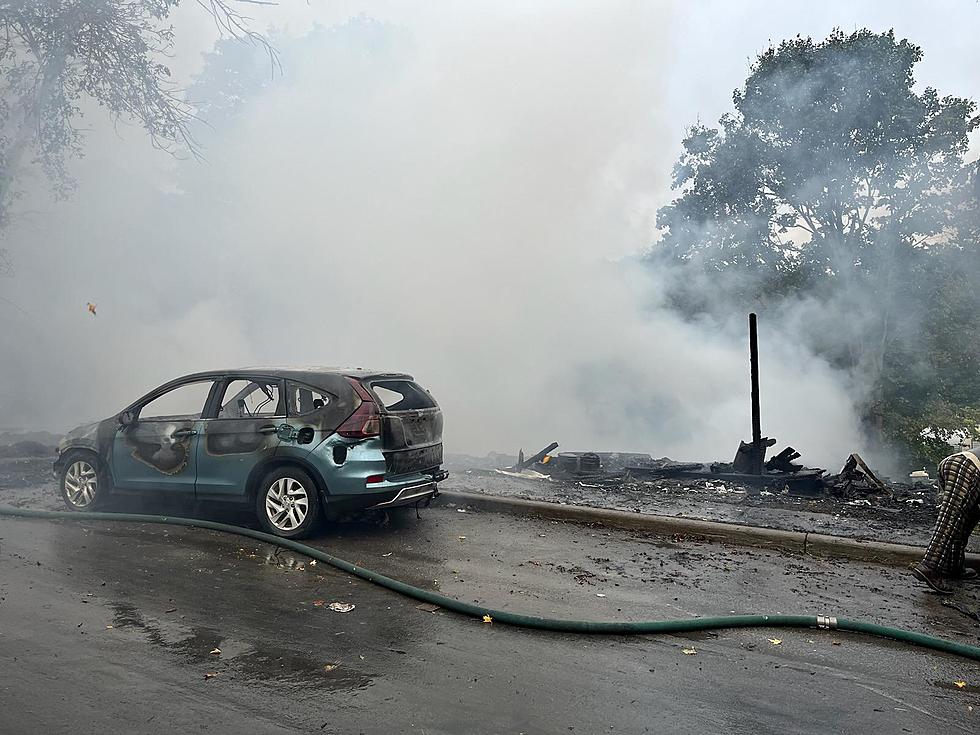 Fire Destroys Homes, Cars In Clayville
Vehicle left charred after large house fire spreads on Main Street in Clayville, NY. (photo submitted by listener)
Fire investigators are working to determine the cause of a large fire on Main Street in Clayville early Tuesday morning.
Fire fighters were called to 2353 Main Street, across from the old firehouse, at around 2:15 a.m. this morning. While the home is abandoned, the fire spread to adjacent homes and has left two destroyed and another severely damaged. Also, nearby vehicles were damaged and additional homes in the immediate area sustained heat damage, fire officials said.
More than a dozen fire companies responded to the scene.
No injuries were reported in the incident.
Among the fire departments who responded in addition to Clayville were Sauquoit, New Hartford, Cassville, Clinton, Bridgewater, Stittville, Paris Hill, West Winfield, Cedarville, Yorkville, Waterville, New York Mills and Westmoreland. The Oneida County Sheriff's Office and member of the New York State Police responded to scene as well.
The Top 25 Most Baffling UFO Sightings Reported in New York This Year
When residents of the Empire State spot something unexplainable in the skies, they report it to
the National UFO Reporting Center
. There's been about 80 new sightings so far in 2023 that raised a few hackles.
NUFORC does investigate what people saw to determine if they actually witnessed alien activity or something else. Oftentime, these reports turn out to be false flags. For example; someone from NYC reported seeing a strange, square-like object in the sky on July 22. They provided a photo to NUFORC, who then ruled the person saw an "advertising banner behind a private aircraft."
However, there have been several creepy reports that couldn't be brushed off with a logical explanation. And some of these reports had photo or video evidence attached.
Scroll through New York's top 25 weirdest sightings of 2023.
Which Dog Represents Your Central NY Hometown?
Every city and town in Central New York has a dog breed that perfectly matches its personality. What is your hometown's true dog identity?
Central NY is unique -- in that every city seemingly has its own unique personality and vibe. I recently moved to the area from Connecticut and have made a point to visit as many places as possible.
What strikes me most is that every city and town feels very different from one another. They're not defined by their local attractions, but their overall character.
And that got me thinking: Could I find a dog breed that could perfectly represent each and every city? The answer is an obvious yes.
So buckle up and stretch out your scrolling finger to enjoy the dog slideshow.
World's Largest Dish of Pasta, and a Wedding - Utica, NY, Feb 14, 2004
The Guinness Book of World Records affirmed in 2004, that the World's Largest Dish of Pasta was made in Utica, NY with the Keeler Show. Now with WIBX, Keeler worked with Tony's Pizzeria and other to create a dish of pasta weighing over 7,000 lbs. and the event included an actual wedding. The dish of pasta weighed 7,355 lbs. (3,336 kg) and lasted in the Guinness Book for several years. The dish was assembled and the wedding was held at Sangertown Square in New Hartford, when Keeler was hosting a 6 night a week television show, The Keeler Show, on FOX 33 TV in Utica and FOX 68 in Syracuse.