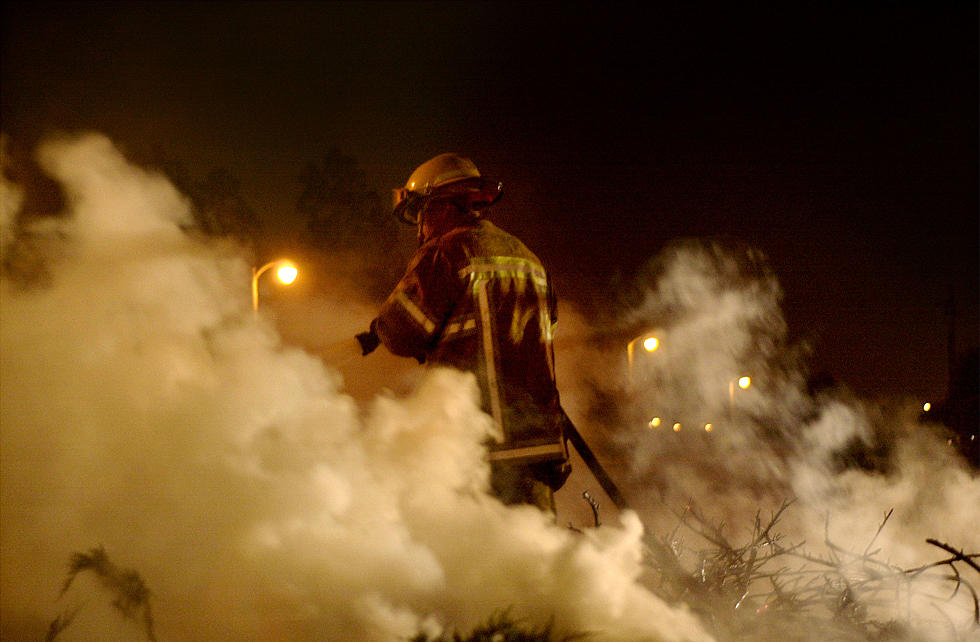 Fire in Utica Hospitalizes 1, Cause Under Investigation
Photo Credit - David McNew / Getty Images
One person was hospitalized after a fire broke out in a multi-family home on Park Avenue.
The Utica Fire Department shared a video of them responding to the incident, which they say happened around 6:00 p.m. on Friday, July 21.
Firefighters arrived on scene to heavy smoke billowing from the second story. UFD said the crew quickly extinguished the blaze. A portion of Park Avenue was also closed to traffic.
Firefighters say they rescued four people who were entrapped in the home.
In a statement to WKTV, the fire department explained:
"Firefighters immediately began searches of the structure and extinguishment efforts. Fire was found to have extended from the first floor to the second floor and roof area, making this fire extremely difficult to extinguish. Multiple ground ladders were used to assist firefighters in gaining access to the structure to conduct searches for any remaining occupants. After conducting these searches, it was found that all occupants were accounted for and safe outside of the structure"
One person was taken to Upstate Medical Center after suffering burns and smoke inhalation. They have since been transferred to Upstate Medical Center Burn Unit.
Said UFD:
"It is reported that the patient suffered serious burn injury to approximately 30 percent of his body."
Two firefighters also sustained injuries and was treated at St. Elizabeth Hospital.
The initial investigation found the fire may have broken out on the building's first floor. While the cause has not been identified, UFD believes the fire was "accidental in nature."
The American Red Cross is now assisting the displaced family. The organization said in a statement:
"Volunteers from the Central and Northern New York Chapter of the American Red Cross provided immediate emergency aid to four people after a fire Friday night on Park Avenue in Utica, Oneida County. The Red Cross provided financial assistance for necessities such as shelter, food and clothing... Volunteers also offered emotional support, health services, and comfort kits containing personal care items."

 
A reminder to practice fire safety
No one ever expects their home to catch fire and that's why firefighters say it's crucial to have a plan in place, because it can save your life.
Said UFD:
"We would like to remind everyone that if there is a fire in a building that you are in, leave immediately and do not go back into the building! Fire situations are very dynamic and conditions can change in seconds, causing severe thermal injuries to unprotected lungs and tissue. In addition, smoke contains deadly amounts of carbon monoxide, cyanide, and other gases."
Firefighters strongly recommend installing smoke alarms on every level of your home, and they should be tested every month. If a smoke detector isn't working, change the batteries.
It's recommended residents replace their smoke detector's batteries at least once a year. Also, after 10 years, it's advised to replace the alarm itself because sensors can wear out over time.
Additionally, families are encouraged to create a fire escape plan and practice it at least twice a year.
The plan should cover the whole house - with 2 escape routes planned per room - as well as include a meeting spot where family members can go to after evacuating.
A meeting spot allows families to quickly ensure everyone escaped the home, and also alert firefighters if anyone is missing.
Firefighters warn most people think a fire will never happen in their house, so they take their safety for granted.
Having a plan in place can help family members stay calm, think clearly, act quickly and save lives.

Abandoned Catskills Resort Decimated By Fire
The abandoned New York vacation destination, Brown's Resort in the Catskills had been converted into a condo complex. In 2012 the property caught on fire and this is what was left.