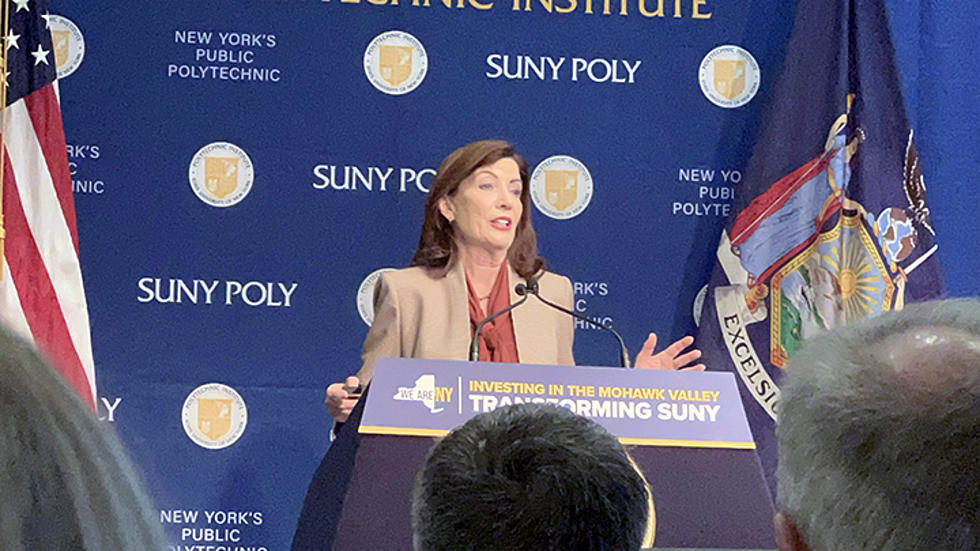 Gov. Kathy Hochul Announces $44MIL Investment In Marcy's SUNYPOLY
Governor Kathy Hochul and SUNY POLY Marcy. (Photo by Megan)
Governor Kathy Hochul invest $44 million into SUNYPOLY in Marcy on Friday, to further fund expansion of the SUNY health science wing, update nursing labs, and create a semiconductor processing lab and robotics and advanced manufacturing lab in an effort to advance the region in technology.
"This investment is another massive step to building the best public education institution in the country and cementing New York's leadership role in the manufacturing industry," Governor Hochul said. "With these important investments, students can receive an affordable and quality education at SUNY, join New York's growing manufacturing industry, and build a bright future for themselves and for New York State."
The $44 million investment is part of the State budget and will serve as a crucial step in establishing SUNY Poly as the premier polytechnic institute in the country. The breakdown for the $44 million is as follows:
·         Health Science Wing Expansion: This project establishes the Center for Healthcare Innovation – a collaborative center to address the increasing mental health, physical health, and environmental health needs. The Center will facilitate entrepreneurial efforts in the health fields; promote multidisciplinary research, clinical practice, and program development; enhance applied learning opportunities for students; and cultivate community partnerships and initiatives.
·         New Semiconductor Processing Lab: Companies such as Micron, Wolfspeed, Semikron-Danfoss, Indium Corporation, and Global Foundries are investing, building, and expanding, resulting in job creation and a corresponding need for more employees. The investment in and creation of this 3,000-square foot semiconductor processing lab will provide more students with a robust university education focused on STEM and semiconductor manufacturing, research, and development.
·         Updates to Nursing Laboratories: This vital expansion, which will accommodate 12 clinical stations with manikins and up-to date simulators, will allow faculty in the College of Health Sciences to employ modern day equipment and simulations. Consequentially, students will be able to effectively develop the professional skills they need to become competent and effective health care providers.
·         New Robotics and Advanced Manufacturing Research and Education Lab: This lab will enable both educational and research opportunities in areas that include advanced robotics, sensors and controls, smart manufacturing, Industry 4.0 initiatives as well as creating an integrated connection with SUNY Poly's AI for All facility. The state-of-the-art facility will allow faculty to expand their activities in scholarship and sponsored research, and course modules within the curriculum, as well as provide for certificate and credit bearing micro-credentials for students. It will also provide continuing and professional education (CPE) opportunities for upskilling the workforce in the Mohawk Valley.
Hochul said the funding was made possible as part of the SUNY Capital Construction Fund, the State Budget, and appropriations secured by Assemblywoman Marianne Buttenschon.
"I strongly believe in this institution and the incredible work they produce, and cannot wait to see how these investments will benefit them for years to come," said Buttenschon. "These investments into SUNY Poly will ensure that it continues to be a top polytechnic university in the country, and I'm eager to see the growth that is achieved."
The Governor also thanked Senator Joe Griffo, County Executive Anthony Picente, Assemblymembers Brian Miller and Robert Smullen, and College Council Chair RoAnn Destito.
Earlier this year, Governor Hochul announced a $14 million investment in Oneida County Industrial Development Agency through the Focused Attraction of Shovel-Ready Tracts New York (FAST NY) grant program. The Marcy Nanocenter provides a fully permitted, shovel-ready greenfield site on an already established campus. An area has been reserved to build a semiconductor supply-chain campus, which is in high demand due to the established Wolfspeed fab and the recently announced Micron facility and will serve regional and on-site high-tech companies. FAST NY funding will continue to develop the site and support preparation, excavation, and utility infrastructure work.
9 New Favorites from the New Menu at Utica's 72 Tavern and Grill
The 72 Tavern and Grill, a Utica, NY sports bar and restaurant connected to the Adirondack Bank Center, has now re-opened after an 18-month COVID-19 shutdown. The grand reopening has featured previous favorites from the previous menu, and some new updated menu items. Here are photos taken by photographer Nancy L. Ford of some of our favorites tasted during the restaurant's soft opening.
Gallery Credit: Bill Keeler
From A To Z- Chicken Riggies You Need To Try In 2023 Central New York
These are just a few of the riggies that you can try in Central New York, from A to Z. What restaurant serves up your favorites?
Gallery Credit: Dave Wheeler
17 Amazing Vintage Utica, NY Collectables Selling Right Now on Ebay
Check out these very unique and vintage Utica, NY, created collectables that are for sale right now on Ebay. These items could make for unique holiday gift ideas. Prices range from $999 to $38.75 an there are links back to Ebay for each item.
Gallery Credit: Bill Keeler
61 Amazing Snapshots of Utica's Most Unique Boilermaker Ever
The 2021 Utica Boilermaker Road Race will go down in the history books as one of the most unique, with an all-vaccinated field running the 5K and 15K on October 10th, without elite runners, and with thousands of regular participants sitting this one out because of COVID. The excitement this year was special and exclusive and there was no shortage of it, as seen through the lens of award winning photo-journalist Nancy L. Ford of Utica. Here are 61 awesome photos featuring some of the best moments from this year's race.
Gallery Credit: Bill Keeler