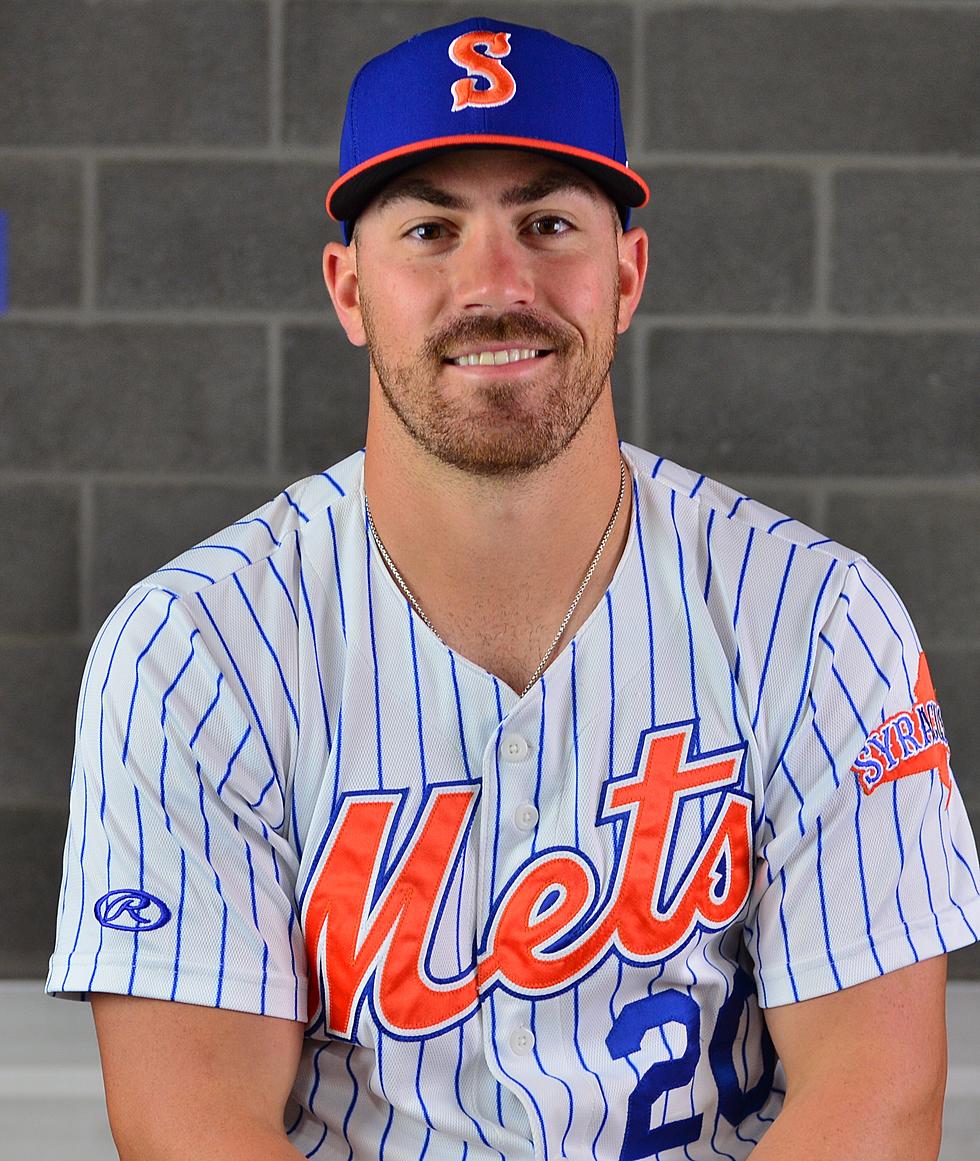 Mets' Mendick Keeping Baseball Faith In Syracuse With Eye On Queens
Dann Mendick credit NY Mets
Syracuse Mets' Danny Mendick isn't a quitter.
Over the past four MLB seasons Rochester, New York native Danny Mendick has experienced life as a major leaguer.  From 2019 - 2022, Mendick was inserted into 151 games as a Chicago White Sox.  He knows of the perks, financial and otherwise, that come with being a player in America's Pastime.
Reacquainting himself with all things MLB, as a New York Met, right now, seems monumental.  Although he's on the club's 40-man roster, and signed to a reported one-year, $1 million contract last December, the best Mendick could do now is keep playing well at the Triple-A level.
In Queens, the New York roster is stacked with position talent. Lindor, Alfonso, McNeil, plus emerging stars (and former Syracuse teammates this season), Baty, Alverez, and Vientos. But, Mendick is one of 11 Mets on the 40-man roster looking to move up to the 26-man squad on the MLB level. This past Sunday's home game at Syracuse's NBT Bank Stadium, Mendick signed in 2015 as a 22nd-round draft pick of the White Sox, the graduate of Pittsford Mendon High School was among the heroes of the day.
Mendick's contribution, while splitting palying time at third base and in the designated hitter role, was collecting two hits, scoring two runs, tallying two RBIs, plus, slamming his fourth home run of the season off of Louisville Bats' Jake Wong in the seventh-inning.  Making his individual performance even more noticeable in the game's box score, the Mets won the game 9-8.
The Bats, Cincinnati's top minor league affiliate, saw Syracuse come back two separate times from three-run deficits.  A walk-off hit in the bottom of the ninth inning from Lorenzo Cedrola capped the Mets' exciting win, and delighted a crowd of more than 7,000.
With 50-plus games already played of this season's International League schedule, Mendick remains a steady influence in the Mets' clubhouse, and out on the field.  Clubbing .258 heading into this week's road trip to Rochester, Mendick is upbeat about his personal performance thus far, and how his teammates have jelled as a unit.
Beating the odds of getting a call from New York to join the big league club is what keeps Mendick motivated.  Bus rides during road trips haven't been a deterrent to his overall spirits. Remaining healthy (Mendick tore an ACL in the 2022 season), and in manager Dick Scott's lineup nightly are front and center for the  Monroe County resident.
Beating the odds, while playing baseball in a cold-weather enviornemnt on the high school level and in college north of Boston at UMass Lowell, is what Mendick has confronted since playing organized ball.
"Being the best player I could be is what I've been doing my whole life," explained Mendick during a phone conversation as he was driving away from NBT Bank Stadium after Sunday's game. "I've never taken the position of 'poor me'.  Right now, I'm playing for the Syracuse Mets, and absolutely, it's a privilege."
Perhaps from his MLB service, and being around accomplished figures as Hall of Fame manager Tony La Russa (2021 & 2022), allows Mendick to focus on the here and now, to guide him to the future.  Keeping performing at a high level on the field will attract organizational eyes.  Learning from his mistakes, and being an impact in any way with his teammates motivates Mendick.  Getting his confidence back after experiencing such a major injury as an ACL tear has been mission accomplioshed for Mendick.
Playing in Syracuse and at Rochester's Innovative Field, in the heart of the Finger Lakes region, are making this baseball season extra special for Mendick.  There are many childhood memories for Mendick attending Red Wings' games with his dad Bill.
"Rochester has always been real special for me to play in.  When I was with Charlotte (White Sox Triple-A affiliate Charlotte Knights) in 2019, that's when I first played at home," recalls Mendick. "I grew up there (Innovative Field was then called Frontier Field). My dad would say, as we were looking at the players on the field, that I could be one of them. My dad has always made me feel special, and keeps me excited about the game."
After spending his entire eight-year professional career in the White Sox organization, trading Glendale, Arizona for spring training at Port St. Lucie, Florida, Mendick remembers feeling beyond welcomed to the Mets' facility, and the many new faces he came in contact with.
"When I signed with the Mets, they made me feel really wanted.  Everyone from the clubhouse manager, the coaches, front office staff, they all gave me a warm introduction to the club."
This week, when at Innovative Field, while interacting with friends, family, and fans, surely Mendick will think back to when the Minnesota Twins' Triple-A club called Rochester home.  He remembers certain players who were fun to watch play.  Justin Morneau and Trevor Plouffe are two that Mendick rapidly calls out.
Bill Mendick installed a lasting, positive attitude with his son; that there's nothing you can't do.  Getting from Syracuse, heading south down the New York State Thruway to Queens, New York, and Citi Field, remains Mendick's goal.
Don Laible is a freelance sportswriter from the Mohawk Valley, now living in Florida. He has reported on professional baseball and hockey for print, radio, and on the web since the 1980's. His columns are featured weekly at WIBX950.com. Don can be contacted via email at Don@icechipsdiamonddust.com. 
Fox Host Failla Reaches USA from WIBX Studio in Utica
The host of Fox Across America with Jimmy Failla which airs coast to coast and on WIBX 950 and 106.9 FM weekdays from noon 'til 3, was in Utica this past weekend. Jimmy Failla sat in on the Keeler in the Morning Show on Friday morning December 3, 2021, and then did his national show on FOX News Radio from WIBX's studio.
Failla is a former New York City cab driver turned stand up comic and over the weekend, he performed 4 sell-out shows at Utica's Fat Katz Comedy Club in Washington Mills.
Check out some snap shots from the weekend.
Top 10 Local News Stories of 2021
As 2021 comes to an end, here are the Top 10 local news stories of the year.
Top 5 Local Sports Stories Of 2021
There were many local sports stories that highlighted 2021, including a couple of firsts. Here are a look at the Top Five, along with a bonus story.
10 Photos That Remind You Just How Much Litter America Produces
10 Photos That Remind You Just How Much Litter and Pollution America Produces