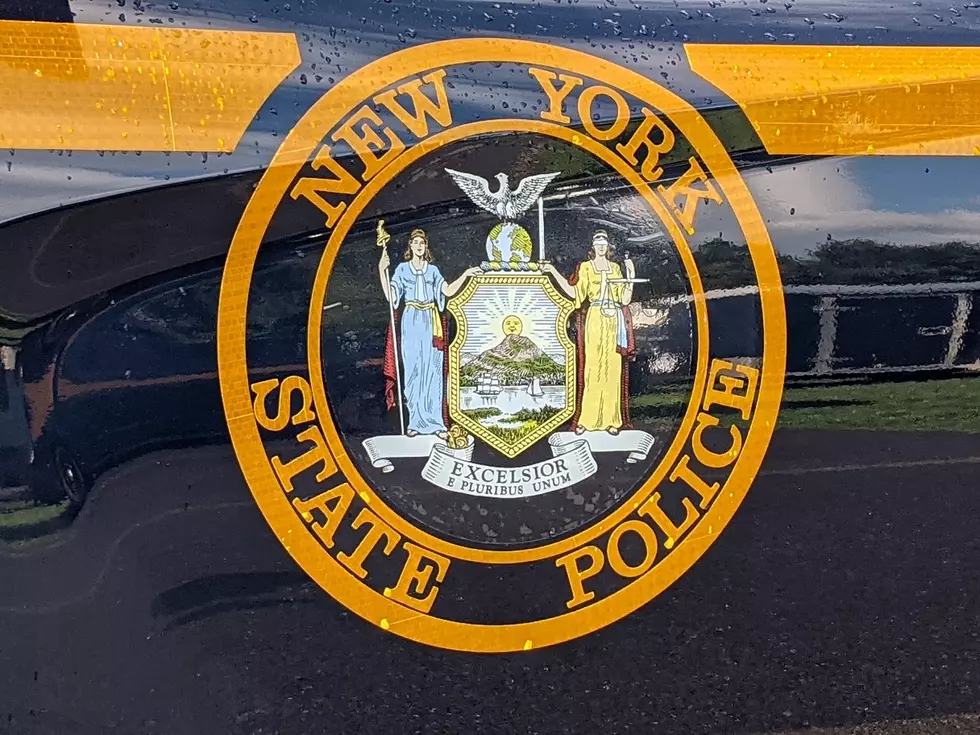 Police Charge Corruption Against Town of Lewis Highway Superintendent
New York State Police car with NYSP logo Photo Credit: Benjamin Furner, WIBX/Townsquare Media
A former highway superintendent in a small Central New York town is facing allegations of corruption after an investigation by the NYS Inspector General's Office and State Police.
It is alleged that Lynn Frank Platt pocketed some $2,300 in money from scrap metal that belonged to the Town of Lewis during his tenure as the town's highway superintendent.
The town of Lewis in Lewis County is approximately 18 miles north of the city of Rome (Note: there are at least two towns in New York called Lewis. Another is located in Essex County).
Platt, of West Leyden, is charged with a single count of Corrupting The Government in the fourth-degree, a class E felony under New York State law.
NYSP in Lowville arrested the 63-year-old on Tuesday, ultimately resulting in Platt being issued an appearance ticket on the charge. Police say he is due to answer the charge in Town of Lewis Court on July 13.
[AUTHOR'S NOTE: This post is for informational purposes. The information provided within was provided publicly by law enforcement. Any charges or accusations of wrongdoing mentioned in the article are only allegations and the reader is reminded that all persons are innocent until proven guilty in a court of law.]
Great Strawberry Picking Destinations in Upstate New York
Berry picking in Upstate New York has been around for generations. Strawberry (currently), blueberry, raspberry and more are the targets of families, young and old alike, who descend on the 100+ "U-Pick" farms in the region for some personal berry "shopping." Here are a dozen that are really great!
Show Your Patriotism This Flag Day At Any of These 12 Upstate New York Places
This year, salute Flag Day (June 14) by visiting any or all of these "patriotic" places in Upstate New York. They include important U.S. forts, military museums, presidential landmarks, and more.
Of note are the graves of two famous patriotic American women, and one man, Sara Hinson, Francis Bellamy, and Kate Smith. Hinson is considered to be the "Mother of Flag Day," having instituted programs to instill a love of America in her students in the Buffalo, NY area. "Her" flag day became an official holiday when signed as so in 1916 by President Woodrow Wilson. And singer Kate Smith is one of the entertainment world's greatest legends. She raised over $600,000,000 single-handedly for War Bonds during World War II, and is known for her immortal introduction of Irving Berlin's musical ode to the United States, "God Bless America." Francis Bellamy is the author of the Pledge of Allegiance. The "pledge" is written across the bottom of his grave marker in Rome, NY. Both women are also buried in Upstate New York.
All of the places mentioned in this "Flag Day Gallery" are open to the public with directions to them, as well as a link to the subject's website (where needed).
So, we urge you to consider these places when you are thinking about hitting the road this Flag Day. There are many more places in Upstate New York, that will pull on our heart strings this holiday, so please feel free to give those not mentioned here a big shoutout over on our Facebook page.
We hope you honor America in your own special way this June 14.nnHappy Flag Day!
One-Room Schoolhouses Live on In Different Ways in Upstate New York
At one time there were literally hundreds of one-room schoolhouses across the Empire State. This was mandated so "no student had to walk more than one mile to school" according to early laws. Many are still in existence. Some are badly rundown but others live on as homes, museums, gift shops, and even vacation rentals. Here are nine beauties across Upstate New York
[AUTHOR'S NOTE: This post is for informational purposes. The information provided within was provided publicly by law enforcement. Any charges or accusations of wrongdoing mentioned in the article are only allegations and the reader is reminded that all persons are innocent until proven guilty in a court of law.]