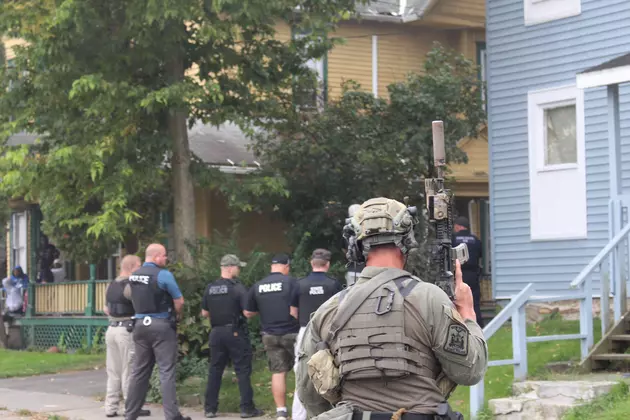 Police Conduct Drug Raids Across Broome County
Police outside a residence on Ogden Street in Binghamton on September 20, 2017. (Photo: Bob Joseph/WNBF News)
Local, state and federal law enforcement agencies targeted several sites in the Binghamton area to execute warrants in connections with a long-running drug investigation.
Police conducted raids in Binghamton, Endwell and Endicott early Wednesday morning.
One of the homes where officers were deployed was on Ogden Street on Binghamton's North Side. The target residence was just east of Chenango Street, only a few steps away from Theodore Roosevelt Elementary School.
Police also showed up unannounced at a small home on Highland Avenue in Endwell, just off North Street.
It was not immediately known how many people were rounded up in the coordinated raids.
Shortly after 8:30 a.m., New York State Police and Broome County sheriff's office vehicles dropped off some of the suspects at the Federal Building on Henry Street in downtown Binghamton.
Major James Barnes, commander of state police Troop C in Sidney, said he was aware of no injuries during the raids conducted in the region this morning.
For breaking news and updates on developing stories, follow @BinghamtonNow on Twitter.