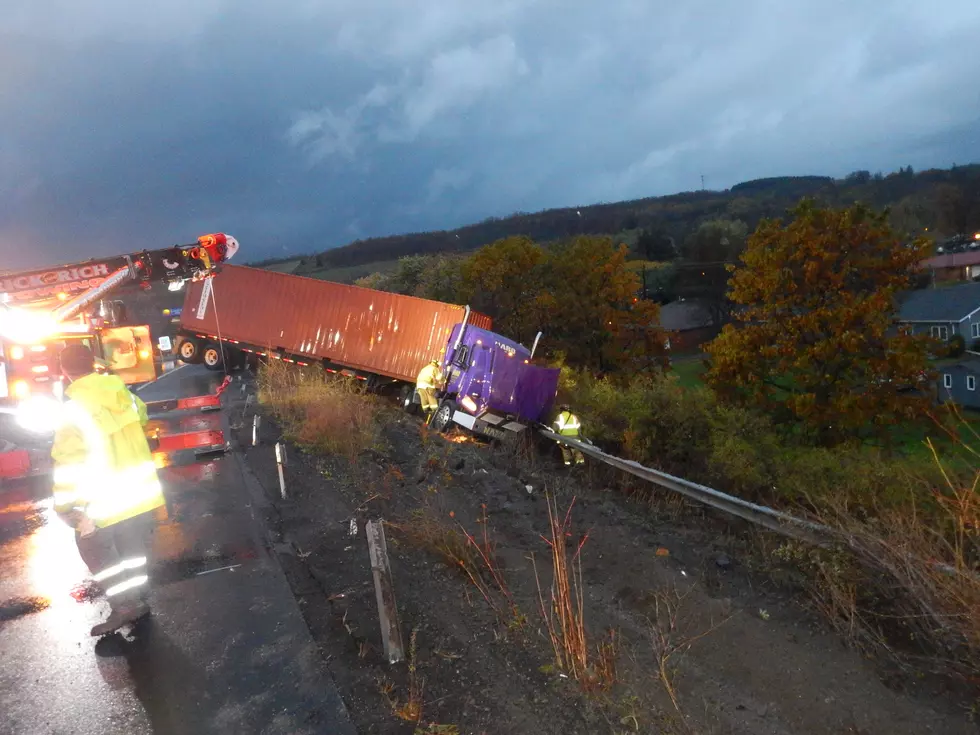 Southern Tier Agencies Respond to Multiple Crashes
Cortland County Sheriff's Office photo
Wet weather conditions October 24 may have contributed to several accidents reported around the region.
Broome County responders were busy with multi-vehicle crashes, one on Route 17 East near Vestal blamed on debris in the road forcing a motorist to stop.  That caused chain reaction crashes.
Another crash in Broome County involved several cars on Route 434 West at the Binghamton/Vestal border. That caused a large backup of traffic in the City of Binghamton.
Cortland County Sheriff's Deputies accuse a truck driver of going too fast for conditions shortly after 6 a-m on Interstate 81 in the City of Cortland and jack-knifing his tractor trailer.  The Exit 11 Northbound off-ramp was closed for more than 4 hours.
Deputies say the crash damaged more than 400 feet of guiderail, supports, asphalt roadway and ruptured the Kenworth tractor trailer's fuel tank.  That rupture contaminated the area and required response from the New York State Department of Environmental Conservation as well as the Cortland Fire Department and several other agencies.
The driver: 39 year old Carlos Gil-Taveras of New Jersey was not hurt and was ticketed for unsafe speed.