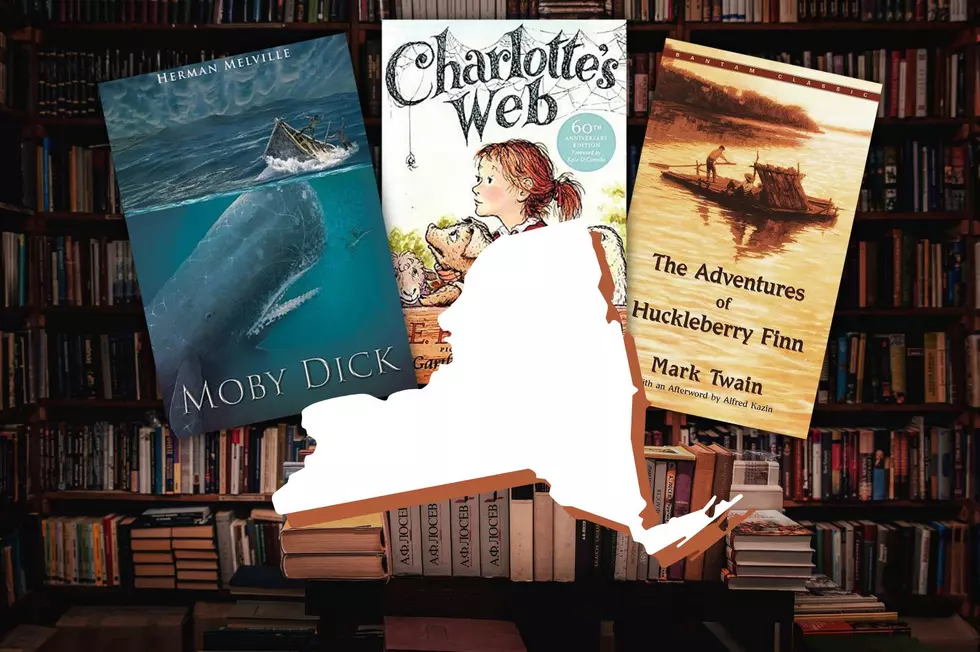 Upstate NY Literary Icon Crowned New York's Favorite Author of All Time
Amazon/Canva
The Empire State's pick may be controversial to some, but it's absolutely the correct choice.
New York has spoken. Out of all the authors to have graced bookshelves across the state, the most loved of all is the legendary James Baldwin.
The writer and Civil Rights activist was ahead of his time, fearlessly writing about controversial subjects and themes that triggered intense public backlash.
Attitudes have shifted since then...
Critics now celebrate the "Go Tell It on the Mountain" writer as someone who left an indelible mark on American literature. You'd be hard pressed to find a Black or LGBTQ+ author nowadays who hasn't been influenced by Baldwin's timeless work.
StoicQuotes.com surveyed 3,000 individuals to name their favorite homegrown author and used the data to determine every state's top literary pick. Living authors were not included in the research.
Shockingly, New Yorkers shunned "The Great Gatsby" author F. Scott Fitzgerald, who grew up in Buffalo.
Despite the novelist being credited for writing one of the greatest books of all time - Empire Staters said Harlem-born Baldwin deserved top honors.
Fitzgerald finished in second place while "The Catcher in the Rye" author J. D. Salinger, who is from the Big Apple, finished third.
Check out how each state voted below.
Created by stoicquotes.com • Viewlarger version
Some states shocked with their pick while others (looking at you, Connecticut) went the predictable route.
Said StoicQuote's Shaun Connell about the survey:
It's fascinating to see the varied preferences across states, reflecting the rich tapestry of our nation's cultural and historical narrative. This survey not only highlights the iconic authors we all know and love but also brings attention to the often unsung heroes of literature who've left an indelible mark on their home states.
When it comes to New York, respondents felt Baldwin's lasting legacy was greater than that of both Fitzgerald and Salinger's.
What Baldwin is celebrated today
Baldwin's works tackled themes and elements most authors at the time avoided due to their controversial nature.  His books regularly included subjects like family dynamics, race, religion, and homosexuality.
For the latter, his 1956 novel "Giovanni's Room" is about an American man who engages in an affair with a Parisian he meets in a gay bar. While the book caused moral outrage for its inclusion of homoerotic themes, its cast of all-white characters also attracted literary critics.
Baldwin's collection of renowned novels include "Go Tell It on the Mountain," "If Beale Street Could Talk," "Notes of a Native Son," "The Fire Next Time" and "Another Country."
You will soon be able to see his life story on the big screen, with Emmy-winning actor Billy Porter portraying the renowned author in an upcoming biopic.
Why Hollywood is ready to tell Baldwin's life story
Said Porter, "As a Black queer man on this planet with relative consciousness I find myself, like James Baldwin said, 'in a rage all the time.' I am because James was. I stand on James Baldwin's shoulders, and I intend to expand his legacy for generations to come."
The movie will be based off David Leeming's 1994 biography, James Baldwin: A Biography. Leeming was an assistant of the author and the two's friendship lasted 25 years.
A release date has not been announced.
Baldwin was born in Harlem in 1924 and died of stomach cancer in 1987.  He was buried at Ferncliff Cemetery in Hartsdale, NY.

Spend The Night In This Book Lovers Dream Historic Library In Utica New York
If you love books and just want to unwind, this East Utica AirBnB has everything you need. According to
AirBnB
, it only books for $139 a night: