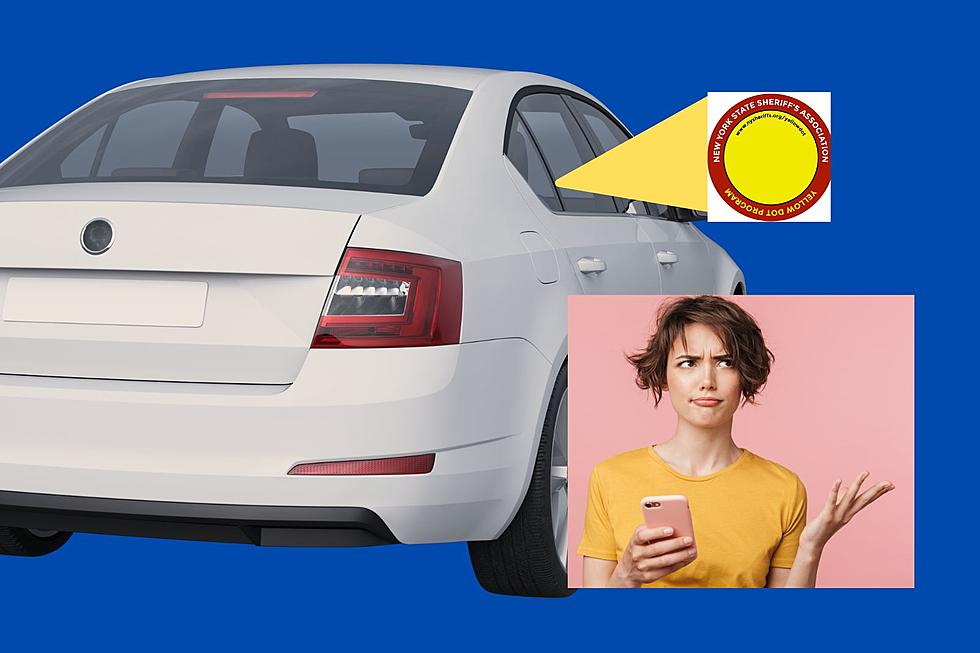 What Yellow Dot On The Window Means
via NYS Sheriff's Association, CANVA
If you're ever in a serious motor-vehicle crash or other life-threatening emergency, there is a way to communicate vital personal medical information about you or your loved ones without ever saying a word.
Yellow Dot is a free program that will alert emergency medical technicians (EMTs) or other first responders to potentially critical medical information that could help save your life or that of a loved one.
Here's how the program works: Just put the Yellow Dot sticker on the driver's side rear-window of your vehicle. Then, fill out the personal/medical information card for you and for those family/friends who frequently travel in the vehicle.
Officials say it's a simple process, but can be critical in the 'golden hour', the 60 minute window immediately after a crash or other emergency:
● Complete both sides of the personal information card as fully as possible, in
pencil. Attach a recent photo of yourself and place it in a visible location in your
car's glove compartment.
● Complete one card for each person who regularly occupies the vehicle.
● Place the Yellow Dot decal on the rear driver's side window to alert first
responders to look in the glove compartment for your medical information.
● Update the card annually yourself or bring it to your annual medical check-up. If
you sell your car, remove the Yellow Dot sticker.
In the case of a serious medical emergency, the Yellow Dot signals the fire responder to seek out that critical information but simply checking the Yellow Dot card that is in the vehicle's glove box.
Oneida County Sheriff Rob Maciol shared the information on Yellow Dot, which is being distributed in New York State through the state Sheriff's Association. The NYS Sheriff's Association says it has already distributed 2 million Yellow Dot sticker decals to Empire State residents.
To request one, simply visit NYsheriff.org/yellowdot/
Each kit comes with two Yellow Dot decals and two information cards.
New York State Police Rescue More Than Humans
New York State Police rescue more than humans. They help save defenseless animals too.
World's Largest Dish of Pasta, and a Wedding - Utica, NY, Feb 14, 2004
The Guinness Book of World Records affirmed in 2004, that the World's Largest Dish of Pasta was made in Utica, NY with the Keeler Show. Now with WIBX, Keeler worked with Tony's Pizzeria and other to create a dish of pasta weighing over 7,000 lbs. and the event included an actual wedding. The dish of pasta weighed 7,355 lbs. (3,336 kg) and lasted in the Guinness Book for several years. The dish was assembled and the wedding was held at Sangertown Square in New Hartford, when Keeler was hosting a 6 night a week television show, The Keeler Show, on FOX 33 TV in Utica and FOX 68 in Syracuse.