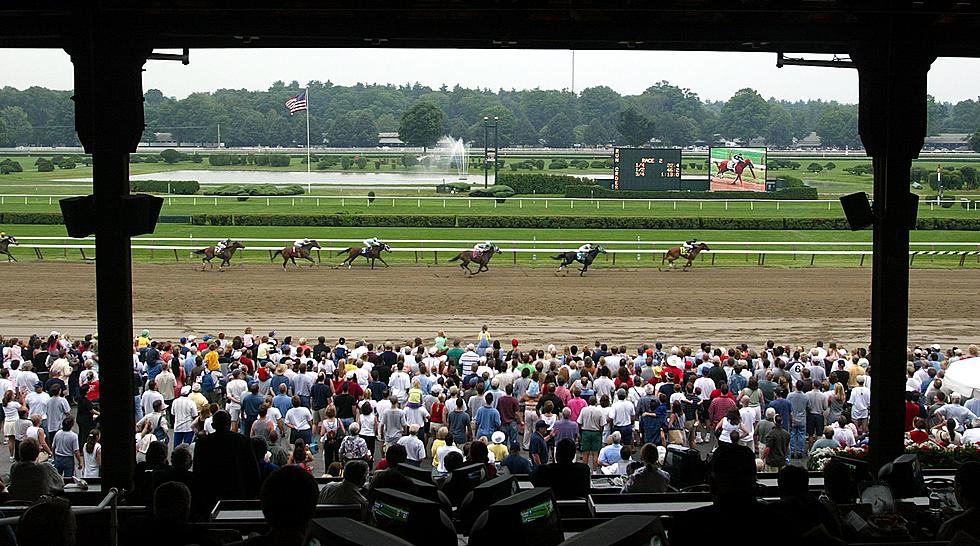 Who's Who Of Renowned Horse Race For Travers Stakes At Saratoga on Saturday
Photo from opening weekend of racing at Saratoga 2023/Getty Images
The winning horse of each of leg of the 2023 Triple Crown are in Saratoga on Saturday for the Travers Stakes. And, while each horse carries it's own impressive accomplishments into the race, none of three are considered the favorite to win.
The 2023 Travers Stakes at Saratoga Race Course is scheduled to go off at 6:11 p.m. on Saturday evening, with national television coverage on FOX beginning at 3:00 p.m.
The field of seven horses includes the following:
2023 Kentucky Derby Winner, Mage
2023 Preakness winner, National Treasure
And, 2023 Belmont Stakes victor, Arcangelo.
However, the Travers Stakes favorite -listed at 7-to-5 as of this posting - is Forte, winner of the Grade I Hopeful Stakes, champion of Breeders' Futurity at Keeneland and Breeders' Cup Juvenile as a two-year-old, and also took home the Florida Derby as a three-year-old earlier this year.
Here are the odds as of Friday afternoon:
Forte - 7/5
Arcangelo - 5/2
Tapit Trice - 12/1
Mage - 4/1
National Treasure - 8/1
Disarm - 8/1
Scotland - 12/1
For the latest information on the 2023 Travers Stakes, NYRA.com/Saratoga
Hudson Valley Specialty Food Shops
The Hudson Valley has a number of specialty food shops. From cheese to charcuterie to dry goods and more. Some are styled like a grocery store others offer prepared foods you can eat in or take out. All of them are worth a visit. Here is a shortlist of a few that include shops in Beacon, Rhinebeck, New Paltz, and surrounding areas.
Fall From Grace: The 21-Year Transformation of Andrew Cuomo in New York
Take a look at the shocking 21-year transformation of Andrew Cuomo. From hanging with supermodels in 2000 to becoming governor and then resigning.
How Did Each New York County Vote In Race For New York Governor
One candidate is claiming victory but the other candidate appears to have won many more counties.