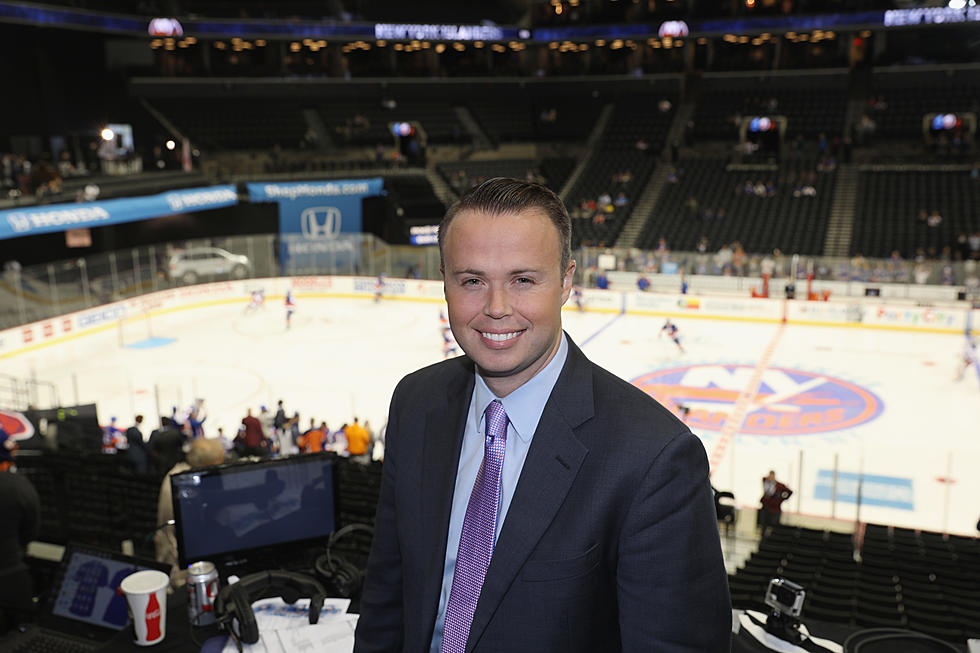 Brendan Burke Ready For Another NHL Season With TV Audiences
NEW YORK, NY - OCTOBER 04: Play by play broadcaster Brendan Burke prepares to work the preseason game between the New York Islanders and the New York Rangers at the Barclays Center on October 4, 2016 in the Brooklyn borough of New York City. (Photo by Bruce Bennett/Getty Images)
Where in the world is Brendan Burke?
It's a fair question.  With less than two weeks before the NHL drops the puck on its 105th season, tracking where and when the former Utica Comets' radio voice is working isn't as easy as even the most ardent of hockey fans could experience difficulty finding him on TV.
Burke loves being a broadcaster. Combine his passion for hockey, and for that matter just about any game that requires uniforms, rules, and various playing surfaces, and the New Jersey native will educate an audience.  On Saturday October 14, as hard as it may seem for some hockey fans in Central New York to process, Burke begins his eighth NHL season behind MSG Networks microphones as the lead play-by-play voice of New York Islanders telecasts.
With 70 Islanders games planned for viewers, along side his broadcaster partner Butch Goring, Burke's routine of following the puck, and telling the where and why, remains fresh.  Combine working with a former player who hoisted the Stanley Cup on four-straight Islanders teams in the 1980s as his go-to for expert analysis, when on a platform as MSGN that reaches to millions of subscribers, and you can witness one of the game's best storytellers having the time of his professional life.
Burke makes it all seem so easy. For Islanders' fans (and beyond), selecting a favorite beverage and snack foods, after turning on the telecast, may be the hardest decisions to make before the opening period begins.  The call of the game's action is covered intelligently and at a speed even novice fans can keep up with.
The importance to Burke landing in the highest of competitive markets for sports broadcasting, and having the chops to remain in his position, isn't a wonder to those who have followed his career.
Sports and broadcasting is all that Burke ever wanted to combine for what he would hope to turn into a lengthy career.  So far, so good.
With NHL training camps in full bloom, Burke continues to manage his occupational schedule with precision.  He has to.  His ambition to keep busy, and rarely saying no to an assignment, is only topped by his passion for the competitiveness on display in front of him, and the cameras catching the action.
From the arms length of solid pros who have made their reputation in the top media market in America being the eyes and ears for the sports franchises; Marty Glickman, Marv Albert, Mike Breen, and the like, Burke has earned his spot on the broadcasters' line up card.
"It's interesting this year," explained Burke earlier this week during a phone conversation about the upcoming NHL season.  "I've been doing baseball (MLB Sunday Leadoff seen on Peacock) this summer, now I'm working college football (Big Ten coverage on NBC), and preseason hockey is sneaking up on me a little bit."
"Normally, in September, when rookie camps start, guys start coming into town, and it starts feeling like hockey season.  This year, I haven't felt it as much. I've been busy doing other things."
Burke had always had dreams of being an NHL announcer, and since leaving the Comets and hockey's Triple-A  American Hockey League in Upstate New York after the 2015-16 season, he admits that many professional boxes have been checked off.
To keep his schedule in order for he, as well as his wife Mary and three children to better keep track of his travels, Burke is putting the finishing touches on a detailed calendar. It's filling up fast.  Aside from his work on Islanders telecasts, plus the football assignments, Burke has his brand expanded as one of the talkers on NHL on TNT broadcasts.  This all coming as baseball gigs get erased from the calendar, at least for a few months.
It's fair to say that Burke gradually and deservedly so has become the busiest sports broadcaster not named Kenny Albert.
"I try not to do two things at once very often," says Burke.  "I try not to call football games during the regular NHL season. I didn't have any baseball assignments before the last hockey season ended.  I don't necessarily do the full Kenny Albert where I'm bouncing back and forth on a daily basis."
As we speak, Burke is putting the finishing touches on prepping for an upcoming New York Rangers-Boston Bruins preseason contest.
One could get dizzy when following Burke's zigzagging from all points around the globe.  After calling the Rangers-Bruins from Madison Square Garden on Thursday, Burke's bags are packed for the Midwest. He'll be calling the action for the Rutgers-Wisconsin in Madison on Saturday, as part of NBC's Big Ten package.  This is one of those rare times when two sports are calling for Burke, and he answers the door.
But, it's hockey that is where Burke has made his chops in sports storytelling.
Just as fans are anxious for another full slate of skating, hopefully that will take their favorite team deep into June, Burke's love for the game never wavers.
"It's my eighth NHL season. It has been amazing from just wanting to be an NHL broadcaster to having opportunities to call NHL nationally televised games, and playoffs.  I've called Olympic hockey, Olympic rowing, for that matter. Now, baseball and college football. So, there have been a lot of boxes checked off. I've probably exceeded my expectations," Burke said.
It's fair to say that when combining Burke's assignments into one, that his dream job in broadcasting has been reached. Why football in Burke's arsenal of work?  Having attended Ithaca College, it's Burke's belief that all broadcasters should want football included in their tool belt of assignments. The uniqueness of a Saturday, when college towns transform into special places to have fun at stadiums, for Burke, is exceptional experiences to rich to pass on.
The challenge from doing radio in Utica, alone, to TV, where people can see the game, while working with a team on-air, is one which Burke has conquered.
For Burke and his Islanders' assignments, from day one, Goring has been at his side.
"We enjoy working together. We travel together. I enjoy being with Butch off-the-air,too.  He's as authentic as they come."
As far as how Burke landed one of MLB's jewel assignments on Peacock, a pre-existing relationship with NBC was an assist.  Having called New York Yankees games on radio during the 2022 season, also added credibility, for when  Burke's name was brought up to replace Jason Benetti.
Burke is thrilled to be back in the baseball fold.  His experience at the mic for minor league games years back also came in handy, when putting on his game face in the Bronx.   It was a surreal assignment for Burke. With longtime Yankees' voice John Sterling well into his 80s, and speculation running wild of his pending retirement with him slowing his road game schedule, there was a thought that Burke would be the heir apparent.
"That was surreal to do," Burke recalls sitting in Sterling's chair. " As a kid I grew up listening to John, and I would visit him in the broadcast booth (Brendan's father Don Burke is a longtime sportswriter and copy editor at The New York Post). Getting to work with Suzyn Waldman was a dream come true.  I was hoping to do one game, and did a dozen."
Across town from the Bronx, in Queens, Burke has also appeared on New Mets airwaves. What he labels is his appearances on Mets radio with lead play-by-play voice Howie Rose as 'last minute' results, Burke takes great pride in talking quite a bit with the man he succeeded of his Islanders TV duties.
Shortly, a sure sign that Islanders hockey is back up and running for hopefully well into the spring, will be Burke's commute to work.  Games skated in Newark,NJ with the Devils, as well as Rangers games in Manhattan, Burke makes good use of public transportation from his home on Long Island. Train power allows Burke to avoid traffic congestion on the Long Island Expressway, and beyond.
Islanders home games at UBS arena in northwestern Hempstead Nassau County, Burke opts to drive.  Getting to the arena usually is an hour's drive.  However, with considerably less cars on the LIE in the later evening, his drive time  is knocked down to just over 30 minutes.
Where in the world is Brendan Burke?  Right where he wants to be.
Don Laible is a freelance sportswriter from the Mohawk Valley, now living in Florida. He has reported on professional baseball and hockey for print, radio, and on the web since the 1980's. His columns are featured weekly at WIBX950.com. Don can be contacted via email at Don@icechipsdiamonddust.com. 
Fox Host Failla Reaches USA from WIBX Studio in Utica
The host of Fox Across America with Jimmy Failla which airs coast to coast and on WIBX 950 and 106.9 FM weekdays from noon 'til 3, was in Utica this past weekend. Jimmy Failla sat in on the Keeler in the Morning Show on Friday morning December 3, 2021, and then did his national show on FOX News Radio from WIBX's studio.
Failla is a former New York City cab driver turned stand up comic and over the weekend, he performed 4 sell-out shows at Utica's Fat Katz Comedy Club in Washington Mills.
Check out some snap shots from the weekend.
Gallery Credit: Bill Keeler
Top 10 Local News Stories of 2021
As 2021 comes to an end, here are the Top 10 local news stories of the year.
Gallery Credit: Jim Rondenelli
Top 5 Local Sports Stories Of 2021
There were many local sports stories that highlighted 2021, including a couple of firsts. Here are a look at the Top Five, along with a bonus story.
Gallery Credit: Jim Rondenelli