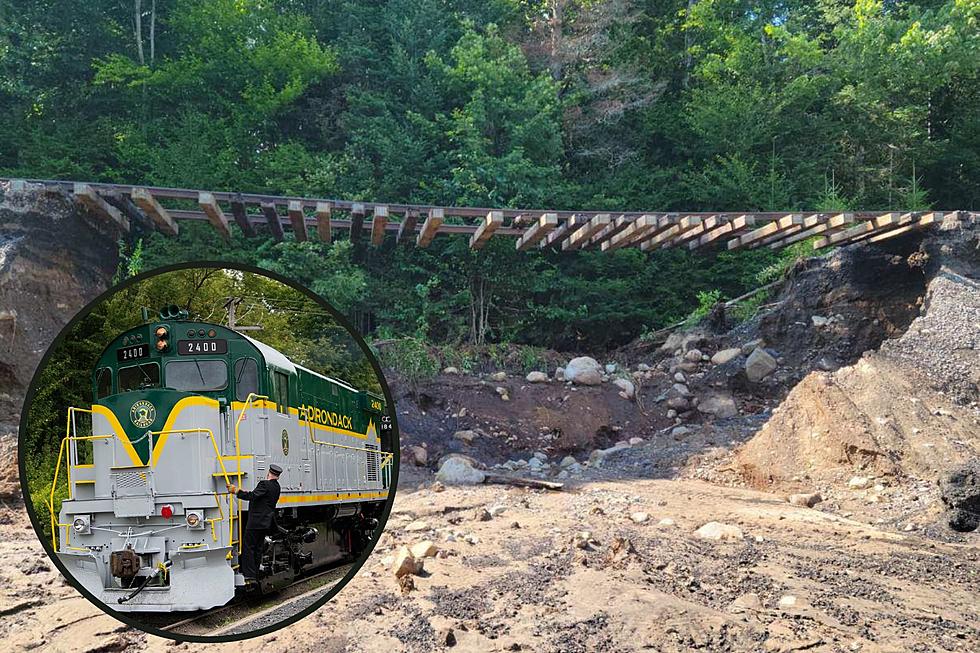 Continued Washouts Wreaking Havoc on Adirondack Railroad
Courtesy Adirondack Railroad
The continued flooding and violent storms have rendered many rail lines in Central and Upstate New York completely inoperable.
The heavy rain continues to pose a serious threat to rail workers and their passengers. Grounds beneath miles of track have been eroded by the extreme weather, leaving some some lines dangling precariously in air.
What happened?
Last week's storms that submerged parts of Central and Upstate NY severely damaged portions of the Adirondack Railroad's track lines, forcing most of their excursions to grind to a halt.
Miles of tracks needed to be shut down for immediate repairs.
Due to the recent flooding and storm damage in the Old Forge and Tupper Lake areas we regret to advise that all train rides to and from Thendara(Old Forge) and Tupper Lake that are scheduled from 8/10 – 8/13/2023 have been suspended while track work is being done. We are working closely with local and State officials to to repair any damage to the track. For any scheduled trains after 8/13/2023 please check back for current operating conditions.
A select number of local beer and wine trains are still operational.
The company has since told customers to stay away from their tracks until repairs are complete. It is not yet known if full service has been restored at this time, but reports suggest that officials are eyeing a total reopening by Thursday, August 17.
The Adirondack Railroad has not yet responded to a request for comment.
Summer storms continue to pose a risk
This summer has been wetter than average and has also produced several violent storms.
Just last week, portions of Central and Upstate NY were devastated by a series of twisters. Snow Ridge Ski Resort was damaged by an EF3 tornado, which produced winds up to 140 miles per hour.
Elsewhere, parts of the state struggled through unprecedented flooding. The village of Liverpool was doused by seven inches of rain while the Great Northern Mall in Clay suffered a "catastrophic" roof collapse.
Unfortunately, we're not done with these extreme weather systems as we enter hurricane season. Additionally, more rain is scheduled for this week's forecast, with showers expected Tuesday and Friday.
Whether or not this will impact the Adirondack Railroad's schedule has yet to be seen.

Tips for Floods, Lightning, Tornado In New York State
New York Gov. Hochul's Office released steps to prepare and keep everyone safe from disaster,